Valentino's Romantic Fall 2019 Show Was Pure Poetry
Pierpaolo Piccioli had passion on the brain this season.
As guests entered the venue for Valentino's Fall 2019 show on Sunday evening in Paris, they were met with a wall-sized light installation that read: "The people you love become ghosts inside of you and like this you keep them alive." The piece by word artist Robert Montgomery should be easily relatable to any human with a beating heart because, as the clichéd saying goes, love is the universal language.
Clearly designer Pierpaolo Piccioli, who's never been one to shy away from unabashedly romantic collections, had passion on the brain for fall. Our first clue? Placed on every seat was a book of poetry called Valentino ON LOVE, a compilation of works by Greta Bellamacina, Mustafa the Poet, Yrsa Daley-Ward and Montgomery that all share the same sentimental subject matter. And while Valentino's offerings are positively lovely every season, Piccioli managed to inject even more emotion into his latest range.
The first looks out were printed with graphics of blood-red roses and couples embracing, the result of a collaboration with designer Jun Takahashi of Undercover that was incorporated throughout the collection; the motifs added some of that much-sought-after hype to the heartfelt messaging. In typical Valentino fashion, there were plenty of seemingly weightless silk dresses and skirts, paired with more street-ready pieces, like a crew-neck top, a trench coat or a hoodie — the latter worn by Kaia Gerber and printed with lines of poetry. (This particular look was also topped with a stunning orange oversized coat, accented with wispy feathers.)
Darker items, like a black leather cape, a fitted turtleneck mini-dress, floor-length overcoats, inky silk gowns, relaxed blazers and intarsia knits were interspersed with the lighter, brighter looks. From a sunny yellow cape, to a loose-fitted white suit, to a scarlet layered gown that seemed to float behind the model as she walked, there was an air of elegant simplicity that could easily set hearts aflutter. Pleated skirts revealed sweet peek-a-boo color combinations, like yellow and white or baby pink and orange; sheer scarves were tied in bows at many models' necks; classic tailored overcoats came printed with Takahashi's intimate imagery; stark black or white looks were made to fit the theme by the addition of lace inserts (one in particular surrounded a hot-pink rose wrapped in chains) or a celestial scene in the shape of a rose that, when viewed up close, said: "There's a forever beyond the sky I think we should go there tonight."
As per usual, the eveningwear was especially dreamy, from a series of black-and-white silk floor-length gowns, to a sheer, caped dress with a ruffled collar that revealed a large, colorful print as the model turned on the runway, to a series of sparkling tulle confections with sequined embroideries of lovers, flowers, butterflies and more poetry. The final looks were the kinds you'd expect to find on a red carpet, made from sheer, delicate fabric covered in ruffles and rendered in colors like sunny yellow, poppy, fuchsia, moss and blue-gray. While one was adorned with yet another poetic verse across the chest (spelled out in sequins), another featured fully-feathered sleeves. If these don't make your heart skip a beat, you might want to double-check that you actually have a pulse.
Piccioli has established himself as one of the industry's most revered designers, not only on account of his incredible level of skill, but also because he consistently delivers the fantasy, beauty and glamour that often come second to the practical and commercial. That said, he incorporates enough modern elements — in this case, strategically hiding the kind of text or graphic print you'd find on a trendy piece of streetwear on these fancy garments — to keep the interest of customers across generations. If anything's for certain, it's that Piccioli's message for the season couldn't be more appropriate for today's climate. We could all use a lot more love in our lives these days.
See every look from the Valentino Fall 2019 collection in the gallery below.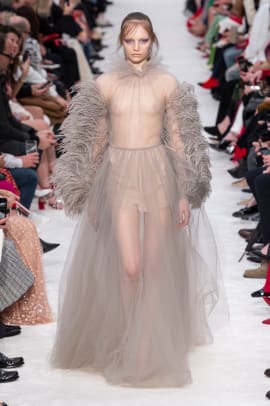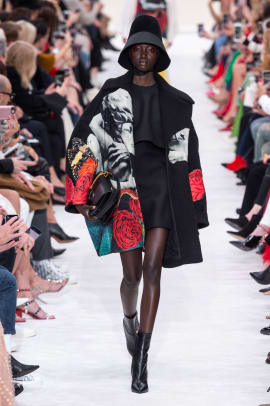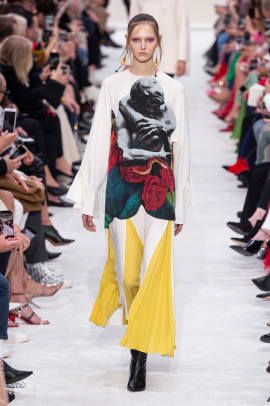 Stay current on the latest trends, news and people shaping the fashion industry. Sign up for our daily newsletter.