Aly Raisman Hopes Her New Aerie Activewear Collection Will Help Prevent Child Sexual Abuse
"I think it's really cool that Aerie is taking this huge step forward — it's so much more than a collection."
In the nearly year and half since Aly Raisman issued a powerful and brave statement at the sentencing hearing of Larry Nassar — in which she told the disgraced USA Gymnastics doctor that he was "nothing," while she and the other women he abused "are here, we have our voices, and we are not going anywhere" — the gold-medal Olympic gymnast has continued to be a relentless advocate for preventing child sexual abuse.
Raisman has masterfully utilized her platform as an athlete to do her advocacy work, from using her Sports Illustrated Swimsuit spread to advocate for survivors of sexual abuse, to penning an impactful op-ed in the Boston Globe about fighting the stigma surrounding child sexual abuse, to partnering with the nonprofit organization Darkness To Light to help elevate their Flip the Switch platform which works to provide online workshops to assist adults in identifying and preventing sexual abuse among children.
Now, the two-time Olympian has brought her advocacy work back to a familiar stage. Raisman has launched an exclusive capsule collection with Aerie, over a year after she became one of the brand's #AerieReal Role Models. And it's more than just messaging: 15% of the collection's sales — up to $75,000 — will go toward Darkness To Light and their efforts to empower adults to protect children from sexual abuse. The Aerie Spring Street store in New York will also host a sold-out event on April 6th to celebrate the collection's launch, featuring a boxing class led by martial artist and stunt woman Kendra Smith and a stretch and meditation led by Raisman.
"I'm so grateful and appreciative [to Aerie] because [that 15%] is going to help provide a lot of free training for adults out there," Raisman tells Fashionista. "When an adult takes the course, they're better able to understand the warning signs and red flags [of child sexual abuse], and they can save a child from going through that abuse, which is really, really amazing."
Raisman chats with Fashionista about the nine piece activewear collection — which includes leggings, bralettes and t-shirts — and how it furthers her mission to raise awareness and prevent child sexual abuse.
How has working with Aerie over the past year helped with your platform to prevent child sexual abuse?
When you're insecure about your body, it makes you more susceptible for an abuser to be able to groom you and take advantage of you. When you're confident in yourself and your body, I think you're able to have more awareness and feel comfortable speaking up if something doesn't feel right or if someone is making you feel uncomfortable, so to have Aerie spread the message about preventing child sexual abuse and also to be so incredibly body positive makes a big difference. I'm just grateful that Aerie is willing to not only have this conversation but to also be very supportive of it.
Has partnering with Aerie helped with your own confidence?
I think the fact that Aerie doesn't retouch anything has been really empowering for me and helped with my confidence. When you're doing a photoshoot and you're in a bra and underwear, you're seeing yourself in all different angles, and that created a lot of awareness of how much time I spent worrying about how I look. I'd spend time worrying about really stupid things that don't matter. As long as I feel healthy, I have energy and I'm happy, that's all that really matters.
I think so many of us face body issues because for our whole lives, we've been seeing these airbrushed images. So sometimes when I have insecure moments on set, I think, "Well, maybe one day, a girl will see me have some pimples in this picture that's blown up in a store and won't feel self-conscious about her acne."
How did you come up with the collection? What was your inspiration behind it?
I had a lot of fun designing this collection. We have these blue leggings that say, "In the moment" down the leg, and hopefully, that serves as a reminder to people to be present and to ground themselves if you're having a stressful day or you're feeling anxious. Just take a moment for yourself. I've learned so much in the past year, and I'm into taking time for myself; meditate and be more present in my everyday life. I hope that people who wear these difference pieces of my collection also feel inspired to do the same.
We also have a sports bra and a tank top that says "Unapologetically me" because I think people can relate to feeling self-conscious. There's a lot of pressure — especially for girls and women — to apologize when you didn't do anything wrong. I think as long as you're a good person and being the best you can possibly be, then you shouldn't have to apologize for being who you are.
The act of exercising and being active, especially in public spaces, can sometimes be really intimidating and daunting to people, particularly for those who don't feel entirely comfortable in their body. Is your hope that this collection will encourage people to feel more confident in those spaces?
Yeah. I know being an Olympic athlete is not relatable, but I feel like what I'm about to say is relatable: I just started trying out yoga, and I find that it's really intimidating to go into a yoga class for 45 minutes to an hour because it's hard for me to quiet my mind. So I've actually started to do a 10 to 15 minute yoga routine from YouTube at my house by myself to slowly work my way up to the hour-long class.
If I get in after a really long flight — traveling is super draining for me — I sometimes will just do five minutes on the treadmill, walking. I know that sounds pretty lame for an Olympic athlete, but I'm not training like I was before. At first, I used to get frustrated at myself, but that doesn't help. I've learned to have a little bit more self-compassion in figuring out what I need. We have to learn not to compare ourselves to other people and just be the best version of yourself. It's easier said than done, but it's really important. Everyone's going through different things and needs different things at different points in their lives. Right now, I'm focusing on meditating and yoga.
How does the collection tie into healing from trauma or emotional issues, particularly those caused by sexual abuse?
The collection has an army green sports bra that says "Trust yourself." That hopefully speaks to somebody who's going through a hard time. Sometimes, when you're being mistreated by someone, it's confusing and you don't really know if it's right or wrong because they've manipulated you. They've groomed you and the people around you. Hopefully "Trust yourself" will give any person at any age courage to say, "This doesn't feel right, and I need to say something." And even if you're not sure, It's important to ask questions. Trust your gut, because nobody can tell you how you're feeling and nobody should be making you feel uncomfortable. When I speak to kids, I always say, "If it doesn't feel right, then it's not right." Nobody can tell your truth or your story.
What have you personally gained from creating this collection?
It's really important to me to be able to find brands that really care about making a difference. I think it's really cool that Aerie is taking this huge step forward — it's so much more than a collection. The launch event allows me to not simply sit behind a table and sign pictures but actually interact with fans and talk to them. It will hopefully offer them something to take away with them and incorporate into their everyday life. 
Take a look at the Aly x Aerie collection below.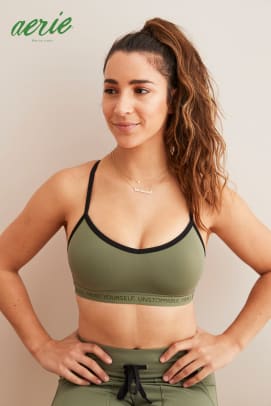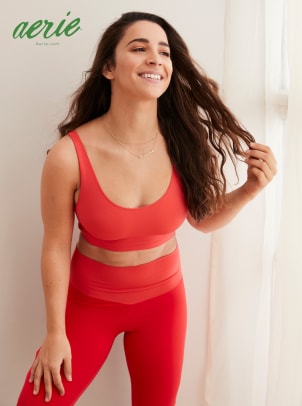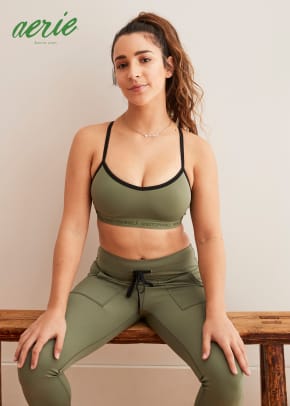 This interview has been edited and condensed for clarity.
Want the latest fashion industry news first? Sign up for our daily newsletter.