Bergdorf Goodman Hopes to Spread Positivity By Showcasing Designers' Hidden Talents
Phillip Lim was the first to be featured in the retailer's new "Designers Off Duty" series, showcasing his chef skills to an intimate group of VIP guests.
On Monday, Bergdorf Goodman held the first installment of its "Designers Off Duty" series, in which the luxury department store spotlights the hobbies and hidden talents of designers. The retailer kicked things off with Phillip Lim, who, aside from being a momentous force in the fashion world, is also a fantastic chef — though he rejects that title, saying his interest in cooking came about largely because he missed his mother, who previously lived in Cambodia.
The event featured a small cluster of VIP guests, customers, brands and media types who took the class with Lim at Bergdorf Goodman's event space and were then able to dine at the Bergdorf Goodman restaurant and try out some of the recipes from Lim's cookbook, "More Than Our Bellies," free of charge.
The idea for the monthly series, which will include painting lessons from Jason Wu and a forthcoming event with Sies Marjan's Sander Lak, was born just this past fashion month.
"A few of us were chatting at Bergdorf about how inspired we are by our designers, and how after each showroom appointment, we kept talking about how [all of them have] such interesting hobbies and hidden talents, which ultimately makes us love their brands even more," Yumi Shin, chief merchant at Bergdorf Goodman and one of the minds behind "Designers Off Duty," told Fashionista.  
The impression designers left with Shin and others then snowballed into what became the series concept. Fashionista chatted with Shin about the decision making behind which designers to feature, how the first installment with Lim went and what she hopes are the ripple effects of the series within the fashion industry.
How did you choose the designers to be featured in the series?
I think it just came about organically. As we were meeting designers and seeing them after their presentations and shows, as well as following up [with them] during showroom appointments, we got to know them personally. [Their designs] are just extensions of who they are, and you start talking about that with them organically. 
[The series is] not exclusive. We've actually gotten a lot of emails and requests [from designers] who want to participate, so I think there's a lot of interest from within the community.
What do you hope both the participating guests and designers will get from these experiences?
This is really a moment to honor and share [the designers'] expressions and talents within our community in an intimate setting. We want to celebrate our brand partners and their creativity and vision. I think we're also inspired by their philosophies on life and how their views and other interests are an extension of their vision as designers. 
It's not tied to anything in particular — we're not trying to sell anything. I think it's bringing that personal connection that people need these days. It's sharing the love.
How did Phillip Lim's cooking class go?
It went really well. He's such an incredible person and an incredible cook, even though he says, "I'm not a chef." It was really nice for him to share that personal side of him to the small gathering of our community. And [the food] was delicious. We made summer rolls and after, we were able to taste some of his recipes from his book. I think everyone really loved the shrimp and the eggplant.
Do you hope to expand the series in any way?
This all came about so organically, so we'll just keep doing it as long as people are curious, interested and engaged. We have a couple more planned, so it's an ongoing event, and we'll see how it goes.
There's no big purpose or master plan [for the series] other than it feels good to share positivity through the things you love to do. Like Phillip [Lim] says, it all comes from the sharing of the love and the love of what you do. 
Browse the gallery below to see images from the first "Designers Off Duty" event with Lim.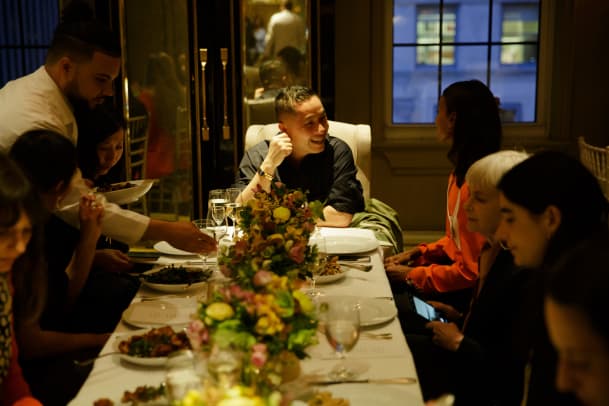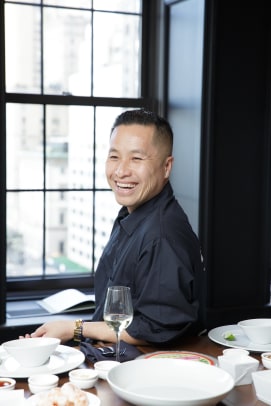 This interview has been edited and condensed for clarity.
Want the latest fashion industry news first? Sign up for our daily newsletter.