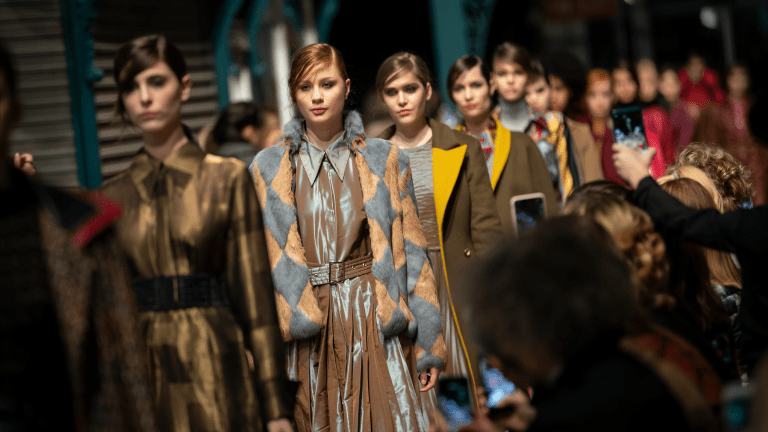 5 Hungarian Labels to Watch From Budapest Fashion Week
And how they're finding success outside of a major fashion capital.
The biggest Budapest Central European Fashion Week to date took place this past weekend in the Hungarian capital, with over 30 designers presenting during the four-day event which supports designers from Hungary, Poland, Czech Republic and other central European countries. This season also saw an impressive partnership between Milan's Camera Nazionale Della Moda Italiana and the Hungarian Fashion Design Agency (formed in 2018), which includes everything from mentoring Hungarian designers and teaching them about sales to giving them a platform at Milan Fashion Week.
Unlike some of the other off-the-beaten-path fashion week destinations (Tbilisi, Moscow or Tokyo, for example), Budapest has yet to establish a reputation on the international fashion scene. It's a much newer initiative which only recently began inviting international attendees. Hungary's twenty-something designers are among the first generation that hasn't grown up with communist roots, and the HFDA is part of the controversial government, which means there's some tension surrounding the event. Last season, for example, locals gossiped about rumors of some of the country's prominent fashion brands being notably absent from the calendar for political reasons. 
However, none of that is stopping global brands from calling Hungary their home base. Read on for five we encountered, and to learn how they're building businesses in and outside of this city.
Nanushka
Nanushka, already stocked at Net-a-Porter, Bergdorf Goodman, Nordstrom, Saks Fifth Avenue and more, is arguably the country's biggest and most internationally recognized fashion brand. Designer Sandra Sandor founded the line over a decade ago in her native country, and while Nanushka also produces its knitwear in neighboring Serbia, Sandor intends to keep the brand's primary operations in Hungary. 
"Seventy percent of our garments are made in Hungary. It's a great resource," said Sandor from inside Nanushka's highly Instagrammable, two-story Budapest flagship store the day of her show. "But also, operating an office here is so much cheaper than if we did it anywhere else towards Western Europe. If you're operating here, you can keep your infrastructure costs much lower within an international context."
Katti Zoob
Very few of the Hungarian brands that present at Budapest Central European Fashion Week have been around for longer than 20 years; Katti Zoob, who many credit as being the country's first conventional fashion designer, is one of them. She founded her line 25 years ago after working as a costume designer. In the '90s, she struggled to get the exposure she wanted in Hungary, so she started showing at Paris Fashion Week for a short time before returning home. 
"I'm slowly recognizing what opportunities I have at fashion week," explained Zoob. "At first I thought I had to try [to compete with the younger brands]. But I realized that my way is different, I'm a representative of the so-called 'slow fashion,' I don't want to be part of the 'who can sell more pants on the farthest market' competition."
This season, Zoob showed her Fall 2019 collection as a side event as a part of fashion week, the day before all the other shows began, in a public market in the center of Budapest — where local and international press, influencers and guests could watch alongside people who just so happened to be in the market on a Thursday night. At the time, Zoob was also in the midst of designing the costumes for Puccini's Le Lilli opera in Budapest. Working across genres as a designer is one of the reasons why she loves working out of Hungary.
Romani
Romani, another Budapest-based fashion label that showed on the official fashion week schedule, is attempting to use fashion week in Hungary as a platform to promote social acceptance through fashion. The founders, Helena and Erika Varga, are Roma (one of the largest minority populations in Hungary), utilizing cultural references and employing Roma people with the end goal of educating the public in Hungary and beyond. In the brand's studio, Roma women work alongside young Hungarians to make each piece by hand. 
This season, the designers were inspired by "Roma and gypsy lines with vintage clothing" and incorporated recycled denim into the collection. Models wore autumnal hued folkloric dresses with Doc Martens and bunches of fake grapes as earrings and on chains instead of purses.
"It's important to present at Budapest Central European Fashion Week to show the Hungarian public and society how Roma culture can have really impactful factors on Hungarian culture and also, how, Roma culture strongly intertwines with fashion," explained Erika. "It's not enough to make beautiful clothes; they also have to be meaningful." 
Abodi
Abodi, founded by the Transylvanian-born, Budapest-raised Dora Abodi in 2013, is already a highlight of Budapest Central European Fashion Week. Thanks to opportunities presented by nearby Milan's Camera Nazionale Della Moda Italiana, the brand now also shows at Milan Fashion Week, has a showroom in New York City and has been worn by countless celebs, including Kylie Jenner and Katy Perry. Under her mentorship from the CNMI and the HFDA, Abodi's collection and skills soared to new heights in the form of brilliant execution in leatherwork, a stronger, more refined silhouette and even the addition of an entirely new category: menswear.
"Since the last two or three seasons, the Budapest and Hungarian fashion industry has started to blossom and Budapest Central European Fashion Week was re-organized and inserted into international fashion scene to become a Central European fashion hub," explains Abodi. "We are quite close to all big textile-industry countries and many Italian and French high-fashion companies are producing here; we have a huge textile tradition."
Fabian Kis-Juhasz
Fabian Kis-Juhasz, one of the most talented new Hungarian designers presenting at Budapest Central European Fashion Week, also shows at London Fashion Week, but still comes to Budapest for the occasion. "I think this is an initiative that you haven't really seen here before, or at least not on this level, so it's really great to be involved," he explains before his presentation, which included corsets with built-in nipples, saccharine transparent dresses and silky layers with lots of ruffles. The collection was a statement on re-evaluating the conventional notions of femininity. 
"The female body and femininity are not mutually exclusive; you do not need to be a woman to be feminine and you don't need to be feminine to be a woman," Kis-Juhasz said. "The fashion scene here is really small, so if you do happen to be involved, the support you can get is more personal and sort of unified."
Kis-Jihasz moved from Hungary to London to study at London College of Fashion and Royal College of Art. "I felt like selling in Hungary or achieving any meaningful growth was nearly impossible because the country simply just didn't have any capacity for it," said Kis-Jihasz. "Now, having a design agency, I think it's really exciting and you can definitely tell that Hungary made huge progress in the last few years. It is still a very new initiative but I'm really keen to see how things will evolve."
His collection also proved that the aesthetic of fashion is broadening in Hungary. There were a handful of other designers, for example, who showed collections full of nearly the same undistinguishable neutral-hued sweaters, pale denim and puffer jackets. None of the designers were as bold in style as Kis-Jihasz. "Being a queer designer, I think it's really important for me to have a presence here since LGBQT equality in this country has a long way to go," he adds. Of course, there are pros and cons to everything, and trying to make it as a fashion designer in Hungary definitely has its fair share of both. "The country is politically super divided and there are a lot of issues regarding censorship," explains Kis-Jihasz. 
"I don't think that this is about the press, necessarily, but the current fashion week is a government-organized event and so a lot of designers decide not to participate. The press outlets we have are very commercial and, culturally speaking, there is just not capacity for anything else here. There were a lot of great initiatives and exciting publications over the years but they all disappeared because their demographic is too small," he continues. "I hope that getting more international press involved will help sustain the current fashion week and the design agency, because I think once the fashion scene here becomes more established, it will have a bigger reach in terms of its audience in Hungary."
Top and homepage image: Courtesy of Budapest Central European Fashion Week
Want the latest fashion industry news first? Sign up for our daily newsletter.