See Every Look From Dior's Cruise 2020 Collection
Somewhat riskily inspired by the Moroccan city of Marrakesh.
When it comes to designers' travel-centric cruise collections, which they are just now starting to unveil, pulling inspiration from cultures not their own has become common practice. The Moroccan city of Marrakesh, in particular, is no stranger to serving as a source of inspiration for Western designers. For Cruise 2020, in a followup to last year's Chantilly, France event, Christian Dior's Maria Grazia Chiuri staged the French house's runway show at a Moroccan palace built in the 16th century. Celebrities like Lupita Nyong'o and Jessica Alba, along with influencers and press from all over made the trip to the lavish, visually rich setting to experience her latest vision.
The collection featured many of the silhouettes that Chiuri has made her signature since joining the house — think nipped-in waists on gauzy, floor-length dresses and skirts — but rendered them in new fabrics. Variations of ankara prints, the wax-printed fabrics that are so often associated with traditional dress from a number of different African countries, featured heavily in the collection and were layered with tulle, camouflage print and a sprinkling of Christian Dior branding.
It was, in some ways, a risky move, as other white European designers like Stella McCartney have been publicly slammed in the past for their use of ankara prints (especially when worn by anyone other than African models). In Instagram posts teasing the show, Dior shared videos of some of the makers who were presumably involved in creating the collection, and the feedback was mixed — while some followers were delighted to see Moroccan artisans highlighted, others questioned the dynamics of a luxury brand profiting off of historic crafts from another culture and demanded to know how much the artisans were paid.
So will Dior's Cruise 2020 collection ultimately be filed under the heading of cultural appreciation or appropriation in the minds of fashion folks? Take a look at the full collection in the gallery below to draw your own conclusions.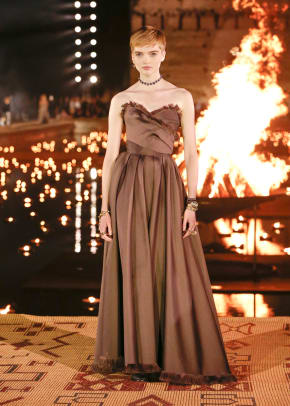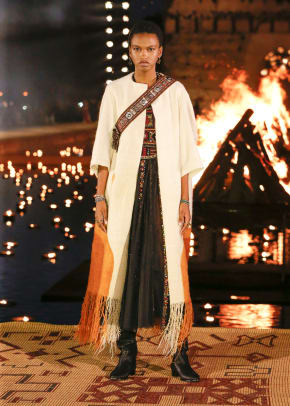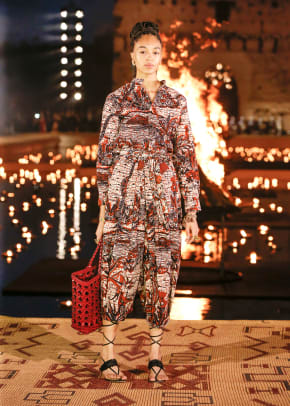 Stay current on the latest trends, news and people shaping the fashion industry. Sign up for our daily newsletter.