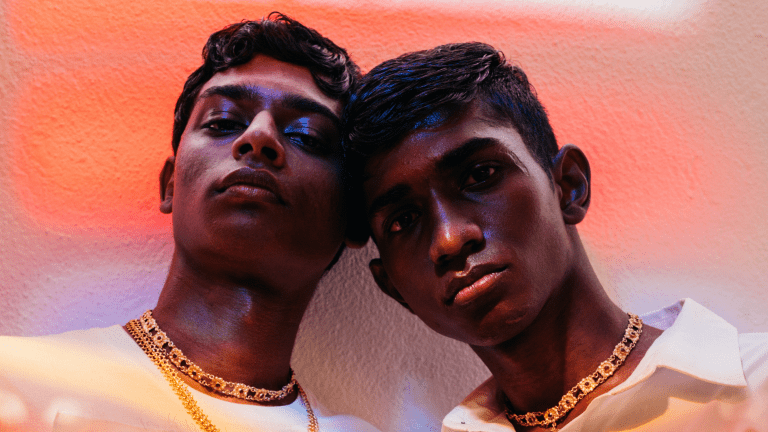 What the World's Emerging Designers Want You to Know
"I love being a part of this generation of designers, because I feel like anything is possible. It's a generation that is hungry for change, whether that is cultural, environmental, or political."
As always, the fashion industry is changing at a rapid speed: Resale and rental fashion present a new challenge for manufacturers and retailers, Karl Lagerfeld is gone, fast fashion is facing ethical and ecological questions, China is becoming the world's largest luxury market, streetwear has wormed its way into mainstream culture and luxury fashion, and representation for underrepresented voices only continues to increase thanks to social media.
That means emerging designers now face an industry that is nothing like it was when they chose their career. Along with the pressure to develop better manufacturing practices that take the health of people and planet into account, these new talents are also figuring out how to handle copying and counterfeiting, unpredictable new consumers and new expectations from all sides. But after exploring the work of emerging designers from around the world during London Fashion Week, it seems like the next generation of designers, brand builders and creative directors is ready for whatever the industry throws at them.
Even with uncertainty about the U.K.'s exit from the EU looming, London has remained one of the best cities in the world for emerging designers to find support in the form of mentorship, financing and community. It is home to many of the development initiatives that helped grow some of the industry's most interesting talents of the past decade. Simone Rocha, Jonathan Saunders, Peter Pilotto and many more got their first push from programs like Fashion East, Fashion Scout and the International Fashion Showcase.
The most recent season was no different, giving a platform to an exciting class of designers with something new to say. More than talent, skill and style, they have purpose. It is fundamental to who they are and what their brands stand for. It is homeward looking, problem solving and awe inspiring. These are the perspectives that will shape the next wave — these designers are the future's luxury creative directors, independent designers and retail design directors. 
We asked them what they wanted the world to know about the next generation of fashion designers — who they are, what they bring to the table and what we can expect the industry to look like in their hands.
Answers have been edited for clarity and length.
Related Articles
5 Hungarian Labels to Watch From Budapest Fashion Week
7 Designers to Know From Mercedes-Benz Fashion Week Tbilisi's Spring 2019 Season
Meet the Designers Showing at NYFW for the First Time
Ji Won Choi
Korea/USA, Fashion Scout Ones To Watch 2017, Adidas Originals collaborator 2019
"The Ji Won Choi brand is about using design to promote positive change within our societies and connecting cultures. 'Excessivism' was about the excess of garments gone wasted and 'Xenomania' was about cultural identities as a minority living in the U.S.
I want the wearer to feel confident and expressive in my clothes, but also I hope the clothing makes the wearer even a little bit more thoughtful than before about these issues.
The collaboration with adidas Originals was an enormous benefit for my brand and I am so grateful for their openness to work with me and to be a part of their family! It has been the highlight of my career so far. These collaborations are extremely helpful for emerging designers, because we would otherwise not have this platform, reach, or audience. Also the chance to work with industry leaders that I would otherwise not have the opportunity to work with was amazing.
I love being a part of this generation of designers, because I feel like anything is possible. It's a generation that is hungry for change, whether that is cultural, environmental, or political. As a creator, I love creating beautiful things that have meaning, and that's what I will bring to everything that I create. These days, the career path of a designer can be anything, and I find that so incredibly freeing. I would love to be multidisciplinary and design furniture, make documentaries, take photographs, make sculptures — anything creative, really."
Amesh Wijesekera
Sri Lanka/UK, Mercedes Benz Fashion and Apparel Award Sri Lanka winner 2015, Fashion Scout Ones to Watch 2016, Oracle International Catwalk Competition Award 2016, IFS 2019
"Amesh is about colour, texture, rich textiles, bold statements, inclusivity and freedom.
Every piece is handcrafted in Sri Lanka, a unique collaboration of fine craftsmanship and design innovation with local communities of artisans. Custom designed handwoven textiles, hand knitted pieces and the use of printing techniques, both digital and traditional.
IFS 19 was my brand debut and the brand hopes to share a piece of home and 'made in Sri Lanka' to the world. The process is the most exciting and important part to me. My life between London and Sri Lanka, cultural nuances and its smells and sounds influence this process. Heritage and craftsmanship are key aspects of my practice involving indigenous artisan crafts people of my island Sri Lanka. It is this special collaboration that makes it truly worth it, challenging traditional ways and encouraging the artisan to participate as a creative contributor rather than a machine. Secondary fabrics are collected from local markets which are drowning in industrial waste. These are then carefully picked out and most times treated with washes and prints for a second life.
In a time of uncertainty, I believe the creative industries have the greatest power for positive change. Connecting communities and people across borders whilst sharing knowledge is the beginning to a better world. Collaboration is the new way forward. Challenging social norms and celebrating diversity is equally important for a vibrant global society."
Thebe Magugu
South Africa, Vogue Italia Talents 2018 Selection, IFS 2019 Winner, LVMH Prize finalist 2019
"I have a very deep respect for education. I respect its value and what it can do for an entire society. To this day, I am probably one of the only students who keeps in touch with their teachers. My drama teacher introduced me to all these ideas and eras and movements, and that's a lot of capital. In fashion, knowing all those bizarre references from certain eras really helps you make work that's rooted in something. I thought it would be so interesting if, season after season, I was to explore a subject and really learn, read about it, and see how that can translate into an aesthetic.
'Home Economics' was a very personal collection because it came in the time of the Karabo Mokoena case and the high amount of femicides that was happening in the country [South Africa]. The university subject closely associates with what I'm feeling that particular season and that season I was filled with a lot of disappointment in what was happening. I wanted to show the expectations that are still placed on women. What does expectation look like in clothes?
South Africa and Africa are chalked up to a lot of basic aesthetics. That's a little insulting, because there's so much more to our culture and our country. I hope my clothes show that. There's something exciting and new about South Africa beyond just the typical references. This new generation is occupying such an interesting space between exploring their heritage and culture, and what they grew up with, with a globalized approach. I feel that it's in that intersection that we are creating something so new that everyone wants a piece of it. It's a new authenticity."
Ami Doshi Shah
Kenya, The African Designers for Tomorrow Award 2014, IFS 2019
"I'd like the brand to shift perceptions of contemporary Kenyan design and craftsmanship one eclectic piece at a time. Hopefully, in time, the brand will become synonymous with a design-led approach to our cultural storytelling using jewelry and adornment as the visual medium.
'Salt of the Earth,' which was presented at IFS 2019 during London Fashion Week, used salt to embody the duality of a singular material — its essential nature and its destructive power. Through our research, we found that Somerset House was where the U.K.'s Salt Office was located in the 1700's — a government entity that was responsible for collecting domestic and colony taxes on salt. We wanted to explore the sense of power and submission through the commoditization of a material that is harvested so easily from the soil and sea and turning it instead into a form of currency. I used the process of salt patination (destruction) and used hyper-concentrated salt solutions to create salt crystals on various materials.
I think that the role of jewelry and adornment has taken on a much more decorative role with more a more 'Western Sensibility' but the tradition of jewelry on the African continent has been much more talismanic — whether to ward off evil or to mark a significant rite of passage. Materials were taken from what was traded or locally available. More often than not, antique tribal jewelry didn't have any monetary value and I think that is where jewelry will start moving. More experimental, non-precious materials worked and crafted with the skill and preciousness of the human hand.
Many of the challenges that the big international fashion brands face — environmental and human impact of production, the throwaway culture of consumerism, the constant desperation for newness — are things that we, as African designers can traverse, navigate around and conquer. So many of us are already telling profound and powerful stories about our homes and utilizing local materials and traditional craftsmanship with care and consideration. It's a privilege to be part of this generation of African storytellers whether within fashion, the applied, visual, performing or literary arts."
Tolu Coker
Nigeria/UK, ASOS Fashion Discovery 2018, Diesel Award 2018, Vogue Talents Special Mention 2018, ITS 2018, Fashion Scout AW19 Merit Award 2019
"I've always said I want to have meaningful conversations through clothing, so my brand is really an extension of that. I'm passionate about empowering people to have the space to tell their own stories, represent their own identities and also widen education on the fact that fashion can be beautiful without causing unnecessary destruction to our beautiful earth. It's really our duty to protect and work towards more conscious and sustainable practice to preserve our environment, and the conversations we have today will affect our tomorrow and future generations to come. It's a big responsibility.
I journal and document things a lot. Drawing and music were my first loves. So my textiles always tend to reveal a mood, a deeper and more intimate meaning or a (usually uncomfortable) story. I work as an illustrator and my illustrations usually develop into my prints. I love capturing facial expressions. I think it tells a lot about people and I want my clothing to do the same.
Designing is a lot bigger than a career to me because it's one of my most comfortable yet challenging forms of expression. Every project or collection, I really feel pushed to delve into uncomfortable and vulnerable conversations, and it's taking a lot more of looking outside of yourself to design than most people would think.
Designers and artists create and record the social commentary of our time, so I find it an honor and duty to be able to have that responsibility, but it's important to not take your platform for granted.
I can never speak on the goals and intentions of other designers, but personally, I really want to use my skills to better and empower my community, create resources and opportunities for the next generation coming, and improve the quality of life for those that came before me and are still sacrificing to give myself and my peers opportunities.
For too long, fashion has been too concerned with relevance and being cool, as opposed to being truly progressive, and you can see the detrimental impact of that in consumerism, exploited communities and carbon footprints.
Everything works in cycles and I was raised on the principle that 'it takes a village to raise a child,' so I want to make my contribution to that cycle and ensure my platform isn't used selfishly, but helps to educate and inspire people to want more and better for themselves, and believe it's possible enough to act on it.
Ironically, fashion is much bigger than clothing and it's so powerful and influential. It really has the capacity to change attitudes!"
Roni Helou
Lebanon, IFS 2019, Fashion Trust Arabia prize finalist 2019
"I want my brand to make a statement, whether it's regarding activism, human rights, animal rights, the environment, or something else I feel strongly about. My collections are usually inspired by human interaction, relationships and anthropology. Ultimately, I hope my clothes will inspire people to break the norms and leave a positive impact on everything that surrounds them.
The fabrics I use are sourced from deadstock abandoned in factories abroad, or vintage fabrics I find in Lebanon. Unfortunately, we don't have the means to create proper textiles from waste in Lebanon just yet. I believe that the solution to the waste problem in Lebanon is education and awareness — we need to tackle the issue at its roots and get people to believe in the power of one. By this, I mean that even as individuals, we can make a difference — and more so when a group of individuals try to resolve a problem together. Hopefully, this would result in a movement that encourages people to recycle and become more responsible as consumers.
We can't continue pretending that we're living on a different planet. We need to become aware of everything that surrounds us, and the damages we're causing as people. Older generations may still not be convinced when it comes to change, and they should therefore try to listen to our voices as we will be shaping the future of the fashion industry."
Never miss the latest fashion industry news. Sign up for the Fashionista daily newsletter.