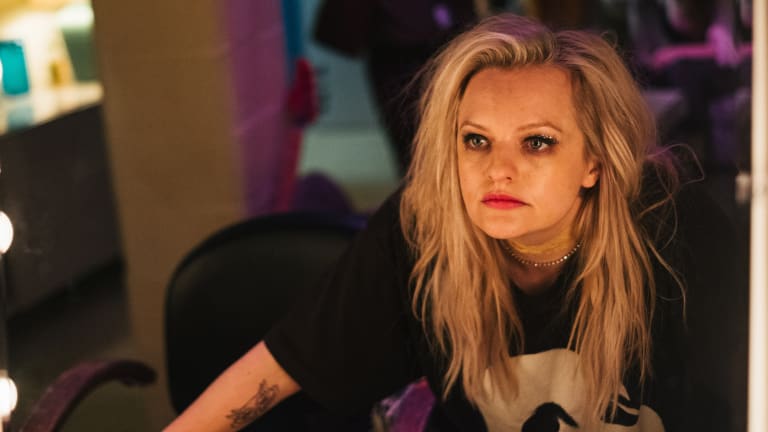 Costumes Transform Elisabeth Moss, Cara Delevingne and Agyness Deyn Into '90s Riot Grrrls in 'Her Smell'
"It was pretty funny because I was nervous about working with that many high profile and model-y women," says costume designer Amanda Ford.
Following her brief, yet terrifying turn Jordan Peele's "Us," Elisabeth Moss continues on an impressive unhinged streak, but this time making it '90s-style punk rock in writer-director Alex Ross Perry's "Her Smell." 
The film's title pays homage to the era's feminist riot grrrl culture and its aggressive, unapologetic and in-your-face embrace of all things female, notably L7's seminal albums "Smell the Magic" and "Hungry for Stink" and evocatively-named underground zines, like, Ladyparts and Her Jazz. The grunge-y, punk rock costumes also take inspiration from authentic music references from the '90s and beyond, to illustrate the spiral and trajectory of Moss's Becky She, lead singer of a fading all-woman punk band.
Related Articles
Elle Fanning Wears '90s Reebok Streetwear and Alexa Chung and Chloë Sevigny-Inspired Stage Looks in 'Teen Spirit'
Natalie Portman's Glam-Pop Superstar Costumes in 'Vox Lux' Don't Actually Reference Any Existing Celebrity
Lady Gaga Wears a Mix of Custom Gucci and Vintage in 'A Star is Born'
The supporting cast is pretty major — not just in the cinematic world, but also fashion — including Gayle Rankin and Agyness Deyn as fellow Something She members, Eric Stoltz as the record label honcho, Dan Stevens ("Downton Abbey") in dad jeans as Becky's ex and Cara Delevingne and Ashley Benson (who definitely have on-screen chemistry) as bb punk rockers.
"It was pretty funny because I was nervous about working with that many high profile and model-y women," says the movie's costume designer Amanda Ford, over the phone. "They were great." While in Atlanta shooting an upcoming adaptation of R.L. Stine's "Fear Street," Ford took the time to break down each of the characters and their costumes — which, honestly, made me want to crash her next shopping trip.
Becky She (Elisabeth Moss)
Becky's consistent run of "sloppy tops and T-shirts" and mini-skirts and paillette shorts aesthetic wasn't based on one particular person, despite the Courtney Love circa peak-Hole vibes. Ford researched "a bunch" of artists in the era, including Kathleen Hannah, lead singer of Bikini Kill and Le Tigre, and earlier, like '80s (and still-going) girl band icon Belinda Carlisle. 
"Her Smell" was filmed in five acts — inspired Ross Perry's epiphany during a performance of Shakespeare's "Hamlet" — which influenced the vintage t-shirt that Becky wears for the recording studio-set rising action scenes. "Alex was like, 'If I'm going to look at a t-shirt for a whole act of this movie, it better be interesting,'" explains Ford. So she sourced a selection of "weird vintage shitty graphic tees" and a shirt reading "Sweet Potato" — a defunct Minneapolis indie music magazine — fit the bill. "The irony of her being the opposite of sweet, but wearing something that said 'sweet,' was a fun built in joke," adds Ford, of the Etsy find.
For the climactic meltdown third act, Becky spirals in a sheer top over a bra, layered under a leather vest with "ROW STINK" written in white electrical tape on the back. Ross Perry originally scripted it as "pow stink," inspired by a DP's childhood bathroom humor phrase. But to avoid any misreading of it as "P.O.W." (like prisoner of war), Ford swapped out the "p" for an "r."
For the denouement, Becky makes her return to the stage in a velvet and lace cold-shoulder slip dress (above), which looks very '90s, but is actually contemporary and bought "on some website." "We wanted to go from hectic, jumbled, mismatched and inappropriate to something that was very pared down and even flattering and beautiful," explains Ford. 
Becky's white '80s vintage-looking boots also boast a music-related provenance, but probably not one you'd expect for a punk film. "'We totally didn't tell [Moss], and then we're like 'haha, the boots are Jessica Simpson!'" Ford laughs. "She's like, 'I love them!'"
Mari a.k.a. Marielle Hell (Agyness Deyn) and Ali van der Wolff (Gayle Rankin)
Ford made a point to use costume to differentiate Becky's supportive and enabling bandmates Mari (Deyn) and Ali (Rankin, perhaps now typecast, as she also plays Sheila the She-Wolf on Netflix's "GLOW"). "Probably my most classic Riot Grrl," says Ford about Ali's costume arc from beat up tees to color-play wide striping to a Chinoise-style blue dress, which looks like the drummer thrifted it, for the final act. "We had too many things for her." 
For guitarist Mari's cropped tank tops, textured bell-bottoms, studded and grommeted accessories and her very Mick Jagger-esque scarf-accented silk blouse and crushed velvet flares look in the final act, Ford looked to "some weird combo" of mostly male artists, including Chris Robinson of The Black Crowes, The Rolling Stones, David Bowie, "glam rockers" and Joan Jett. "I believe we threw around some David Lee Roth photos, too" adds Ford, who also incorporated Deyn's inspiration input. 
While Mari's python bell-bottoms and crushed velvet flares looked very '90s-doing-the-'70s, the languid pieces were actually found at Nordstrom Rack. Her chunky platform shoes were painstakingly selected authentic '90s vintage, though. "[Deyn] was definitely into getting the shoes right because it would help her walk and move around," the costume designer explains.
Deyn was also pregnant during filming, so Ford used costume to hide any hint of a baby bump under punk rocker gear. "She was really sensitive to that, being like, 'I want to look like a rock star, not momsy,'" says Ford, who also made a special effort to ensure comfort on-set.
The Akergirls: Crassie Cassie (Cara Delevingne), Roxie Rotten (Ashley Benson) and Dottie O.Z. (Dylan Gelula)
New meets the old guard when record label-mates The Akergirls — lead Crassie Cassie (Cara Delevingne with rainbow hair), Roxie Rotten (Ashley Benson) and Dottie O.Z. (Dylan Gelula) — overlap with Something She overstaying their studio time thanks to a fucked up Becky. Ross Perry suggested Ford look to Brooklyn mid-late 'aughts band Vivian Girls, while the she took inspiration from her second cousin Clementine Creevy of millennial punk band Cherry Glazerr. 
Ford designed The Akergirls as "a cohesive unit," with a "unified aesthetic," opposite from the more distinctly drawn out members of Something She. "They were matchy clashy, but very deliberately coordinated," says the designer. She shopped "a fuck ton" and surplus of thrift and vintage from Buffalo Exchange, Beacon's Closet and Etsy for the trio, who would look right at home at Baby's All Right in Williamsburg in 2019. "There is something very classic about this very fuck convention, punk rock, DIY aesthetic," Ford says. "It can be period, but it can also be very contemporary in its weird subversiveness."
But The Akergirls are fangrrls, evidenced by their deference to an explosive Becky and the "really, really faded and distressed" Something She t-shirt that a Manic Panic-haired Cassie wears under her black and white plaid shorteralls. "The life of the party" Roxie Rotten wears a very Delia's reminiscent 'fit of a rainbow striped racer-back tank and a shimmery satin floral skirt. "I might have given her that skirt, too," says Ford. Dottie O.Z. finishes out the composition with half animal print cut-offs and a red, black and white "weird baseball shirt." 
"That was their most casual grunge-y, sloppy look and then we coordinated them further and further as we went along," says Ford.
For the climactic third act, Something She — in a last ditch effort for relevancy — opens for The Akergirls, who dressed for the headlining part. "I wanted them to be feeling themselves, feeling their success, putting more into their looks than they had in the previous scene," explains Ford, about incorporating more print and textures, plus bright neon hues, like Roxie's vintage chartreuse zebra-print sports bra (above). "They wanted to look more composed as a group, more like performers. Flashier, more daring, asking to be looked at." 
Cassie, with her mod-punk pixie wears a "late '60s, early '70s" vintage floral dress to match. "It was totally falling apart," says Ford, who enjoyed dressing the three actresses in her layered, riot grrl creations and the three went with whatever Ford suggested. "Cara, being a model, she just bangs on whatever clothes [given to her] and doesn't editorialize at all," says the costume designer. "She didn't give a fuck."
Zelda E. Zekial (Amber Heard)
Zelda E. Zekial (Amber Heard) dresses like the consistent superstar that she is — bookending the movie to starkly contrast with Something She. Taking Ross Perry's Kate Bush inspiration in mind, Ford dressed Zelda shinier, sparklier and more glam than the rest of her label-mates. "All these other girls were like punk-y, grungy and dirty and real world and she was on a different plane — a bit sleek, she sparkled the most — like alien," says Ford.
Zelda first slinks into the green room in a second-skin gold lurex jumpsuit that gave me a little costume déja vu. "[Heard] had just done Aquaman, so she actually taught us some tricks about how to cinch the waist from inside," explains Ford, about the actress's learned technique to create a waist-defining "inner structure" for a body-skimming fit. "So I owe her a thank you for that." (And supersuit designer Kym Barrett!) Zelda finishes out the movie with gold bellbottom pants and a rainbow metallic fringe cape-coat from Nasty Gal over a sparkle tank and gold bells (above).
Howard Goodman (Eric Stoltz)
I'd be remiss without at least mentioning label exec Howard Goodman's (Stoltz) notable finale shirt, which was actually the veteran actor's idea. "We were fitting a tuxedo and we're like, 'What would Howard wear under this? And he's like, 'how about a pink ruffly shirt?' I was like, 'Sure, Eric Stoltz, that sounds great. I'll get that for you,'" laughs Ford. And, yes, there's a reason why it looks familiar. "He loved it so much, he wore it all the time. He wore it to the New York Film Festival." 

Stoltz isn't the only cast member who walked off-set with souvenirs. "Many of these people are walking around New York City with their costumes. I was very flattered," Ford says. "Aggy took a bunch of stuff; Gayle took a bunch of stuff; Eric Stoltz is rolling around the West Village in that shirt."
Never miss the latest fashion industry news. Sign up for the Fashionista daily newsletter.