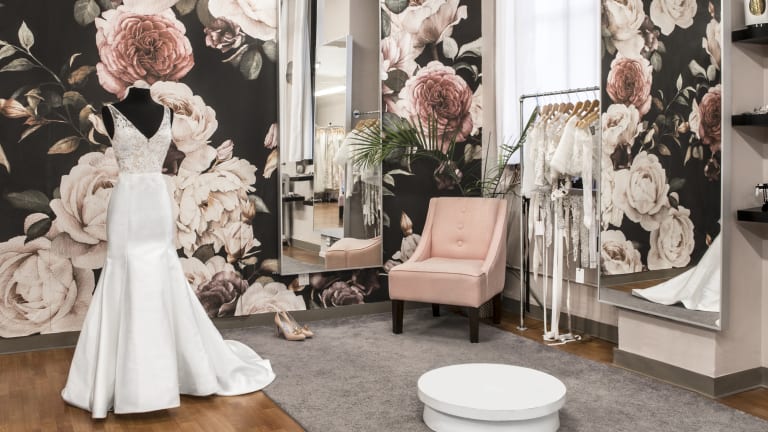 Expert Tips for Buying Your Dream Wedding Dress If You Plan to Resell After Your Big Day
Get that ROI — and spread the joy to another bride.
In addition to the price point, trending styles and possibly location or theme, one more factor could play into your decision-making process when buying your dream wedding dress: the resale potential. 
If you're making the financial, time and emotional investment, you may want to consider the ROI beyond all the Instagram moments and memories. Because the demand is there. In its 2019 Wedding Report, global fashion search platform Lyst found a 93% increase in views of pre-owned wedding dresses, along with a 42% combined increase for related searches using terms, like "vintage" and "second hand."
The growing millennial and Gen Z dedication to sustainability is contributing to the interest in buying pre-owned (and renting) clothing in general, pushing the overall concept of  "value" to today's wedding consumer.
"Value is mainly about not wanting to be wasteful because it's just one day," says Jackie Courtney, Founder & CEO of e-commerce site Nearly Newlywed, which buys and sells pre-owned (or sample) bridal gowns. "Reselling is one way to either pay it forward or save money to invest in something that's more experiential, or to put it back into their relationship. It's about sustainability and the waste factor." 
Related Articles:
The Meghan Markle Effect is Still Going Strong on the Spring 2020 Runways
7 Easy and Oh-So-Pretty (and Surprisingly Fast) Ways to Customize Your Wedding Dress 
How to Shop For — and Find — Your Dream Vintage Wedding Dress
Plus, space — especially in cities filled with apartment dwellers — is precious commodity. (As Courtney points out, most brides' wedding dresses are probably sitting in their parents' spacious basements or garages. Guilty over here.) Not to mention, if you already have the 'gram — forever searchable by your clever hashtag — is there a need to actually keep the dress? 
"Weddings today have become such an Instagrammable moment; everyone has these amazing photos from their wedding day and that's really enough," says Sasha Skoda, Category Director of Women's of luxury resale site The RealReal, which now offers expanding categories of wedding-related items, from dresses to accessories to rings. 
If the lucrative world of bridal resale is of interest to you and your spouse, here are some expert tips on making the most of your wedding dress — or bridal wardrobe — investment, starting from the shopping stage.
Keep the designer in mind
Some brides looking for a pre-worn wedding dress already have their hearts set on specific designer/s. According to trends data provider SEMrush, these are the top 10 brand searches for pre-owned wedding dresses (and related terms, in order): BHLDN, Vera Wang, Hayley Paige, Pronovias, Pnina Tornai, Maggie Sottero, Jenny Packham, Anna Campbell, Lazaro and Monique Lhuillier. 
Interestingly, on Nearly Newlywed, interest in more old guard, mainstay designers has decreased — Vera Wang's traffic fell 3.1% to 1.5%, year on year — while searches for buzzier indie or international designers, like Alexandra Grecco, Lihi Hod, Rue de Siene, Berta, Inbal Dror, Grace Loves Lace, Lihi Hod and Rime Arodaky have grown "exponentially." Courtney notes that the smaller designers, especially harder-to-find ones, will sell at a lower discount, meaning the seller makes more money back. Plus, "they fly off the site," while traditional brands take longer to find a buyer and tend to require a "heavier" discount.
Unsurprisingly, celebrity weddings also influence demand. The RealReal notes that after Meghan Markle's Royal Wedding and Hollywood aristocrat Gwyneth Paltrow's nuptials, searches for "Givenchy dress" and "Valentino dress" spiked, respectively.
Pay attention to the style, too
"It's definitely more designer agnostic for the majority of [our customers]," says Jacquelyn Ward, co-founder of New York-based luxury resale boutique, Our Story Bridal. Her clients ask for specific styles and trends in mind, regardless of label. As of late, A-line silhouettes, v-necks, sleeves and 3D floral appliqués are top requests. (She does say that Our Story's hot ticket labels tend to be Israeli brands, like, Berta, Inbal Dror and Mira Zwillinger and the classics: Oscar de la Renta, Vera Wang, and Monique Lhuillier.)
Across the board, data shows that interest in lace, long sleeves, slip dresses, 3D florals and overall Meghan Markle minimalism remain strong — at least for now. (Another reason to study the roundups that come out of each bridal season.) Thankfully, wedding style trends don't typically change as quickly as the ones from the fashion runways.
Do the math beforehand
"We get an increasing amount of women requesting to know if a dress has good resale value," says Courtney, about inquiries from brides doing their due diligence before buying a new dress. "Does this dress resell well? What could I make? Is it worth it to spend more on this one versus another?" 
Pre-owned dresses tend to sell at a discount between 40% and 60% off the original retail price; on Nearly Newlywed, the aforementioned hotter brands often sell at a 20% to 30% discount. Assess your bottom line by factoring in the retailer's commission fee. For instance, Our Bridal takes 35%, while Nearly Newlywed takes 40%. (Although with the latter, you do have the option to re-sell your pre-owned wedding dress back to recoup 40% to 60% of the price you paid.)
Breaking it down into dollar amounts, Maes says that the "sweet spot" price tag for her clients sits "between $1,500 and $5,000," while gowns over $5,000 tend to take longer to unload. 
Decide where to sell it
"Find somebody that you trust," advises Ward. She and fellow Co-Founder Ana Maes opened Our Bridal as a luxury boutique experience after their own less than ideal ordeals trying to offload their dresses online. 
Make some recon visits to local boutiques to see what matches your aesthetic (i.e. where your gown would most likely sell) and research online options, too. According to SEMRush, the top five most visited sites for preowned wedding dresses are, in order, weddingbee.com, preownedweddingdresses.com, stillwhite.com, oncewed.com and nearlynewlywed.com.
Also, assess the time and effort you want to put in versus the help you want from the resell retailer. For instance, Our Bridal offers complimentary pickups and will coordinate cleaning and restoration.
Plan to sell it ASAP
"One [piece of] advice to brides: Try and sell your dress as soon as you get married because you're going to have a higher chance of selling it [quickly] and pricing it higher," says Maes, as Ward suggests having the dress cleaned immediately after the wedding. "Don't put it at end of the your to-do list, or two years later you're still trying to get to it," she adds.
Rule of thumb: The older the dress, the less money you'll earn back. Our Story Bridal, for example, only takes dresses from within the past three years. Some discerning brides-to-be will try a dress on at a salon or boutique and then look online to buy it at a discount, so if your gown is still in stores at full price, that means a quick sale and more cash back for you. 
Consider selling your entire bridal wardrobe
These days, tying the knot involves a series of looks — rehearsal dinner, reception, after-party, brunch, etc. — and those wedding-adjacent pieces are highly re-sellable, too.
"That's where we're seeing more of a lift in the market," says Skoda, about alabaster suiting, jumpsuits, rompers, less formal dresses and separates. "Those are really holding resale value. I would say even more than just a traditional wedding gown." The RealReal's West Hollywood brick-and-mortar store even has a dedicated rack of wedding-appropriate all-white, but non-traditionally bridal, pieces.
Be very careful with alterations
Rule number one: It's more difficult to sell a pre-owned dress if it's too short, so be conservative. Courtney advises trying to not cut the seams, so it can be taken out later, if necessary. Ward also smartly suggests saving any excess fabric, beading and/or embellishments, just in case the next owner can use for the second round of alterations.
Also, investing in a high-end, luxury fabric, like heavyweight silk satin or a substantial lace may prove worthy. Quality textiles are not only more durable, but also can be nearly remade into a desired more current style. On the other hand, Courtney warns that heavy embellishments or very intricate detail on delicate fabrics, even if high-end, are more susceptible to damage during the post-wedding dry cleaning, so keep that in mind, too.
Keep the receipts
Like, literally, because you may need proof for retail price verification. Plus, don't remove the label, which is necessary for authentication. "Also, as you're buying your dress, document about all the beautiful details or interesting notes about it," says Maes. "For instance my dress had 'eight layers of hand-placed Chantilly lace.' You can write those details into the captions [of your resale listing] or pass onto us to help our stylists explain to a bride why your dress is so special."
Make the most of your photographer
"Since you're going to have the best photographer to take the best photos of your wedding, make sure you think proactively about what angles you want to feature of your dress, whether detail shots, back angle, side angle," says Maes. 
Finally, spread the joy
"People underestimate how special it is to have someone else wear your wedding dress," adds Maes, who adds that her sellers are not only excited to make money back from their wedding gown, but also that someone else is experiencing the piece on their big day. Our Bridal even documents these encounters on its "One Dress, Two Stories" feature on its blog. "People have been so excited to see pictures of the bride, how they styled and how they wore the dress. I underestimated the emotional part and a lot of sellers have, too."
Top and homepage photo: Coni Tarallo/Courtesy of Our Story Bridal
Never miss the latest fashion industry news. Sign up for the Fashionista daily newsletter.