Baja East Co-founder and Former Marc Jacobs Designer John Targon Returns With New Knitwear Label Fall Risk
And he's taking phone calls — seriously — and orders from customers, too.
Though rumblings of a new label from designer John Targon — formerly of Baja East, which he co-founded in 2015, and Marc Jacobs, where he briefly held the position of "creative director of contemporary" — only first appeared online in February, the idea behind his new brand started all the way back in May 2018 when he had a revelation about his past and future within the fashion industry. (Plus, he was on an eight-day surfing trip in Costa Rica — a prime scenario for some much-needed self-reflection.) 
"I was thinking about how this was a fresh start for me, and within that process, I really looked at what the fashion world is like now and how I was shopping," recalls Targon. A slew of consulting and branding projects — from automotive to fashion and beauty — helped him realize what exactly he was going to do differently this time around. The ideas of longevity, seasonless clothing and sustainability came to Targon's mind; all buzzy topics within the industry at the moment, but a sign that consumerism has certainly, majorly shifted over the past five years. After months of consideration, the debut of Fall Risk officially arrived on Tuesday.
"Having started a brand from inception and looking back at all of it, there's a lot of factors that come into play. It's this rush, and I wanted to slow down this cycle and get the products right and view them each specifically as a product and not just something that fits with three other pieces in the same fabric, which was the past for me," notes Targon, who prefers to call the two individuals on his team "product developers" rather than designers.
Ultimately, with Fall Risk, Targon can get off what he calls "the wheel of designing 90 pieces in a collection" — a nonstop cycle that can potentially lead designers to creative burnout — to, instead, designing selected limited-edition garments that will likely sell out rather than being overstocked and on sale the following season.
"When you get into the process, whether you're developing shearling or a T-shirt or a new knit polo, it takes rounds and iterations to get it to something that you really love," says Targon. "It's allowing yourself that opportunity to perfect something and not rush it out there. You know those small details matter, and they matter when you go back to revisit that piece three times in one week if you love it so much or two years from then. It's those little details that make it more timeless than fast fashion."
The brand's debut collection, dubbed Volume 1 and priced between $145 to $695, is a mashup of Targon's favorite aesthetics from different eras, which he describes as "nouveau vintage," in lush knitwear, like a cashmere button-down polo henley and matching wide-leg pants that were recently spotted on Bella Hadid. Targon considers the polo collar a signature for the brand, and something that will likely be brought back with each future volume of Fall Risk. 
A modern-day collection wouldn't be complete without a few graphic T-shirts in the mix, too, though Targon opted for a variety of thrift-like designs (inspired by motocross, roller skating, tennis) instead of the more hypebeast-leaning graphics that have taken over merch stands and Gen Z's wardrobes. "Everything that is involved in Volume 1 is this idea of collectibility," he says. "If you were to buy one T-shirt from any of these 10 or 11 that are available, it doesn't feel as if you bought into a specific collection. They can transcend time and they don't fit into a box of a theme, collectively."
In addition to rethinking the design process for Fall Risk, Targon is moving away from the traditional retail business model, too. Rather than having customers shop online, the brand's website will serve as a virtual showroom, providing a phone number to Fall Risk's Lower East Side-based studio as Targon himself and his team will answer calls and take orders on weekdays from 3 to 7 p.m. EST. (You can also view this live in action — telethon style — on Instagram, including Fall Risk's brand account and Targon's personal account.) And in typical drop culture fashion, once the pieces are sold out, they're gone forever, but you can get early access to future releases by joining Fall Risk's Members Card program. The roster is already stacked, boasting cool names like Duckie Thot, Alana O'Herlihy, Solange Franklin, Claudia Oshry and Delilah Belle.
"We live in such a digital age and it's so easy to click a button, but I wanted to bring it back to how you look someone in the eyes — and if you can't do that, getting them on the phone — and ask them about the things that they love and how they wear it, directly from the source," says Targon. "When you know the story behind something, you become the person to share that message. That makes wearing clothes more than just wearing clothes. It makes it more personal."
See the rest of Fall Risk's debut collection in the gallery below.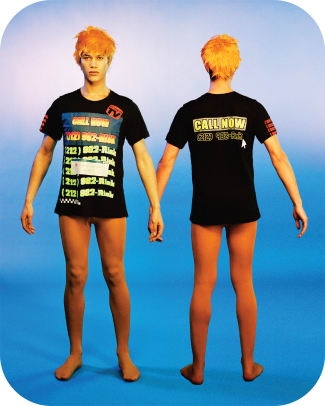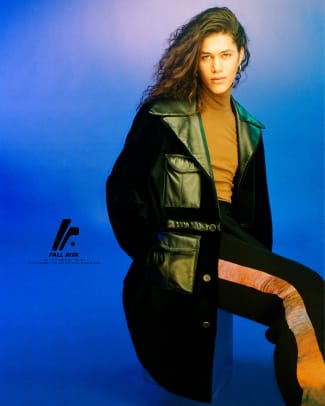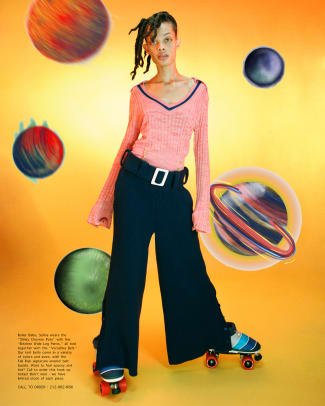 Sign up for our daily newsletter and get the latest industry news in your inbox every day.