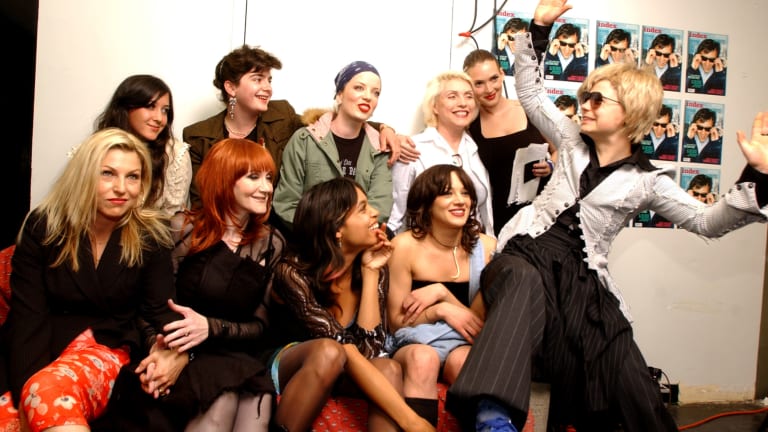 Kristen Stewart and Laura Dern Wear Early-2000s Costume National and Jean Paul Gaultier in 'J.T. LeRoy'
The new film about the hoax of the decade also co-stars Diane Kruger and Courtney Love in current-day Vika Gazinskaya.
Deep into the Age of the Grifter — faux socialite Anna Delvey styled for her court appearances, Theranos founder Elizabeth Holmes with her baritone and black turtlenecks, the 45th POTUS with his tax and academic records still a mystery and so on — the circa mid-aughts J.T. LeRoy hoax fits right into our Year of the Lord 2019. 
Blown wide open by a 2005 New York magazine exposé, the J.T. LeRoy con completely duped the rarified literary world, the most A-list of Hollywood and the general public. Refresher: J.T. or "Jeremiah Terminator" LeRoy supposedly wrote two semi-autographical books "Sarah" and "The Heart is Deceitful Above All Things" about his childhood as a sexually abused, trafficked and drug addicted young boy. But J.T. was actually the fake persona of Laura Albert, a 40-year-old woman. For public outings (and celeb-filled appearances, see photo above), Albert's boyfriend's younger sister, Savannah Knoop, took on the persona of J.T. — with the shaggy blond wigs, oversize sunglasses, gender-neutral suiting and wide-brim black hats — for public and celebrity-filled appearances for six years.
In 2008, Knoop authored a real memoir "Girl Boy Girl: How I Became J.T. LeRoy" and later co-wrote the movie script based on the book, "J.T. LeRoy," which premieres Friday, April 26 in select theaters, on demand and digital. The indie film stars Kristen Stewart as Savannah (and Savannah as J.T.) and Laura Dern as Laura Albert (and her other persona, the questionably Brit-accented Speedie, who accompanied "J.T." on public outings).
"That's very confusing," says Avery Plewes, who explained that the script broke the two lead roles down into four characters — hence requiring four separate wardrobes, which are just as audacious as the true story. To explain it all below, the Toronto-based costume designer delves into the story-supporting costumes for the two (technically, four) leads and supporting players, Diane Kruger's Eva and Courtney Love's somewhat meta Hollywood producer Sasha.
Related Articles:
Costumes Transform Elisabeth Moss, Cara Delevingne and Agyness Deyn Into '90s Riot Grrrls in 'Her Smell'
Elle Fanning Wears '90s Reebok Streetwear, Alexa Chung- and Chloë Sevigny-Inspired Stage Looks in 'Teen Spirit' 
All of the Costume Clues to Spot in Jordan Peel's Terrifying Film, 'Us'
Savannah Knoop and J.T. LeRoy (Kristen Stewart)
Plewes began her costume research directly with Knoop, who even lent personal wardrobe items. Stewart, as Savannah, first arrives in San Francisco wearing mostly thrifted oversize T-shirts and sweatshirts, which were intentionally distressed by the costume team. "A lot of the clothing that Kristen wears, we straight-up cut when it was on her body in her fittings," says Plewes. (And, yes, after the movie wrapped, sneaker-fan Stewart also took some of Savannah's aged and beat-up Converse Chucks home.)
Knoop also custom-made an asymmetric, raw-edge top for J.T. to meet Sasha in Los Angeles. The shirt is a replica of one Knoop actually wore to a Hollywood party. The deconstructed, sack-like piece and elicits a "J.T., what are you wearing? What is happening to all the money?" (presumably sent by duped celebrities), which also mirrors a real-life response to one of Knoop's real-life fashion choices.
As Savannah fully takes on on the J.T. persona and rises in celebrity, J.T.'s wardrobe increases in designer pedigree, too. Plewes studied a decade of pre-Style.com, United Press International fashion runway coverage to hone in on the look of the "core" brands that J.T. wore: Jun Takahashi's streetwear-punk Undercover, Calvin Klein, Margiela, Costume National and Commes des Garçons, which Knoop still wears in real life. But the costume designer and director Justin Kelly didn't want to exactly replicate all of the heavily-documented looks.
"We interpreted everything in a way that would have been grounded in the way that Savannah as J.T. dressed," she explains.
Plewes found the bulk of authentic early-aughts gems from Gabriel Held Vintage in New York, which also felt like kismet. "Gabriel actually told me he was at one of the parties that J.T. was at, which was a theme throughout making this project," she says. "I was surprised to meet so many people who had encountered J.T."
Authentic mid-aughts pieces from Costume National, which, in real life, lent "two steamer trunks full of clothes" for J.T.'s 2004 appearance at the Cannes Film Festival, was especially challenging to find. To recreate the premiere of "The Heart is Deceitful Above All Things" movie, Plewes instead dressed J.T. in a contemporary, but past-season matador jacket tux by Vika Gazinskaya, a friend who lent a generous amount of clothing to outfit the entire cast. Plewes was drawn to the suit's trousers, which were very similar in silhouette to the pants the real J.T. wore to party with celebs, like Debbie Harry, Winona Ryder, Rosario Dawson and Vanessa Carlton. (Hey, it was 2003 in the top photo.)
Laura Albert and Speedie (Laura Dern)
"Very early on, I decided she was the love child of Stevie Nicks and Betsey Johnson and then went from there," laughs Plewes about Laura Albert, who switches back and forth between her scrappy, bohemian San Francisco self and alter ego Speedie, who Vanity Fair described as wearing "odd Victorian clothes" and a red wig that made her look like "a Halloween reveler." 
"It was putting things together that no one would ever really think of because their world was so obscure," says Plewes about Laura's copious layers of fishnets, printed maxi dresses, concert Ts and ripped-up sweatshirts. "She wears thermal underwear with several different items — with a dress and an oversize flannel top over it. It was putting these base layers that we were able to mix and match with in really peculiar ways, which mirrors the story."
As Speedie, Laura wears a great deal of early/mid-2000s Jean Paul Gaultier — especially those tattoo-sleeve mesh shirts — and, of course, vibrant Betsey Johnson. Laura's/Speedie's character-driven wardrobe evolution mirrors Savannah's/J.T.'s. Notably, her hat game really kicks up around the time J.T. receives a signature wide-brim topper from Eva. Breaking one of the cardinal rules of costume design, Plewes even dressed the two in the same gray, white and black hues for their road trip to Los Angeles.
"It's a project about identity, whether it's sexual identity or your mind," she adds. "When I approached [Laura] and Savannah, it's a story really about how these two people mesh into one another and weave into each other and weave in and out." 
Eva (Diane Kruger)
Eva, the character, is a fictionalized take on Italian actress and director Asia Argento, who, in real life directed the 2004 movie adaptation of "The Heart is Deceitful Above All Things." (Last year, the New York Times reported that Jimmy Bennett, the actor who played "Jeremiah" in the movie, accused Argento of sexual assault in 2013 and the two agreed on a settlement, while she has denied the allegations.) But Eva's costumes don't reference any specific people.
Through the fittings, Kruger and Plewes "organically" determined a silhouette and aesthetic for Eva to channel a European, "irreverent, wealthy actress who wants to look vintage and hip." (Plewes did take some inspiration from cool AF American rocker Alison Mosshart of The Kills, though.) Eva wears lots of crop-tops, rugged jeans, leather, like the '80s-era fringed jacket copped from a vintage store in Winnipeg and chunky, studded jewelry by Chrome Hearts.
One could also imagine Kruger wearing some of Eva's looks off the set, especially the above mint green, faux fur jacket (above), which is actually contemporary Vika Gazinskaya. Although, it wasn't originally meant for her. "I had that furry jacket in for Savannah," says Plewes. "Diane came in for the fitting, took it off the rack and put it on, and it was just perfect for her. It was an 'OK, yeah you need to wear that' moment." 
Sasha (Courtney Love)
Similar to how Sasha is an amalgamation of Hollywood A-listers, in general, falling for the hoax, including Love (photo evidence, above), the character's costumes are a composite, too.
"It was such a decided nod towards the whole circle of that era," says Plewes, about Sasha's power wardrobe, which includes a printed Diane Von Furstenberg '70s-inspired brown-and-yellow print wrap dress, which made a resurgence around that time. Of course, it's hard to not be inspired by Love herself, so Plewes accessorized Sasha's iconic party dress with Mary Janes, which the actress-musician famously wore in the grunge-y '90s.
Speaking of, when Sasha first welcomes J.T. and Speedie into her luxurious Hollywood mansion, she's wearing a louche-chic Vika Gazinskaya floral robe and royal blue silk slip by Christine. "We wanted her to be a glamorous producer type that walks around in a robe and a slip and I loved putting Courtney Love in a slip," says Plewes. "I mean, if you're going to put anyone in a silk slip, you want it to be Courtney Love, right?" 
Top photo: Vanessa Carlton, Tatum O'Neal, Laura Albert/Speedie, Gaby Hoffmann, Shirley Manson, Rosario Dawson, Asia Argento, Debbie Harry, Winona Ryder and Savannah Knoop/J.T. LeRoy at an Index Magazine party in New York on April 17, 2003.  Photo: Dimitrios Kambouris/WireImage
Never miss the latest fashion industry news. Sign up for the Fashionista daily newsletter.