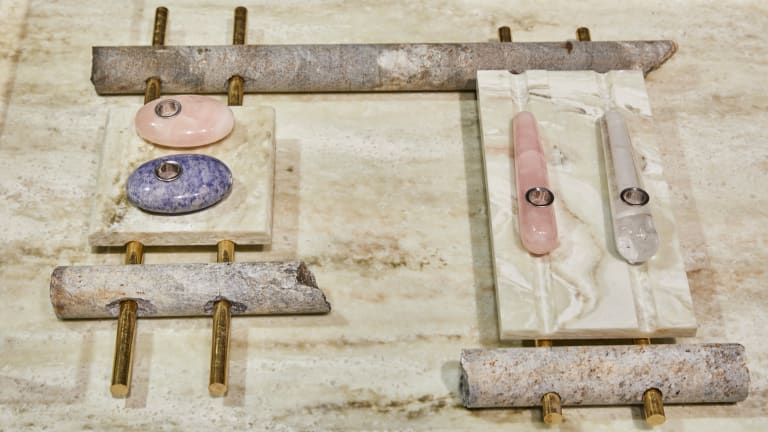 As Brands Cash in on Cannabis, Are They Working to Dispel Racial Disparity That Still Exists Behind It?
If you buy — or sell — chic weed accessories, you've got to pay it forward.
In March, Maya Shaw felt like she was having a crisis with her small business, a Brooklyn-based online shop called Shaw that offers cannabis-related beauty and lifestyle products, ranging from ceramic bong pipes to CBD soaps. "I felt like I was falling down the wrong path," she says. After meeting with a friend, Shaw was told to go back to what made her want to start her business in the first place: offering well-designed, accessible smoke items with a mission to advocate for just legalization of cannabis.
By the end of March, Shaw dropped a limited-edition long-sleeve tee, emblazoned with statistics that highlight racial inequality as a result of the war on drugs, specifically within New York, where legalizing weed is still a hot topic among lawmakers. "Black people are eight times more likely to be arrested for low-level cannabis charges than white people, and hispanic people are five times more likely to be arrested for the same charges," the shirt reads. (In the U.S., Black people are 3.73 more times to be arrested than white people for weed, despite equal usage rates.) All of the proceeds from the tee's sales were donated to the Drug Policy Alliance; within two weeks of its release, Shaw had already raised more than $1,600. She plans to keep the item up for sale due to popular demand.
"So many really rad smoke shops are opening up that just don't have a campaign or mission to pay it forward," says Shaw. "It's so important that we have the privilege to not only purchase really cute smoking accessories, but also to be able to smoke weed without having the stigma that's embedded in the racist system that is cannabis prohibition."
Related Articles
How Designers Are Catering to Those Who Love Juuls and Vaping
Cannabis Companies Are Taking Cues — and Employees — from the Fashion Industry
Weed-Based Beauty Products Are Getting Chicer (and Way More Prevalent)
As businesses across the beauty, wellness and fashion industries cash in on legal cannabis — a rapidly growing market with a total economic output expected to reach $40 billion by 2021 — which ones are doing the work to dispel the racial disparity that still exists behind it? Plus, how can we, as consumers, do the same? It's easy to get wrapped up in shiny, new things like rose gold vape pens or artsy grinders (and we have, too) but "consumers can take the lead and change that shit," says Shaw bluntly.
For starters, she suggests that shoppers reach out to brands and ask questions, from how they package their product to what issues they support. "The worst thing somebody can do is say 'no' or just not respond, but the best thing that can happen is that you could be someone that cultivates change for another business," notes Shaw. "I've decided to dive into asking questions that then focus my lens on where I want to put my money, and making sure my money stands behind my morals. The most important thing that a consumer can do is be curious."
Launching a business in any market is difficult and expensive in and of itself; acquiring VC funding is an even more daunting task. Adding on to those barriers is the possibility of being banned from joining the green rush due to marijuana-related convictions. For business owners who want to push for equity in the legal marijuana market, there's a rise of organizations who consult on making sure companies in the industry are diverse, inclusive and advocating for change. Adam Vine co-founded Cage-Free Cannabis in 2017 to do just that.
"As a white person myself who has been consuming cannabis for the last 20 years, I've enjoyed tremendous benefits from this plant, but I've never had to fear for my life or my liberty because of my use of it," explains Vine. "So I feel a responsibility to make sure that this emerging cannabis industry is providing benefits to those same communities of color that have been disproportionately harmed by prohibition."
While giving portions of revenue is a great start for businesses, Vine advises that internal, team-focused ways may provide longer-lasting benefits, including hiring people who have been directly impacted by the criminal justice system and making sure all of your workers are paid a living wage and have opportunities to grow within the organization.
Solonje Burnett co-founded Humble Bloom in 2018, hosting panels, discussions and immersive experiences — essentially providing education and building communities — to help break down the stigma and stereotypes behind cannabis use. With experience in implementing both diversity and inclusivity in corporate workplaces, she stresses the same notion for cannabis businesses, as well. "When you have diversity of thought, it only helps your business grow and be inclusive of who you're marketing to," says Burnett.
Vine also brings up the idea of larger cannabis businesses potentially incubating smaller businesses that are seeking to enter the industry. "And even beyond that, cannabis policy is constantly evolving," he adds. "It requires a lot of effort and attention to make sure that we shape equitable cannabis policy, so businesses can play an outsized role in that advocacy role as well."
Overall, Vine has noticed small independent brands as the most eager to help and participate in what Cage-Free Cannabis is aiming to repair, as well as women who are really leading in terms of giving back. And while Vine says he's seen increased awareness of these issues, he doesn't necessarily see increased action: "The ancillary industry in general needs to step up and become more involved."
At the beginning of April, Victoria Ashley of Canadian smokeware brand Laundry Day announced that she would be launching equity initiatives within the next few months, starting with a special-edition glass piece for sale at the end of May. Ashley plans to donate 50% of its proceeds towards a selection of organizations that are geared toward women, social equity programs and cannabis. "I understand that I do benefit from a system that has excluded groups of people and people of color from participating, and that I get to do so safely and without question," says Ashley. And while she lives in Canada where cannabis is legal, she still believes that she can contribute to the discussion.
"It can be hard when you're a small business," says Ashley. "Right now, Laundry Day is very small, but at the end of the day, your business is still doing better than the people who are being affected, so find out what makes sense for you to be able to give back even if it's just talking about it, even if it's educating yourself and educating others." Ashley admits that she's still learning about the deeper issues that lie within the cannabis industry, but she says that every little bit of help counts, whether that's sharing stories to help open up conversations surrounding the plant or being more representative of marginalized groups.
"People just want to see that you understand and that you're willing to work on it, as well," says Ashley. "I've learned that when you get that direct message from someone on Instagram who it seems as though they're calling you out, they are calling you out and you should listen to that because their opinion and how they see this space is valid."
Homepage image: Pipes at The High End. Photo: Courtesy of Barneys New York
Sign up for our daily newsletter and get the latest industry news in your inbox every day.