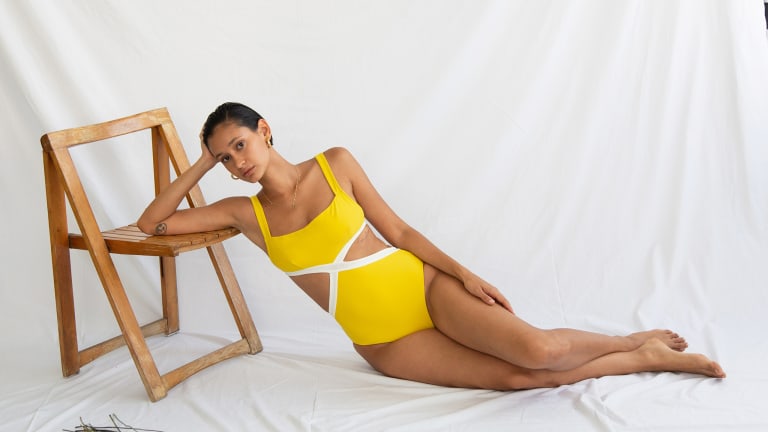 7 New Swimwear Brands for Earth-Loving and Style-Conscious Beach Bums
Make waves in these chic, sustainable labels this summer.
Swimwear is synonymous with care-free sunny summer days. It's what we wear while letting the stress of our work lives slip away, while sipping a glass of rosé on a pool float. It's a happy uniform — one that comes in bright colors and endless form-flattering silhouettes; but it's also one that can cause serious damage to the environment, thanks to its heavy use of plastic. This is a problem because plastic is not biodegradable, so it sits in landfills or oceans forever, adding to the estimated eight billion tons of plastic that already exist on the planet.
The good news, though, is that there's a new wave of eco-friendly beachwear designers that have us excited about the prospect of updating our swim drawers. These brands are conscious about their environmental impact, doing their best to use recyclable materials and reduce as much waste as possible. And there's something for everyone in terms of size — some of the brands offer an inclusive size range — and swim aesthetic — whether you prefer a vintage lingerie-inspired balconette top, a cheekily cut '90s-style string bikini or a full-coverage minimalist one-piece. 
Read on for seven up-and-coming labels we'll be shopping for ourselves in preparation for summer.
Anemone
Following stints at Stella McCartney, Gucci and Moda Operandi, Joshua Shaub and Lauren Arapage launched Anemone in November 2018. "We both grew up in Southern California by the beach and met while working in fashion in New York City, so we wanted the collection to blend the laid-back ease of the West Coast with the edginess of New York cool," Arapage says. "We are obsessed with '90s fashion and '70s free-spirited muses so our suit cuts and the floral embroidery pay homage to the two eras."
It's no secret that Kate Moss is a big inspiration behind the line: The cheekily-cut black bikinis and smaller cups on the balconette top are nods to her subtle sex appeal. Her cooler-than-thou influence is also felt in the skimpy leopard-print bikini. Other standouts from the label's first offering include high-waisted bottoms and a square-neck white one-piece that's embroidered with bright orange flowers.
All of the suits are produced in L.A. using fabrics from Italy, save for the leopard print, which is from Brazil. "The factory we work with is family-owned and we feel strongly about supporting local businesses," Shaub says. "Our fabrics are eco-sensitive certified, and we use paper products made of sugar cane, hemp and flax — all by-products of other industries which would normally go into landfills." 
Price range: $235-325 for one-pieces; $130-$185 for tops; $125-$195 for bottoms
Shop at: Anemone, Goop, Moda Operandi 
Bissy Swim
After being featured in the 2018 issue of Sports Illustrated Swimsuit, model Allie Ayers launched the size-inclusive swimwear line, Bissy Swim, with the mission of perfecting the fit and feel of bikinis for women of all shapes and sizes. The entire range is available in a size 0 up to a 26. In an effort to ensure great fit, Allie and her team fit their suits on three different models. There is a "straight size" fitting for the smaller sizes, a "middle size" fitting and a "plus size" fitting for curve sizes. 
The resulting range flatters all curves, and as the name would suggest, helps to translate the pure joy of summer into bikini shopping. The suits are affordable and come in playful prints and in high-cut, Bella Hadid-approved silhouettes. 
Price range: $129-137 for one-pieces; $69-$75 for tops; $50-$55 for bottoms
Shop at: Bissy Swim
Dipped in Blue
Dipped in Blue is only a five months old, but it's already made a big splash on social media: Bella Hadid and Kendall Jenner have both posted poolside pictures on Instagram wearing the suits. The brand, which was founded by two teen best friends Frankie Belle Stark (the daughter of Richard Stark, the founder of Chrome Hearts) and Kono Lulu Smith, is a Malibu influencer's answer to a perfect summer thirst trap. The label's high-cut bottoms reference the "Baywatch" babes of the '90s and its tops range from a cool underwire-cup style to an extra stringy take on the classic triangle. 
The brand's first batch only comes in four colors — a pale blue, a nude, a black and a poppy red — as well as a newspaper print, which is made up of original black-and-white photographs taken by the pair themselves. But the California duo says they will introduce more prints in later collections: "We want to design styles using animal prints that other swimsuits brands haven't created before." 
Price range: $120-$150 for one-pieces; $90 for tops; $90-$100 for bottoms 
Shop at: Dipped in Blue
Fair Harbor 
Brother-sister duo Jake and Caroline Danehy launched Fair Harbor in 2015 with the mission to create a positive impact on the environment and the fashion industry. Growing up, they spent their childhood summers at the beach in Fair Harbor, a small community in Fire Island that embodies simple living — not even cars are permitted. "It's where we initially became connected to the ocean and the beach," the pair says. "We knew we needed to do something to keep the waters clean and protect beach communities like Fair Harbor." Their solution: A brand that leverages technology to mitigate the use of single-use plastics by transforming recycled plastic bottles into swimwear. 
Each men's and women's swimwear product is made from anywhere from three to 22 recycled plastic bottles, sourced from mass-recycling facilities worldwide. The bottles are then broken down into polyfibers that are spun into yarn, woven into recycled polyester fabric and finally cut and sewn into minimalist silhouettes, such as a straight across bandeau top and a classic triangle top. The suits, which come in muted colors and easy-to-wear stripes, boast functional features like adjustable straps and are designed with comfort and blissful summer BBQs in mind. 
Price range: $98 for one-pieces; $48 for bikini sets
Shop at: Fair Harbor 
Galamaar
Blakely Wickstrom had a comfortable gig as a designer at a traditional apparel brand, but she set out to start her own label as a way to help move the fashion industry in a more eco-friendly direction. Having already launched the swim line for 6 Shore Road and having grown up on sunny California beaches, Wickstrom decided to focus on developing a sustainable swim line. Galamaar was born two years later in the summer of 2017. 
"Galamaar is designed to be more timeless than trend-driven with the intent to stay relevant for longer than just a season or two," Wickstrom says. Each swimsuit is made using an Italian fabric fashioned out of 78% recycled nylon, which is sourced from discarded fishing nets pulled directly from the ocean. "I love that my fabric not only offers waste-to-wear properties, but it takes something so harmful straight from the environment it's intended for and gives it a beautiful new life."
The 11-piece collection draws inspiration from vintage lingerie sets and '90s thigh-high cuts. The color palette is simple, but the details are anything but. Bottoms and tops are sold separately to allow the wearer to mix and match the retro styles with more modern silhouettes. Wickstrom plans to expand the brand's size range in the near future and wants to offer more coverage options on bottoms, since belly button-grazing briefs aren't for everyone. 
Price range: $138-$276 for one-pieces; $78-$159 for tops; $58-$125 for bottoms
Shop at: Galamaar, Garmentory, Madewell
Left on Friday
While on a surfing trip to Australia, Lululemon design and merchandising executives Shannon Savage and Laura Low Ah Kee realized there was a huge gap in the market when they couldn't find a stylish suit that held up to their active lifestyles. So, they left their high-power jobs at Lululemon to start Left on Friday. The brand had a soft-launch in Canada in 2018 and made its U.S. debut this spring. 
"We created a brand for a new, active consumer who doesn't compromise her style expectations for quality, fit and performance," says Low Ah Kee. The founders melded their obsession with fit and their expertise in athleisure design to ensure that straps stay put and seams don't rub or dig. They also recruited ex-Olympic swimmers and big wave surfers to test out the line. "We've obsessively thought and rethought every single detail, from seams to bum coverage to no fussy strap adjustments," notes Savage. 
The clean-cut swim line, which is comprised of four one-pieces, four tops and three bottoms, is made with the company's Smoothing Dream Fabric, milled in Italy. This fabric was selected for its compressive features and for smoothing coverage. It's also fade and snag resistant. Left on Friday is a great option for the active influencer set who want to look Instagram-ready while kiteboarding in Maui. 
Price range: $170 for one-pieces; $85 for tops; $85 for bottoms 
Shop at: Left on Friday
The Saltwater Collective
Camilla James had no formal training or experience in fashion before launching The Saltwater Collective, a Toronto-based sustainable swimwear line, in 2018. She did, however, have a passion for eliminating waste in the world and promoting body positivity and self-acceptance. "I want to inspire a change in the swimwear industry and in the minds of women who want to feel more comfortable and confident in a swimsuit," James says. "I want my industry to reflect the world around us and the reality of our bodies more accurately, and I hope that my brand will play a role in changing the norm." 
James has accomplished this by creating a line of colorful, elevated basics using Econyl, a regenerated nylon yarn made from abandoned fishing nets and waste taken from landfills. All of the swimwear is produced locally in Canada, which allows James to work intimately with a manufacturing team that understands and supports her mission. 
The suits come in a variety of poppy hues and flattering silhouettes, and are designed with thoughtful details — like thick straps to provide greater support for larger busts and elastic waistbands for extra comfort and structure. 
Price range: $116-123 for one-pieces; $48-$56 for tops; $56-$64 for bottoms 
Shop at: The Saltwater Collective, Garmentory 
Homepage photo: Courtesy of Galamaar 
Please note: Occasionally, we use affiliate links on our site. This in no way affects our editorial decision-making.
Sign up for our daily newsletter and get the latest industry news in your inbox every day.