21 Pairs of Leather Sneakers to Upgrade Your Commute Style
From sleekly minimal to delightfully chunky.
At one of my very first fashion gigs, I remember a boss telling me and my fellow interns that we were lucky the industry had changed so much since the days when she was starting out. At her old magazine job, she said while wearing a pair of very cool, very flat high-top sneakers, she couldn't show up in anything less than four-inch heels. The fact that we could get away with wearing athletic shoes every day was a gift, she said, whether we knew it or not.
In the years since then, sneakers have become more and more of a staple for any fashion person, and I'm inclined to think my old boss was right — for comfort-lovers like me, at least, the sneaker's fashion ascent is a huge boon. As much as I enjoy stunting in towering heels for a special occasion every now and again, the combination of my New York commute and a decreasing capacity to put up with discomfort has made me a stalwart sneaker fan. And when there are so many good options on the market, why not be? 
While sneakers these days come in a variety of materials from mesh to canvas to ocean plastic, leather endures as one of the most classic — and hardy — materials used in shoes. Properly cared for, your leather sneakers can last you years, even if you live in a city that requires lots of walking. Whether you're looking for rave-ready platform sneakers, minimalist low-tops or the latest iteration of fashion's ugly-on-purpose footwear, there's something out there for you. Check out the gallery below to see some faves.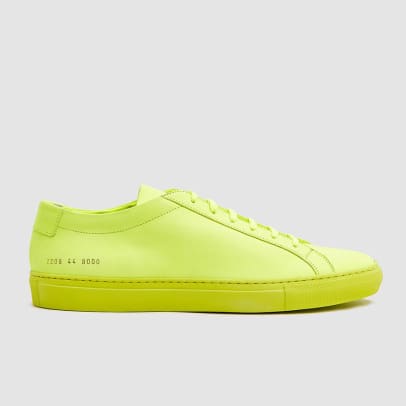 Please note: Occasionally, we use affiliate links on our site. This in no way affects our editorial decision-making.
Stay current on the latest trends, news and people shaping the fashion industry. Sign up for our daily newsletter.