How I Shop: Talita von Furstenberg
The granddaughter of Diane von Furstenberg discusses her style inspirations, her obsession with vintage and her new California-inspired collection.
We all buy clothes, but no two people shop the same. It can be a social experience, and a deeply personal one; at times, it can be impulsive and entertaining, at others, purpose-driven, a chore. Where do you shop? When do you shop? How do you decide what you need, how much to spend and what's "you"? These are some of the questions we're putting to prominent figures in our column "How I Shop."
Talita von Furstenberg's last name most likely sounds familiar. The 19-year-old Georgetown University student is the granddaughter of renowned designer Diane von Furstenberg, and her mother, Alexandra von Furstenberg, once collaborated with the designer to assist with the revival of the label, DVF.
In essence, fashion runs in von Furstenberg's family, and her last name certainly holds significant weight in the industry. Still, she's determined to carve out her own space within her family's legacy — and her first order of business is creating her own capsule collection within her grandmother's label called TVF for DVF. The range, which launches on April 25, embodies the breezy, whimsical style of Los Angeles, where von Furstenberg spent much of her life — a slight departure from the more formal aesthetic of DVF, but a nod to the girly, colorful expressions that shape so much of her grandmother's label.
In between taking courses on social activism and current events (she is majoring in justice and peace studies) and spreading the word about TVF for DVF, von Furstenberg chatted with Fashionista about her style inspiration, why she's obsessed with vintage and how she helped come up with her 2018 Met Gala gown. Read on for our conversation.
"My style has changed so much over the years. I think I'm finally developing my own independent taste. I'd say it's 'effortlessly chic' and that has a lot to do with growing up in Los Angeles, where everyone goes for super-easy, flowery, beachy clothing. The weather means the looks are a lot more easygoing — you don't need coats, so it's just a lot of dresses and sandals, and that's really my style.
I want something that's easy to wear and practical, but still looks cute. If I wear something super mature or formal, then I'll play it down with more casual shoes and I won't bring a purse, for example. If I'm wearing a casual outfit, I'll dress it up with jewelry and a really pretty jacket to make it look fancier. That's how I strike a balance. I never like to be super formal or super casual, so I combine them.
Just like my style, my inspirations have changed a lot over the years. I definitely think [my grandmother] influenced my style a lot, but I wouldn't necessarily say our styles are super similar, given she's an older woman. But I take inspiration from the way she dresses. Aesthetically, I dress most like my mom — I'm always raiding her closet. I'd say she's my biggest style inspiration. Another one of my style inspirations right now is [Moda Operandi founder] Lauren Santo Domingo. She has amazing taste.
I know the trends and keep up with them sometimes, but I wouldn't say I'm a trendy dresser, per se. I think now, athleisure and street style are really in, and that's not my style. My style is very feminine and more conservative, which I don't think is what's trendy now, at least for people my age. I think the Copenhagen and French style trends are more the trends I follow.
I follow some fashion bloggers, though micro-influencers are way more interesting to me because I feel like they're more authentic in their styles. Fashion bloggers often do a lot of [advertisements] and have a lot of people sending them clothes, and so they lose their individual tastes. I can't tell if their style is real or if it's an advertisement.
I think Instagram's more authentic because there's more people showing off their own personal [style] and there's such diversity in what they're wearing. I think that's a better indicator of true fashion. As far as my favorite micro-influencers, I find a new one every day, and I'm like, 'She's my new obsession.'
As for shopping, I'm always looking for new clothes, but I'm not always buying. Now, I try to only buy things that I think are super special. I'm pretty strict with myself because I'm not into fast fashion, so I'm not adding 10 things to my cart at once. I'm a college student, so I'm on a budget. I have all of my basic style [needs], so I'll only buy something that's really special and I think I'll wear it a lot. It's kind of random — I don't know when I'm going to find something. 
I just bought these really pretty Tabitha Simmons Mary Jane flats, which I haven't worn yet, but they have a spring print on them. I only wear Mary Janes because I love flat shoes with a bit of heel, so these flats are perfect for spring weather. It's just starting to feel like spring [in Washington, D.C.], so I'm excited to start buying more warm-weather clothes. I get so sad in the winter because I'd rather buy dresses than coats. 
I'm obsessed with online shopping. I use websites that have a lot of different [brands], like Farfetch or Net-a-Porter, and I look at the new designers. I also look at The Real Real for vintage. 
When I was younger, I wasn't really into vintage; I'd rather get new clothes. But I've been designing TVF for DVF for the last year, and being behind the scenes of the design process made me realize how everything I see now is based on these vintage models, which fit way better and have so much more history. I've been vintage shopping way more this year than regular shopping. When I find something in a vintage store, I'm just so much happier than buying something that I know someone else will wear ... it's very unique. People will say, 'Where's that from?' and I'll say, 'Oh, I don't even know.'
[Recently], I went to Connecticut, where I grew up, and looked at all the DVF archives, located in this huge basement there. I went through everything DVF ever made for hours and hours, and I found so many beautiful things. They're all trends for today, and it's just so crazy how fashion's always going back to the past.
The fashion era I like the most is the 1920s because I just love the extravagance of the style. But although I love [it], I don't dress like I'm in the roaring '20s. I'd say the 1960s is more like how I dress today — but not the hippie side of the '60s. [I dress] more like the refined, Jane Birkin vibe. But with all my vintage shopping, there are so many different eras coming together [in my style].
My favorite designers and brands are very season-based. I think I'm just seeing what I like and gravitating toward it. I'm not basing my style necessarily on my loyalty to a brand. But if I had to give loyalty to a brand, I think it would be Zimmermann. I started buying from them when they were so much cheaper, and now they're so expensive, but they make such beautiful things.
I last cleaned out my closet in September [of last year] when I was moving into my apartment. I ended up clearing out half of my clothes because I had so many things from when I was a kid that I'll never wear again. I get so attached to things. I look through my closet with my mom, and she's like, 'You're never going to wear this again," but I'm like, 'What if it comes back? You never know.' I try to give every reason to keep it, but my mom's so good about cleaning out her closet. I used to hang on to things, but now I think I've finally realized it's okay to let these things go. Now I think clearing out my closet is going to be a yearly thing for me.
When getting ready in the morning, I start by putting on my makeup and doing my hair. I typically do the same makeup every single day, no matter what, day or night. I don't wear a lot, so it's pretty natural. If I decide I don't want to wear makeup, then I'm definitely going to wear a chiller outfit. If I end up putting on makeup and highlighter, I'm going to put effort toward my outfit since I put effort toward my face.
On a day-to-day basis, because I'm in school most of the time, I just throw on jeans, a sweater and a coat. I've been going about how to dress based on what coats I've been wanting to wear because people only see my coat [in the winter] anyway. 
When I'm not in school, it's way different. I pick my outfits based more on who I'm seeing and what I'm doing. I never wear pants — only dresses and skirts. In the winter, I'll just wear them with tights.
I always get accustomed to one thing in my closet, decide it's my favorite thing ever and then wear it so much for a few months. And then I decide I'm not sure about it anymore because I wear it too much, and then I get obsessed with something else. Right now, it's my embroidered jacket. I wouldn't call it a staple because it's a really crazy piece, but I love it nonetheless.
I think my favorite look that I've ever worn was my Met [Gala] dress in 2018. Because the theme was Heavenly Bodies, I wanted to be an angel or a cloud. I was looking for something really big with tulle. [The gala] was on my birthday, so that was extra special. 
Take a look at the gallery below to see von Furstenberg's TVF by DVF collection.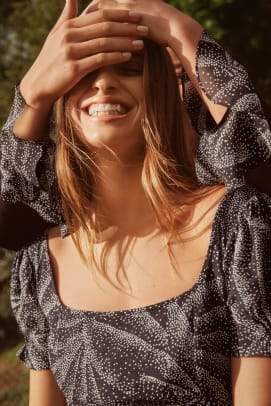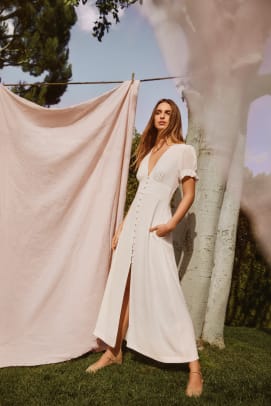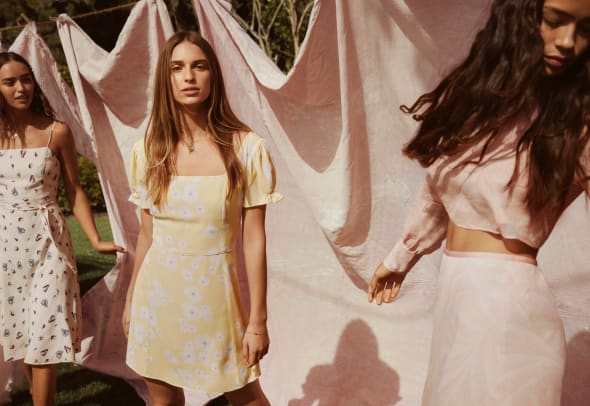 This interview has been edited and condensed for clarity.
Sign up for our daily newsletter and get the latest industry news in your inbox every day.