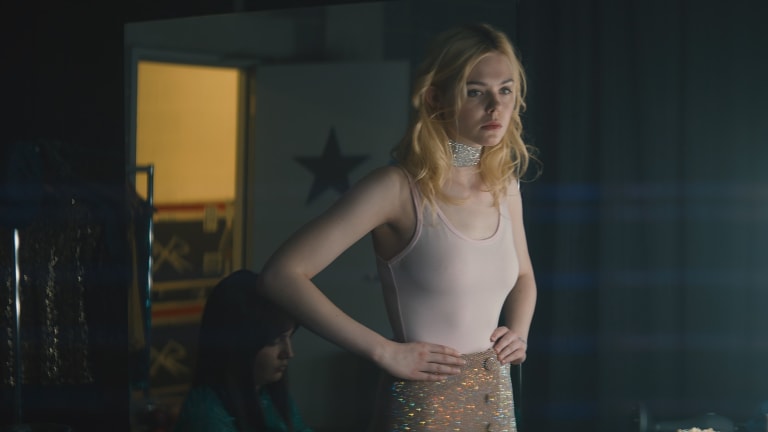 Elle Fanning Wears '90s Reebok Streetwear, Alexa Chung- and Chloë Sevigny-Inspired Stage Looks in 'Teen Spirit'
"A little bit of thrift store, a little bit of streetwear style," says costume designer Mirren Gordon-Crozier. (Plus, details on Fanning's "punk-y" finale beauty look.)
Warning: Spoilers for "Teen Spirit" below.
"Teen Spirit," starring Elle Fanning (with a pretty solid British accent), checks all three must-see movie boxes for me: small town teen aspires to stardom in the big city; real, actual singing to Top 40 bangers (although, sometimes I'm OK with lip-syncing) and a nostalgia-invoking wardrobe evolution.
The movie, named for a fictional "American Idol"-like competition show, charts the rags to maybe-riches story of Violet, played by Fanning, a stifled teenager living in a dilapidated farmhouse on the Isle of Wight with her Polish immigrant single mother.  When she's not spending time in the field with her beloved horse or being bored at school, Violet waitresses in a local pub. She sometimes takes the open mic to sing sad songs for even sadder patrons, like washed-up opera star Vlad (Zlatko Buric), who becomes her mentor/coach and surrogate dadager. (Fanning gave us a hint of her singing talents as a punk rock alien in "How to Talk to Girls at Parties," but she impressively belts it out here.)
Related Articles
How Costume Transformed Elle Fanning Into a '70s Punk Rock Alien in 'How to Talk to Girls at Parties'
Lady Gaga Wears a Mix of Vintage and Custom Gucci in 'A Star is Born'
Natalie Portman's Glam-Pop Superstar Costumes in 'Vox Lux' Don't Actually Reference Any Existing Celebrity
"Max and I really wanted to do a classic English look with her," says costume designer Mirren Gordon-Crozier, over the phone, about discussions with first-time director Max Minghella (Nick in "Handmaid's Tale" and Danny's little brother Richie on "The Mindy Project"). Now based in New York, Gordon-Crozier grew up in London, so she looked back to the brands she wore as a youth: "A lot of Reebok Classic, Adidas and street-style sports brands," plus accessorizing with multiple gold hoops in each ear.
Violet often repeats her hometown wardrobe essentials of sweats, Levi's jeans, Reebok sneakers and her trusty '90s color-blocked Reebok Classics windbreaker, which Gordon-Crozier found on Etsy. The costume designer used mostly vintage sportswear pieces for a "timeless," not overly trendy, but "not unfashionable" aesthetic that also demonstrates the character's socio-economic status.
"Violet definitely shops at thrift stores and wanted to show she wasn't like the rest of the girls," says Gordon-Crozier, referring to the teen's more affluent, (new) Adidas tracksuit-coordinating classmates. "They're a little bit more on trend and Violet has her own unique way of dressing, which is perhaps from her mom's closet. A little bit of thrift store, a little bit of streetwear style." As teens growing up in a conservative household are wont to do, Violet does switch out her baggy sweats for teeny skirts after she leaves the house for her secret singing engagements and parties with schoolmates.
When billboards for "Teen Spirit" pop up around the neighborhood and Violet tries out, Gordon-Crozier introduces more vibrant, solid colors, including the light yellow sweater Violet initially wears for a foreshadowing moment while listening to her iPod in a bluebell field. She repeats it for her second and life-changing "Teen Spirit" audition for a particularly evocative performance of "Lights" by Ellie Goulding, against a neon pink backdrop.
"That particular kind of yellow is one of my favorite colors on camera. It just absorbs the light beautifully," she says. "We wanted it to be in the middle of her old and her new self."
There's also what reminded me of a Nirvana "Nevermind" album cover moment, when Violet jumps in a blue pool wearing a '70s-style striped and short-sleeve sweater and red miniskirt. "Maybe it was in my subconscious," laughs Gordon-Crozier about the "Teen Spirit" connection. "That was more of a color choice. The pool was blue, so I wanted the red skirt to pop, as well."
Violet's ascension to the "Teen Spirit" televised finals in London come with a few bumps along the way and a slight wardrobe upgrade. "We said that she had a little shopping stipend once she was accepted into the competition," explains Gordon-Crozier. Violet cops more elevated, but still sporty, pieces — and lots of thematic red — like a vintage velour track jacket that Gordon-Crozier found on Brick Lane in London and a red and white-striped Adidas tee (above), which a naive Violet wears to meet shady music exec Jules (Rebecca Hall).
"We wanted that to contrast with Rebecca's stark black and white-wearing, elegant and sophisticated lady," says the costume designer. "Elle is showing her youth by color."
So what does a sheltered teen do on her first night in a fancy hotel in London? Party too hard with her fellow "Teen Spirit" contestants, including the aptly-named teen dream Keyan Spears (Ruairi O'Connor), of course. After a session with the "Teen Spirit" stylist — played by Gordon-Crozier in a reluctant cameo — Violet borrows a '90s-era, tight-and-mini vintage slip dress in red. "This is a moment where Max wanted her to start becoming a monster, in a way," Gordon-Crozier explains. "With a little bit of a diva-esque quality in that she smelled this moment of what it's like to have a little bit of money or be treated in a hotel. I referenced a silhouette that Kate Moss wore."
Violet, who's been fresh-faced and makeup-free up until this moment, also debuts a too-heavy, kohl-rimmed eyes look, which elicits a "too much makeup" from Vlad. Makeup artist Nadia Stacey, who last gave Oscar-winner Olivia Colman a "badger" look in "The Favourite," looked back to her first time experimenting with makeup and decided on smoky eyes with MAC Pro Longwear Fluidline gel liner in Blacktrack. "It would be what was accessible to Violet and the simplest thing for her to show, 'Oh look, I'm grown up, and I want to make an impression at this party,'" Stacey says, over the phone from England.
After quickly recovering from her raging hangover (oh, youth), Violet nervously duets with Keyan in the opening number of the "Teen Spirit" televised finals in a hot pink faux fur coat over a blush tank, a custom-made sparkly miniskirt and matching choker (above). "We wanted it to appear as if she had been styled; she's not really herself," explains Gordon-Crozier, whose mood board for the look includes a British Vogue June 2017 cover feature of Alexa Chung, dressed in a gold beret and pink top — both made from sequins. "It contrasts with her end performance [for which] we chose something that is a little more true to herself: the sporty red."
Once Violet comes to terms with herself (and makes up with Vlad), she readies for her moment — an angsty rock star rendition of Sigrid's "Kill My Vibe" — by also updating her eye-makeup game with a shock of electric blue. Taking a cue from Gordon-Crozier's '90s aesthetic, Stacey researched "lots of big fashion looks" from the era to decide on MAC's shimmery and highly-pigmented eyeshadow in Electric Eel. She opted for a simple pointed shape to fit the vibe of the streamlined tracksuit, but intentionally didn't match the color. "It's slightly punky, which I quite like," she says.  
Gordon-Crozier referred back to her mood board (featuring a '90s Chloë Sevigny in a red Fila zip-up and big gold earrings), looked at many options and decided on "a more advanced version" of Violet's signature look. "At the end, Violet realizes who she is and chooses something more simple and more true to her personality and what she wears in the first half of the film," says Gordon-Crozier, about the red and glitter-trimmed tracksuit by New York brand Area.
As the movie closes (or right before the Marvel-esque mid-credit scenes), we see a happy and content Violet returning home to the Isle of Wight and her mom — and comfortably back in her trusty Reebok Classics windbreaker.
Top image: Courtesy of LD Entertainment & Bleecker Street
Never miss the latest fashion industry news. Sign up for the Fashionista daily newsletter.