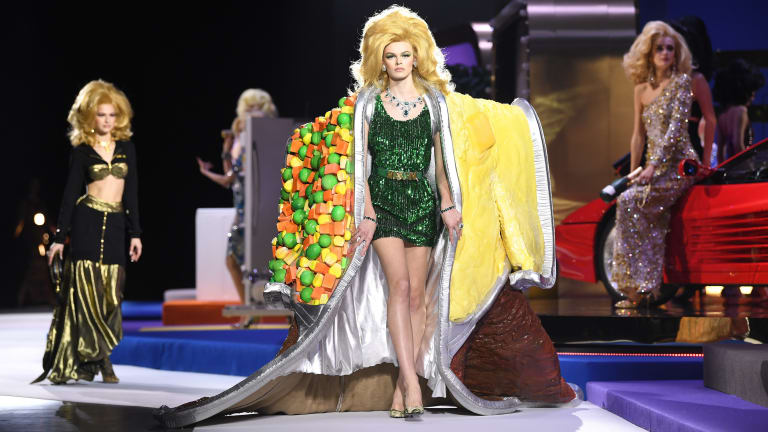 Meme Culture Will Play a Pivotal Role in Nailing the Met Gala's Tricky "Camp" Theme
The challenge of interpreting something that is often described best as a "you know it when you see it" type of sensibility will likely cause attendees (and their teams) more stress than in previous years.
You'd have justifiable reason to fear what will happen on the red carpet at the upcoming Met Gala, held annually at the Metropolitan Museum of Art on the first Monday in May. While potentially one of the most exciting in years, the 2019 theme, "Camp: Notes on Fashion," invites sprawling opportunity for complete failure by way of misinterpretation (or, in some cases, total disregard for Anna Wintour's guidelines).
This fear is warranted, as past Met Galas have seen celebs either unable or unwilling to grapple with meaningful interpretations of the carefully chosen themes. Take Ashley Olsen, who strolled up to the 2013 "Punk: Chaos to Couture"-themed gala in pale orange chiffon Christian Dior Couture. (Never forget, #punk.) Or Kendall Jenner, who made her entrance on last year's "Heavenly Bodies: Fashion and the Catholic Imagination"-themed carpet in an Off-White corseted top and high-waisted trousers. Beautiful, sure, but thematically deviant.
While some years present easier roadmaps — 2011's "Alexander McQueen: Savage Beauty" or 2005's "The House of Chanel," for example — "Camp" creates a particularly difficult framework due to the complexity of its definition. In Susan Sontag's 1964 "Notes on Camp," an essay no doubt dog tagged and bookmarked by many celebs (or their anxious publicists), designers and stylists in the lead up to May 6, she notes that to talk about camp is therefore to betray it. And therein lies the challenge: interpreting something that is often described best as a "you know it when you see it" type of sensibility.
It's not as though the Met Gala's seventy-one years have precluded camp. In fact, far from it. From Amber Valletta nailing it in a Maggie Norris Couture corset and John Galliano skirt at 2004's "Dangerous Liaisons: Fashion and Furniture in the 18th Century" gala, to Solange in a couture Thom Browne puffer jacket with a cascading train and ice skater-inspired high heels at 2017's "Rei Kawakubo/Comme des Garcons: Art Of The In-Between" affair, camp has long guest starred on the carpet. The difference now? This year, camp will be the leading lady.
"Ironically enough, celebrities have been inadvertently offering up camp at most of the Met Galas over the last decade or so," suggests Tom Fitzgerald of the acclaimed blog Tom & Lorenzo. "What was campier than Kim Kardashian sucking in her cheeks and posing for the cameras in that floral Givenchy in 2017 while everyone on social media said she looked like a couch? Or Rihanna in that stunning yellow Guo Pei in 2015 that everyone said looked like an omelette?" He's right: What may have been earnest attempts at fashion-with-a-capital-F moments may have found camp value in how they were interpreted after the fact, through the echo chamber of online meme culture.
But how do the Met Gala powers that be get an entire room full of the most important people in the world — including confirmed guests like Bradley Cooper, Chadwick Boseman, Jennifer Lopez, Venus Williams — to be effortfully camp, potentially putting a glitter egg atop a McQueen suit as Anna Dello Russo did in 2011? That'll be a challenge, to say the least.
It starts with identifying your own take on camp's meaning, since camp has no uniform definition. After all, to define camp concretely would be antithetical to the very notion of camp. But one must define it for themselves in order to properly execute. "If we're going by the strictly Sontag-ian take on camp, then it would be those moments in fashion when a designer or wearer inadvertently renders something just a bit sillier than originally intended," Fitzgerald says. A recent example could be Billy Porter's black velvet tuxedo gown, seen on the red carpet at the 91st Academy Awards. Of course, it's not as simple as over-the-top silhouettes. But, Fitzgerald warns, "when fashion tries to be campy, it usually fails — at least in the classic sense of camp, which is supposed to be somewhat less than deliberate in its intentions."
"I think you can define it a bit more precisely than that," Lorenzo Marquez, his partner in life and in work, counters. "I think when fashion pulls from other forms — like advertising, old movies, street styles, classic art — and gives it a very fashion-y spin, it's giving the clothes a camp undertone," he offers, referencing The Blonds's Disney-inspired Spring 2019 collection and the seasonal work of Jeremy Scott, who often references pop art, so-called "trash culture" or Warhol-inspired imagery. "High-fashion camp should be over the top. It should play with forms and expectations in a witty or surprising way. It should pull references from all over the culture." In effect, camp is not the thing. Rather, camp is the thing that points at the thing; camp is the commentator choosing to be what is commented on.
In a pinch? Here are a few suggestions of campy runway collections of yore to strike your imagination. Thierry Mugler is a great place to start: The designer's Fall 1995 couture collection included Cardi B's Grammy Award "Birth of Venus" showstopper, while his Fall 1992 ready-to-wear show debuted the iconic motorcycle bustier seen on celebrities like Beyoncé and featured in George Michael's "Too Funky" music video. There's also Christian Dior Spring 1998, staged on the steps of Paris's Opera Garnier; Michael Kors's Spring 2000 collection which was cheekily called "Palm Bitch"; Jean Paul Gaultier Fall 2006, when wild animals walked the runway alongside models; and, most recently, Gucci Fall 2018, in which models carried severed heads (of their own likeness!) down the runway. That's camp. Or just look back at any Moschino collection under Creative Director Jeremy Scott. For Fall 2019 in Milan, he sent model Cara Taylor down the runway in a cape designed to recreate a TV dinner — frozen vegetable medley included! If that's not campy, we don't know what is.
Of course, there is also the wit. For designer Christopher John Rogers, much like for Tom & Lorenzo, it's about having both an understanding and appreciation for humor and a rejection of, as he calls it, the high/low art dichotomy. "Glamour is glamour, whether it be a fully embroidered Lesage gown or a pleated tin-foil frock — the same energy can exist in both subjects if you let it," he explains. "With camp, we're embracing the ridiculous, the hilarious, the glamorous. All at the same time."
Perhaps, then, the biggest challenge for many invited guests will be finding humor. After all, Anna Wintour is not exactly the expected arbiter of camp (although she's proven her hilarity on a number of late-night shows over the years). In many senses, it exists in a mindset of the past or future, but not the present. The past, seen in the examples of The Blonds or Warhol, took a context and subverted it or pushed it to its extremes. The future, seen in the examples of the meme-ification of past Kim Kardashian and Rihanna looks, clinches on the opportunity for outside interpretation — or rather, reinterpretation.
Therein lies a North Star hidden behind the fog when it comes to dressing for this year's Met Gala: the internet. Hundreds will attend the Met Gala, but millions will click through the molded halls of the internet in the hours and days following to get their first glance at Lady Gaga, one of the night's co-chairs, ogle Harry Styles decked out in Gucci, or to see if Beyoncé, who has not attended the event since 2016, will make her heavily anticipated return.
The internet presents the ability to re-contextualize or to put each outfit side-by-side with it's inspiration. "Just push an idea as far as it can possibly go, and then push it further," Rogers says. The internet can be the assist in taking a look that's merely camp-adjacent and ushering it into "nailed it" territory. Just as the illustrious Erika Jayne once declared, "I'm going to give the the gays everything they want," and in order to tackle this year's Met Gala theme, it's about harnessing the power of the internet's most creative minds, and giving them a canvas worth painting over.
Homepage photo: Moschino Fall 2019. Photo: Imaxtree
Stay current on the latest trends, news and people shaping the fashion industry. Sign up for our daily newsletter.