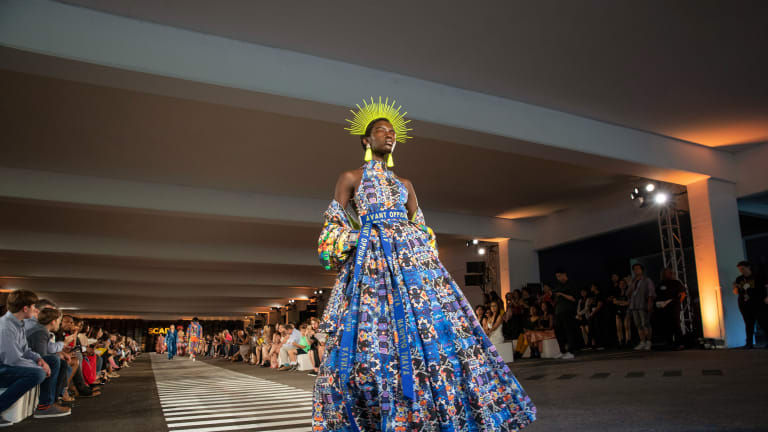 SCAD's 2019 Fashion Show Celebrated Diversity and Social Awareness
Students explored a range of issues, from racial equality to gender inclusivity to climate change, through 153 looks on the runway.
The kids may save us, after all. That is, if the 2019 Savannah College of Art and Design (SCAD) School of Fashion annual runway show was anything to go by. Each year, we look forward to seeing what the future of the industry has to say through innovative and creative designs. This year, the messaging was particularly compelling as the 46 jury-selected graduating students explored diversity and social awareness through 153 ready-to-wear looks.
The morning prior to the show, a group of editors and writers, including myself, enjoyed a preview backstage and a chance to chat with a few young designers and faculty members. "These thought-provoking collections invited dialogue with the viewer regarding climate change, survival, continuing global race and social issues, sustainability and up-cycling and non-binary dressing," explained Michael Fink, Dean, SCAD School of Fashion. The designs also explored "reimagining punk rock, glam rock, and a 'let's just have a party' joyful spirit."
Fink emphasized that "everything" — the clothing and a majority of accessories, including some shoes — seen on the runway was made by students on the Savannah, Atlanta or Hong Kong campuses over the course of 25 weeks. The young designers each needed to complete a six-look collection by a "Project Runway"-style deadline to be selected from by a jury of top experts from media, retail, and mass and luxury fashion brands. SCAD Style Lab Mentors, including Tory Burch and Tommy Hilfiger vet Eleanor Turner and celebrity stylist and TV host Robert Verdi, also lent their expertise and guidance.
Darren Apolonio, from Manila, Philippines, proudly showed off his hard-angled, voluminous and Swarovski crystal-embellished metallic leather jackets, which he designed as a "love letter to drag queens" and "celebration of the tenacious human spirit." He held up a fiery red, studded and zippered jumpsuit with flame-like tulle shooting off the sleeves. "It's very extra," he laughed.
South Carolina-raised Briana Danyele introduced her powerful, thought-provoking collection of streetwear-meets-tailored menswear silhouettes. She showed white pants sketched with faces of Tamir Rice and too many more young, black, male victims of police brutality and plaid trousers with messages subtly embroidered into the fabric. "Do you see it? Do you not? Do you ignore it?" she asked. "[I'm] making these clothes to have that dialogue."
On the designs of Jiexian Huang, from Guangdong, China were protests and calls for freedom of speech and abstract imagery of imprisoned Chinese dissidents framed by exaggerated, asymmetrical and deconstructed layers. The faces on the pieces stopped me in my tracks and the complete looks on the runway felt stunning and provocative, if not unsettling.
The B.F.A. graduation projects also involve real-world marketing tasks like developing glossy lookbooks, which Dyllan Khawam, from Zurich, Switzerland, took to the next level for his gender-neutral and British punk-meets-military-inspired line, Variént. The undergrad worked with fellow students in film and tech to create a short video of his collection accessible via QR code on the last page of the book (and also on his website). 
With other designers, the clothes themselves went above and beyond. Take the dreamy, nature-painted dresses and jackets with exaggerated sleeves by SCAD Atlanta's Yoohyeon Kim, who's originally from Seoul; and the Chinese porcelain-printed sculptural overalls and voluminous, structured prairie-embroidered cape by Georgia's Mary Catherine Crisp. These designs captivated us just hanging on the racks — and really came to life on the runway. (I'm also kind of obsessed with the ivory pleated romper that Crisp wore to accompany her model during the final walks, below.)
The 2019 SCAD Fashion show, which also took place in Atlanta a week earlier, was held in a stripped-down, industrial and very NYFW locale: the university's parking garage. (Writer Faith Cummings likened the venue to Alexander Wang's renegade setups.) The energy in the room, from proud family members, excited friends and fellow students — many decked out in their own designs (or their classmates') — was palpable, especially when Lim entered with his entourage to sit front row. Veteran runway coach J. Alexander pumped up the crowd with his signature (should probably be patented) "America's Next Top Model"-proven runway walk. 
But unlike NYFW, the SCAD Fashion show is accessible via tickets (which immediately sold out) and starts on-time. As jaded writers, burnt out from Fashion Month and Met Gala, we found ourselves incredibly moved by the love and support shown by the non-stop cheering crowd, as the also-student models professionally stomped down the runway in their cohort's designs. (I may have been a little teary seeing Danyele's parents, sitting across the runway and wearing coordinating "I still have a dream" t-shirts, break out into loud cheers and applause when their daughter made her final walk with her model.) The dramatic finale featured an intricately embellished wedding dress by 2002 alum and "Bride By Design" star Heidi Elnora.
RELATED ARTICLES:
Fashion School Diaries: An Award-Winning Otis Student Finishes Fashion School After a Culinary Detour
29 Standout Looks From FIT's 2019 Future of Fashion Show
38 Standout Looks From SCAD's 2017 Fashion Show
The SCAD Fashion show is also a chance for designers and creatives from brands and design houses to see the work of young talent and prospective team members. This year's reps came from Gap, Ralph Lauren, Abercrombie & Fitch, Adidas, Reebok and Proenza Schouler. The university's track record looks promising: According to a recent study, 99% of spring 2017 SCAD grads secured jobs (or continued studying for a higher degree) within 10 months after graduation.
The show left many of us feeling incredibly inspired by the next generation of fashion stars — and hopeful they can merge their idealism with viable designs in this very volatile retail market.
"This is a time in your life where you're super idealistic, and you want to believe that 'I can change the world with my fashion and everything else.' Who's to say that they can't?" said Allure Editor-in-Chief Michelle Lee, after her Q&A with this year's lifetime achievement Étoile honoree Phillip Lim, prior to the runway show. "That is the time in your life to really try and push forward solid ideas that maybe are different from what we see out there — and you're never going to know what's going to work until you try it."
Click through highlights from the 2019 SCAD Fashion runway show in the gallery below.
Top and homepage photo of a look by Brandon Zayder Skipper: Courtesy of SCAD
Never miss the latest fashion industry news. Sign up for the Fashionista daily newsletter.