Aimee Song Partnered With Revolve on the Retailer's First Long-Term, In-House Influencer Collection
The new range, called Song of Style, is the latest investment in Revolve's influencer-driven business strategy — and the next step in Song's growing empire.
We've said it before and we'll say it again: Revolve is leaps and bounds beyond its fashion-industry competition when it comes to influencer marketing. With its ever-expanding annual activation at Coachella, its meticulously planned global vacations that light up our Instagram feeds with current, shoppable product in magnificent settings and its collaborations with social media personalities boasting followings well into the millions, the e-retailer has transformed both digital shopping and advertising as we know it. Legacy fashion houses like Dior and Fendi, as well as luxury e-commerce players like Net-A-Porter and Moda Operandi, have adopted similar influencer-driven models in recent years, but thanks to a decade's worth of relationship building with the world's premiere megainfluencers, Revolve manages to stay ahead of the curve — all while masterminding new ways to push forward in the space.
On Monday, the latest investment in Revolve's influencer-driven business strategy was revealed: A long-term, in-house collection of ready-to-wear creative directed by Aimee Song, produced by Alliance Apparel, Revolve's manufacturing arm. Called Song of Style, the range marks the first time Revolve has partnered with an influencer of Song's caliber (she currently has 5.2 million Instagram followers) on a permanent apparel venture; aside from a handful of one-off collaboration projects, Song of Style is Song's first full turn in a design role. She's joining the impressive ranks of several fellow influencers who've launched blockbuster lifestyle brands over the last couple of years: Arielle Charnas of Something Navy, Julia Engel of Gal Meets Glam, Chriselle Lim, Chiara Ferragni, Danielle Bernstein and Leandra Medine, to name just a few. 
Data from Instagram and beyond has proven that these influencers can move the needle in terms of sales, mobilizing their massive followings to actually shop (Charnas's collection for Nordstrom reportedly earned more than $1 million in sales in less than 24 hours, and Song's own collaboration with sunglass label Gentle Monster sold out in 22 minutes). To capitalize on Song's social currency, Revolve is planning to drop between 40 to 60 pieces from the Song of Style collection each month, in order to consistently provide followers and customers with fresh product. Sizes will run through XXL, and prices will top out around $300, both in an attempt to make the goods as accessible to as many of Song's followers as possible.
Inspired by the early '90s supermodel era, as well as pop-culture references that range from "Sex and the City" character Samantha Jones, the original '80s "Dynasty" series and Princess Diana's off-duty looks, the debut range is ideal for summer day-to-night dressing — and for any occasion you know you'll be posting photos of on Instagram. In fact, Revolve has a trip for Song and her friends to Portugal in the works, where followers will be able to see the entire collection worn in context. Considering that certain styles are already sold out on Revolve's site, we're willing to wager that, while Song might be the first influencer to launch a full-fledged brand with the retailer, she definitely will not be the last.
We sat down with Song a few days ahead of her launch to discuss her decision to team up with Revolve in an official capacity, the trickiest aspects of launching ready-to-wear, how Instagram played a role in her design process and plans to expand her offering in future seasons. Read on for highlights of our conversation.
Why did now seem like the right time to dive in and start a clothing brand?
I've been an influencer and a blogger for the past 10 years, so it was kind of like I've been talking to my audience. I know what they want, what they purchase. I understand what they like, and I've gotten a lot of feedback. My style has evolved a lot, too, so it was a natural evolution for me to do something that was my own. I delved into it a bit when I was doing my T-shirt line and it was something that I self-funded. I did everything myself from sourcing the fabric, manufacturing, etc. It was a lot of work.
When I was doing the T-shirt line, I wanted to do the whole "brand" thing, but it was just way too much — I couldn't do it by myself because there is only one me. With Revolve, I've had a partnership with them for so long. I've known the founder for about eight, nine years. One day we were hiking, right before I started my T-shirt line, and I told him, "One day I want to have my own brand." It was on Thanksgiving Day when we went on this hiking trail and that was, I think, seven years ago, so it just happened now.
What type of feedback from your followers informed the collection?
I'm if wearing designer pieces, my followers are like, "Where can I get that look for less? I think that's a little too hard for me to wear, but I want you to make it more accessible. How do I do that?" On the site, I've always had, "Okay, [how do I] get this look or something similar." Those always did really well for my audience. Every time I don't have a similar option, they would say, "Can you post something? Where else can I find this?"
They're always constantly asking me, "What would you wear here? What would you wear to an event," or something like that. I think it was just so natural for me to always constantly talk to them, so that gave me an idea of like what my audience likes, what they respond to.
How did you choose what kind of silhouettes, themes and fabrications you wanted to do at launch? 
It was just all the pieces that really spoke to me, but that I knew that would speak to the Song Style audience, my followers. The entire Song of Style community [is filled with] curious people. We like art, but we also have to go to an office for meetings, so a lot of those pieces I thought about: What do I want to wear in those circumstances? Also, a lot of us go on vacation, so when you are traveling, what do you want to wear? But it's not just about wearing pretty pieces, but things that are actually practical.
What was the timeline like with Revolve from the inception of the idea to today?
I've been a brand ambassador of [Revolve's] for a while and it just evolved into an actual partnership; from the beginning to where it's at from launch, it took about a year. There's a lot of people involved, obviously; I learned that it's not an "I" project, it's a "we" project. I can't do this alone. What's been great is they have their in-house team that's been really helpful, so I'll come up with a concept or an idea or really bad scribbles ... I'll get my inspirations and then I will send it to the tech designers, soft sketch designer, then she will sketch it out and then we'll talk about like, "Okay, what print do we want? What fabric do we want?" Then from there that involves a pattern maker, seeing the fabric, the samples. Then we fit it on a model and that's when I say, "I don't like the way this fits. I think it should be a lot longer." Or, "It's a little bit too short here. I think it looks uncomfortable." Then we will have the model move her arm up and down. "Is it comfortable? Can you bend down?" Then we do a round of that, then it goes into production.
You've been an entrepreneur for a decade now, but what were the biggest things you've learned from this particular project?
I didn't realize how long it takes [to create a collection]. Also, sometimes I'll have something in mind or in my head, and then when I see the first sample, the prototype, I'm like, "Oh my God, that's so ugly." Then we have to cut it, obviously. I'm like, "Oh, I would not wear that." It sounded so cool in my head and when I sketched it, it looked really nice, but when it comes out it's not cute. Anything I wouldn't wear we have to cut — that's a lot of pieces, which is how we got delayed. We were supposed to launch in February and then I kept on saying, "Oh, I don't like this. I don't like this. I don't like this." I feel like these [pieces] are all the ones that survived and I feel so happy.
Did you design with Instagram in mind?
Yes, but also being practical. I don't want somebody to just wear my outfit just for an Instagram photo and then, "Okay, I'm going to change into something comfortable." Everything that I design, I've been wearing it over and over again so I know it's practical, it's comfortable, but it also photographs really well. That was very important to me.
Are you going to keep Song of Style limited to ready-to-wear?
I'm starting with ready-to-wear, but eventually I want to do shoes, swim, accessories and workout.
You can browse the debut Song of Style collection in the gallery below.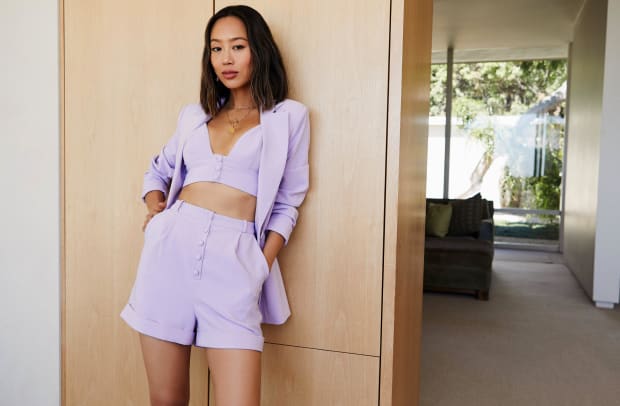 Please note: Occasionally, we use affiliate links on our site. This in no way affects our editorial decision-making.
Never miss the latest fashion industry news. Sign up for the Fashionista daily newsletter.