Thanks to a Sell-Out Hoop Earring Style, Alison Lou Saw a Year of Major Change
Jewelry designer Alison Chemla reflects on the success of Loucite.
Alison Chemla always knew that she wanted to start a diffusion line to accompany her fine jewelry brand, Alison Lou, but she also knew she didn't want to do it in a way that merely imitated her jewelry in a cheaper fabrication. It took her about six years, but in the spring of 2018, Chemla had a stroke of inspiration: She could bring her signature enamel element to colorful, clear lucite hoops. Chemla dubbed the line Loucite and went into launch with fingers crossed.
"I was so confused about how it was going to go, I had no idea," she recalls. "Doing a cheaper line for me was something I've always been scared about, but I also always wanted to do, so I just wanted to see how it went."
But then, Loucite became an overnight success. At the last minute, Emily Ratajkowski came on to do the inaugural photoshoot, kicking off an avalanche of "It" girl clientele: Before they even hit stores, celebs like Selena Gomez, Gigi Hadid, Blake Lively, Tracee Ellis Ross and Saoirse Ronan were all spotted wearing Chemla's distinctive, colorful lucite hoop earrings. Suddenly, the brand had a huge hit on its hands — but were they ready? "Absolutely not!" Chemla says with a big laugh. 
"We didn't order nearly enough as we were supposed to," she explains. "Last summer, we kept selling out because we just couldn't believe it; we were like, 'There's no way that we're going to order this many and they're going to keep selling out.' I thought it was just going to be a little fun thing that people liked, but I didn't think it was going to blow up the way that it did whatsoever."
Having a sell-out product is a dream for any designer, but it comes with its own set of problems. They couldn't keep Loucite in stock, creating deep waiting lists of people eager to get their hands on a pair. Chemla and her small team had to readjust their shipping times, packaging and sending out all orders themselves. When they got more stock in, they'd email those on the waiting list to give them an hour-long head start before opening sales up to the public. 
It's all been worth it in the end, though: According to Chemla, Loucite has raised awareness for her fine jewelry business and brought new customers into the fold who may not have been familiar with the brand before, or who may have been reluctant to splash out on her more expensive items. "I've seen a lot of return customers, so that's great feedback to me," Chemla says. "So many people are collecting Loucite, like 'I don't know if I can have any more,' and I'm like, 'Trust me, you can, because I have, obviously, every color.'"
Loucite continues to be a great celebrity win as well in a world where getting jewelry credits is increasingly difficult. "In the past, when people have worn my jewelry, it's like, 'So-and-so is wearing your ring,' and I'm like, 'Ugh, I can't see it!'" Chemla says, laughing. "There's no close-up of her hand in front of her face of something. But these, you can spot them a mile away."
Chemla spent the past year evolving the line, first with a set of neon colorways debuted in fall, something she planned on doing but rushed to market when she saw neon all over the runways. With that launch, Loucite experimented with bangles in addition to hoop earrings. For winter, Chemla went with a more subdued color palette. 
Of course, since the day Chemla launched Alison Lou with her signature emoticon earrings, she's been battling knock-offs, and Loucite is no different. It's part of the cost of being a trendsetter: With enormous waitlists and huge celebrity presence came the copycats. "It's a nightmare," she says with a big sigh.
"I'm so happy that I did this in my sixth year of business because I used to waste so much time caring about people copying me," Chemla continues. "I used to just send cease and desists all day, because I started with the emojis and that got copied all the time. I've started to not care. Like, what am I going to do? You have to let it be noise, because at the end of the day, people that want the original will come and get the original."
Today, to celebrate the brand's one-year anniversary, Chemla has made a few more tweaks. There's new colors, of course — pretty pastels and the return of white, something she says customers have been requesting non-stop on social media — but the shape is also different. Where Loucite earrings were previously a slightly angular shape, Chemla rendered the summer styles in a dome shape, which makes the enamel colors pop more. "It feels like a little bit more of a statement earring to me," she explains. "You really see the color, and you really see the width of it."
For now, Chemla is sticking with the hoops which catapulted Loucite into success, but she's always thinking of ways to grow the secondary business. In the meantime, she's got a lot on her plate, including an office move. Still, with this first anniversary, she's taking the time to celebrate. 
"I'm all about making people happy, making people feel good in the jewelry that they're in, and it's always been about super personal self-expression," Chemla says. "I want to continue to create that and keep people happy."
See more of Alison Lou's Loucite collection in the gallery below.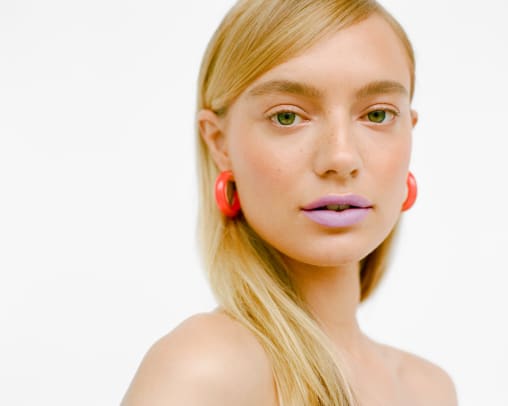 Want the latest fashion industry news first? Sign up for our daily newsletter.