Anwar Hadid and Musician Yoni Laham Collaborate to Launch Jewelry Line Martyre
The duo are tapping into the rarely explored unisex sector of the accessories world.
In a world where it seems every celebrity comes up with a brand, it can be refreshing to find one that fills a void in the industry instead of oversaturating the market. Enter Martyre: a solution to a rarely explored unisex sector of the accessories world. The brand markets itself to all customers, breaking down the traditional gender lines behind jewelry.
"As male consumers, we felt that our accessories options were particularly limited. We also saw the potential to create something that was original, and gender-fluid in the jewelry space. So, the draw stemmed from both a personal passion and an opportunity to create something for an underserved market," co-founder Anwar Hadid tells Fashionista. 
As one component of a family-turned-modeling dynasty — made up of his mom Yolanda and sisters Gigi and Bella — the 19-year-old was exposed to the arts from a young age, inspiring his passion to create. The other half of Martyre is Yoni Laham, the musician known as Bridge. "Design, for me, is another medium I can use for self expression," he says. "I'm always looking for creative outlets and exploring new art forms. It was only natural for the two of us to do something together."
Related Articles
The Last Line Is Trying to Turn the Fine Jewelry Model on Its Head
How Jess Hannah Turned a Hobby Into One of the Chicest Jewelry Brands Around
Thinking Like a Tech Company Spurred Fine Jewelry Brand Mejuri's Remarkable Growth
So how exactly did a model and a musician decide to team up to design an accessories line together? "As we grew closer, we realized we had a shared passion for design and a like-mindedness when it came to our personal taste and artistic references," says Laham. "We started to look around at our friends and peers who were creating in the fashion space and it inspired us to do the same."
As gender fluidity becomes more accepted on a mainstream level, there are still not nearly enough brands that are inclusive to people of all gender expressions. "We noticed a very apparent void in the market when it came to jewelry that could easily be worn by both men and women. We wanted to create something inclusive that allowed for a diverse range of people to be able to wear it," says Hadid.
The collection's aesthetic — created with the help of Martyre's Head of Design Ryan Benson — stems from the famed art and architecture of the 17th-century Baroque era, a distinct style that is grand, often featuring exaggerated motion and clear detail. Elaborating, Hadid says, "Contrast, movement and intricate details were all design elements that influenced this collection."
The name Martyre itself is tied to the close crossing of history and art, as well the word "martyr," which defines those who die for their (oftentimes religious) beliefs. "We became drawn to a certain style and design that happened to feature various cultural examples of martyrs," explains Laham. "We found meaning in the word that resonated with us — particularly that of individual strength and the pursuit of what you believe in."
Ranging in price from $95 to $615, the collection includes a curated selection of necklaces, earrings, rings and bracelets mainly made in sterling silver, but also available (by special request) in gold and rose gold. Every piece in the collection is designed for layering, whether sold on its own or in a set. There's no wrong way to wear them, and each individual is encouraged to style the products however they like.
Theological-leaning themes and phrases play a big part in the design, as Baroque art was heavily adopted by the Catholic church. Along with the brand name, phrases like "Pray for us" and "Every sinner dies a saint" are etched into the jewelry. Cherubs serve as adornments throughout the entire range.
While the pair has big plans for the future of Martyre, they're intent on enjoying each stop along the ride. "We're always thinking bigger and better, but also want to focus on the current collection," says Laham.
There's no doubt their designs could be translated to other product categories, but the duo is excited to focus on accessories for the time being. "In the future, we want to remain thoughtful and ultimately perfect our designs before we start thinking expansion or new brand categories," he says. When it comes to accessories, the sky's the limit and they're trying to reach it, one unique item at a time.
"We hope people feel a connection to whatever pieces they own and feel good when they're wearing it," says Laham. "Jewelry is super personal; it could be a rite of passage, decoration of bravery or simply a pledge of love — so we hope the person wearing Martyre finds their own personal meaning and wears it proudly."
See the rest of Martyre's debut collection in the gallery below.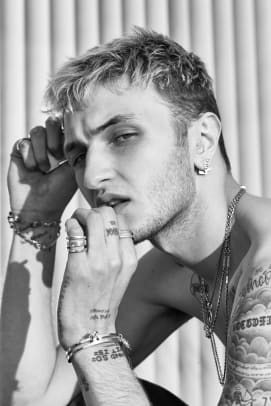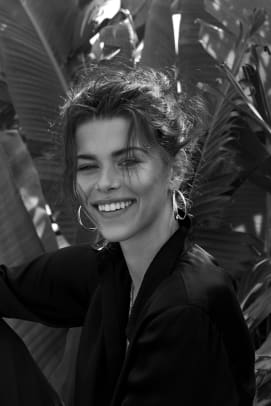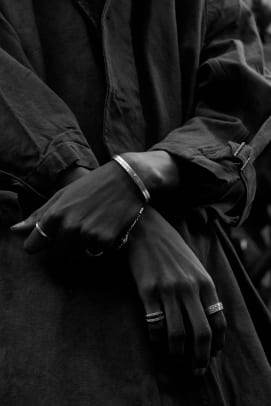 Sign up for our daily newsletter and get the latest industry news in your inbox every day.