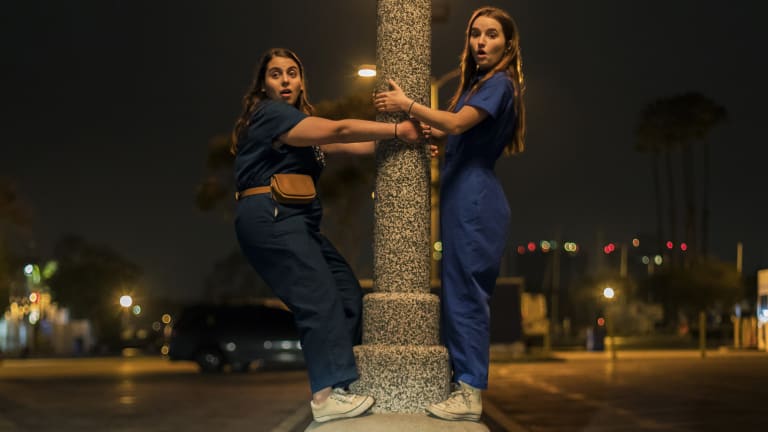 The 'Booksmart' Costumes Include Blue Wave Boilersuits and Original Cali Thornhill DeWitt Self-Spoofing Merch
"Lady Bird" costume designer April Napier reunites with Beanie Feldstein for Olivia Wilde's very buzzy directorial debut.
Shocker: Teen movies (and small-screen shows) are my favorite genre, which is why I really appreciate how they've evolved into the exploration and celebration of female friendships — just as much as, if not more so, than the aspirational romance storyline. (Although, I'm always happy to take a hybrid of the two.)
Olivia Wilde's big screen directorial debut "Booksmart" is the perfect example of teen movie 2.0 and the lead BFFs are an absolute joy. Ruth Bader Ginsberg-worshipping Molly (Beanie Feldstein), who's already gunning for a SCOTUS seat, and feminist Amy (Kaitlyn Dever) are on a mission to venture into uncharted territory ahead of graduation: a party. After the shocking discovery that their supposedly academically challenged, goofy classmates were also accepted into top colleges, the two overachievers decide to make up for lost time by proving they can have fun, too.
That old teen movie trope of popular kids versus the outcasts is on its way out as well. Now, it's about accepting and embracing each other's truths, yet coexisting. The same goes for the costumes by April Napier, who previously worked with the scene-stealing Feldstein in Greta Gerwig's coming-of-age breakout film "Lady Bird."  
"The whole cast was so great and so individual," says Napier over the phone from Los Angeles. "They just did an excellent job casting and it gave me the opportunity to really make all these characters individuals." First-time movie director Olivia Wilde did not hire based off of actors' resumés, but instead "their talent, their skills, their ideas and their passion" to form a diverse, inclusive cast with loads of chemistry.
Wilde has described "Booksmart," written by an all-woman team, as "a modern-day 'Clueless' meets 'Dazed and Confused.'" But, Molly's plaid blazer and yellow ribbed turtleneck last-day-of-senior-year outfit (above) isn't exactly an homage to the Alicia Silverstone-starring teen classic. 
"Olivia said, 'I remember when I came to Los Angeles, I was always wearing a turtleneck and a corduroy suit and it looked totally wrong,'" says Napier. The Yale-bound senior's "East Coast" outfit intentionally looks "inappropriate" to stand out from her carefree — yet also Ivy League-approved — classmates "in their shorts and hardly any clothes." 
Amy literally wears her passions and values on her sleeve, specifically on her denim jacket covered in thrifted patches reading "sisters," "vegan" and the like. Napier dressed her in a more "alternative," streetwear-influenced and vintage-leaning wardrobe, speaking to Amy's commitment to the environment and sustainability. 
The activist, who's spending her summer volunteering in Africa, also wears a custom-designed statement T featuring the face of orangutan primatologist Dr. Birutė Galdikas. (She's one-third of the Trimates or Leakey's Angels, alongside Dian Fosse for gorillas and Jane Goodall for chimpanzee.) In a stroke of luck, Napier's assistant costume designer actually took classes with Dr. Galdikas, so emailed her directly for permission to use her likeness in the film. "She was very supportive," says Napier.
Despite their distinctive style preferences, Molly and Amy are on the same page when it comes to their party 'fits and end up twinning (above). Although, their decision isn't because utilitarian coveralls are a thing this year: "'What do we think is the coolest thing that we could wear to this party?' Who would they they think is cool?" Napier explains of the duo's thought process in assessing their wardrobe options, which, of course, Amy has meticulously labeled. 
On the same wavelength, the two land on vintage boilersuits inspired by female role models "Rosie the Riveter" and Jane "Hanoi Jane" Fonda — obviously in blue because they're hardcore Democrats. (See: Amy's Elizabeth Warren 2020 bumper sticker.) To differentiate, Molly carries a tan belt bag — packed with party essentials, like hand sanitizer — and ties a black and white neck scarf around her neck. Meanwhile, Amy accessorizes with chic black beret, probably making more of a socio-political statement than a sartorial one.
Suffice it to say, the two take a awhile to find said party, but do enjoy an outfit upgrade along the way. Their fashion fairy godmother comes in the form of teacher Miss Fine (Jessica Williams), who happens to have a couple of fire looks on hand, reminiscent of Awkwafina's Peik Lin in "Crazy Rich Asians." ("You have a cocktail dress in your trunk?" "I'm not an animal, Rachel.")
Napier and team decided that instead of yoga clothes, Miss Fine would have "a weird old club outfit" stored in her car, just in case. She also went with the idea that the sequin looks were actually party tops to illustrate the height difference between the petite teens and six-foot-tall Williams. Although, in reality, Napier reworked two vintage '80s dresses from Jet Rag in L.A. to fit the actresses.
"It's also nice because Amy's is more slouchy and hanging off of her — more messy, like Amy is, whereas Molly has the collar that also harkens back to her buttoned-up look," she says. Note that the former's deep navy and the latter's teal maintain the Blue Wave palette established by their boilersuits.
If there's a character that knows how to dress — if not overdress — for high school, the blowout party and all the stops in between, it's Gigi (Billie Lourd). "Olivia always said she's like Penny Lane in 'Almost Famous,'" explains Napier, who originally imagined the rich classmate character as a "Kardashian kind of creature." "She's your best friend — she's got a heart of gold — but she's totally off the rails." 
Gigi first rolls into the last day of senior year wearing an embellished baby-doll dress, a shaggy pink faux fur coat, a Kangol bucket hat and massive sparkly platforms — and becomes progressively crazier with her looks from there. "Her outfits change every scene," adds Napier. "Because Olivia said, 'I want her to be like a specter. 'How does she keep changing clothes in every scene?!' She just shows up, like this magic specter, in this outrageous outfit."
RELATED ARTICLES
The 'Lady Bird' Costume Designer 'Dawson's Creek,' '90s-Era Kirsten Dunst and Chloë Sevigny for Inspiration
How Mona May Turned a Fashion Degree Into a Career Costume Designing Iconic Films, Like 'Clueless'
Elle Fanning Wears '90s Reebok Streetwear, Alexa Chung- and Chloë Sevigny-Inspired Stage Looks in 'Teen Spirit'
As for Gigi's best friend Jared (Skyler Gisondo), "our key word for him was Hypebeast. He's just trying so hard," laughs Napier. Of course, the endearingly thirsty rich kid, whose vanity plate reads "Fuk Boi," would have first dibs on all the limited-edition Supreme and Yeezy drops. (And he would definitely say, "drop.") In a stroke of genius, Napier and team enlisted artist Cali Thornhill DeWitt, who created the graphics for Kanye West's "Life of Pablo" merch, to help with Jared's hilariously extra fuccboi looks.
"We said, 'We're doing a spoof of you, actually, and Supreme, skate culture, Hypebeast, etc. So why don't you use whatever words you want to mock yourself or the the commodification of your sensibility?" explains Napier. Look very closely for DeWitt's original art on Jared's graphic sweatshirts and Ts that read "My Mother's Credit Card is My Ticket to Ride," "Imitation of an Imitation, I feel like Zara" and just "Fairfax." 
Theater nerds Alan (Austin Crute) and George (Noah Galvan), in his "what would Bob Fosse do?"-type blazers and turtlenecks also bring the fashun. Plus, there's the too cool, Taylor Hill-lookalike Hope (Diana Silver) in her simple, yet "perfect" jeans, white t-shirt and vintage suede fringed jacket that I want. "She doesn't give a fuck because she doesn't have to try," says Napier. 
Wilde also cast two pro-skateboarders for their first-ever acting gigs to round out the skater crew, alongside slacker genius Theo (Eduardo Franco) in his Hawaiian shirts. Victoria Ruesga, as Amy's crush, Ryan, wore her own "'fits" in the movie, according to the director on the May 1 installment of  the podcast "Keep It." As "loose, skate, stoner dude" (or per Wilde, "our Spicoli") Tanner, Nico Hiraga (also seen in the "Skate Kitchen" doc) wears his white overalls, twisted and backwards and with no shirt (above l
"Nico came out of his trailer on that day and he's like, 'I was just thinkin' maybe I'd wear them like this.' We were like, 'perfect,'" says Napier. "Nico was so much like Tanner, when he walks out like that, you're like, 'totally, that's you bro. Do it.'"
'Booksmart' opens in theaters on Friday, May 24. You can watch the first few minutes of the film below.
Never miss the latest fashion industry news. Sign up for the Fashionista daily newsletter.