Burnett: New York Is an American Luxury Label to Watch
The brand's mission to support women goes far beyond an inclusive model lineup.
At just 23-years-old, Emily Burnett had already been appointed as creative director of Dennis Basso — not a shabby gig for someone who started out in fashion after joining her mother in night courses at Phoenix College while in high school. A love for sketching was born through fashion drawing classes, and even in a world of predominantly digital design, she has continued to draw all of her looks by hand throughout her career. 
Her professional track first began as a part of the team at Ralph Lauren's Black label, a role she landed after she graduated from Parsons School of Design. She later moved to Dennis Basso in pursuit of gaining experience in luxury womenswear. "I started [at Basso] when I was 22 and it was right during the economic depression, so the year I started, the creative director and design director exited and I jumped in and filled their roles," Burnett recalls. "That's how it happened at such a young age: I was there and just had to jump at the opportunity and prove myself — that I could do it."
Fast forward 10 years and Burnett is officially launching her namesake line, Burnett: New York, with the help of co-founder Sterling McDavid, operating and producing out of an impeccably decorated space in midtown Manhattan which showcases the debut collection immediately upon entering. The brand's philosophy begins with sustainability; Burnett uses only traceable, ethically sourced materials in her designs. 
"We really want to focus on natural fibers and materials," she explains. "I've seen where [the fabrics] come from, I've been to the factories that have been making them, and everything is made here in New York, in our little atelier." Taking a step further, unused materials will be donated to design studios in underprivileged communities through a partnership with Parsons School Of Design. Burnett sincerely hopes to leave a minimal impact on the environment, something that's evident in her brand ethos.
Related Articles
Baja East Co-Founder and Former Marc Jaobs Designer John Targon Returns With New Knitwear Label Fall Risk
Snow Xue GAO and Its Cool, Wearable Take on Suiting Is a Label to Watch
Label to Watch PH5 Is Pushing the Boundaries and Seasonality of Knitwear
The New York-based atelier began production with a Pre-Fall 2019 collection that was swiftly picked up by Net-A-Porter, an impressive retailer for a brand's first season. Burnett made her solo runway debut with her Fall 2019 line during New York Fashion Week, with a presentation in Paris following shortly after. Show notes indicated that inspiration was drawn from 1980's film heroines such as Sigourney Weaver in "Half Moon Street" and Michelle Pfeiffer in "Scarface." With these mantras of power in mind, Burnett delivered a mix of both daytime and evening attire. 
Both sharp tailoring and airy dresses went down the runway with a diverse array of models to showcase them, comprising different body types, ages, genders and races. The casting was done by Barbara Pfister, whose client list ranges from Gap to Versace and every brand in-between. "[She's] done an incredible job of picking models that represent every woman out there," Burnett explains. "Showing diversity in ethnicity, age, size — that was really a part of our brand DNA from the beginning."
Inclusive casting is amazing to see, but Burnett's mission to support women hardly stops there: Each season, Burnett will partner with a different women's organization, giving a direct percentage of the profits to the organization of choice. "Our first pre-fall collection, we partnered with UNICEF; a percentage of our sales went directly to the girls' empowerment program that they have," Burnett explains. "For fall, we've partnered with Flaviana Matata, a model who was at our show. We did an event with her that benefited her foundation in Tanzania." The event, tagged #BeautyOfGiving, was the first to support the Flaviana Matata Foundation, whose mission is to uplift Tanzanian girls through education.

In New York City, Hudson Yards just opened its massive five-floor shopping mall; with this grand opening, department store giant Neiman Marcus brought their long-overdue flagship store to town, and brought Burnett along with them. You can find coats from her debut runway collection prominently featured in Neiman's new fur salon. Burnett explains that she still uses real fur, when so many other designers are abandoning it, because it ties back to her commitment to sustainability, leaving no room for faux fur or plastics.
With a memorable collection, a diverse model casting to complement it, a generous give-back component, and $2.5 million in her pocket from investors (all female, natch), Burnett is on a clear mission. It's safe to say she is off to a great start.
See Burnett: New York's Fall 2019 collection in the gallery below.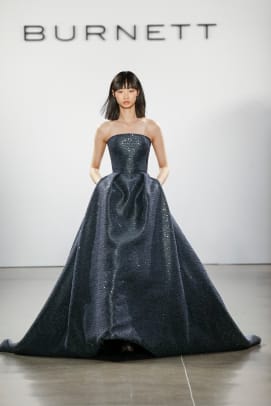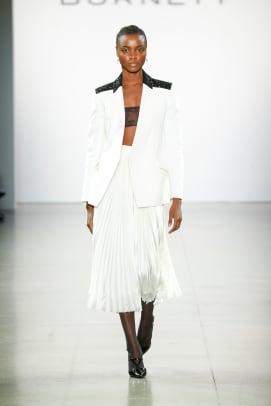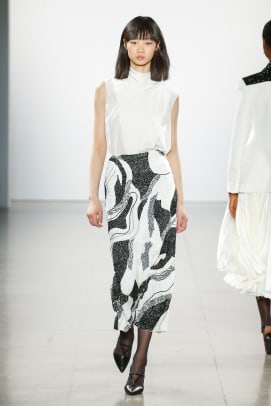 Stay current on the latest trends, news and people shaping the fashion industry. Sign up for our daily newsletter.