Cara Delevingne Collaborated With Balmain on a New Handbag Collection
She and Olivier Rousteing are taking the model-as-muse relationship to the next level.
It's no secret that Cara Delevingne and Balmain Creative Director Olivier Rousteing have a longstanding muse-designer relationship; their love was most recently put on full display for Balmain's Spring 2019 ad campaign, in which Rousteing covered Delevingne's breasts with his hands in a black-and-white image, recalling the iconic photograph of Janet Jackson from the early '90s. 
"I've always enjoyed the special chemistry that I share with my friend Cara," Rousteing said in a release for the campaign. "It's a bond that's beyond obvious in the many photos and videos taken over the past few years, capturing our spontaneous hugs, kisses and, of course, the never-ending laughter."
Now, the supermodel-turned-actress has teamed up with the designer to create three new handbag styles: Romeo and Twist, which launched on May 23, and the BBag, which will be available sometime in mid-July. Harkening back to the '80s biker gang vibe Rousteing cultivated for the Fall 2019 runway, the bags mix a classic quilted, black leather base with thick straps and spiked gold accents.
In a release, Rousteing says the line was also inspired by Delevingne's versatile style. "She's got attitude; she is a troublemaker, and she doesn't care. She's defiant, but she is a paradox: She can be sweet and romantic too; she can be an angel, or she can be a devil. She cannot be categorized," he says of the model.
Rousteing says in an interview with Vogue that he always wanted to collaborate with Delevingne, but "things take time." As soon as they started, though, Delevingne says the partnership came easy. "Once I saw Olivier's ideas, I knew we were on the same page [and] that I only needed to give minimal feedback in order for it to be exactly what I had envisioned," she told Vogue.
This is not the first time Delevingne has collaborated with a brand to put her stamp on their handbag offerings. The supermodel teamed up with British heritage brand Mulberry back in 2014 on a line of convertible backpacks, with design touches inspired by her infamous tattoos.
Balmain will debut the collection on Tuesday with a series of interactive videos on its website starring Delevingne, which will allow viewers to make choices for her that will guide the story in different directions. Though Rousteing didn't detail future plans between him and Delevingne, he told Vogue that collaboration for him is "never something that you just drop and afterward you stop," so we can safely assume this won't be the last of a Balmain x Delevingne partnership.
Take a look at the gallery below to see the collaboration's campaign images.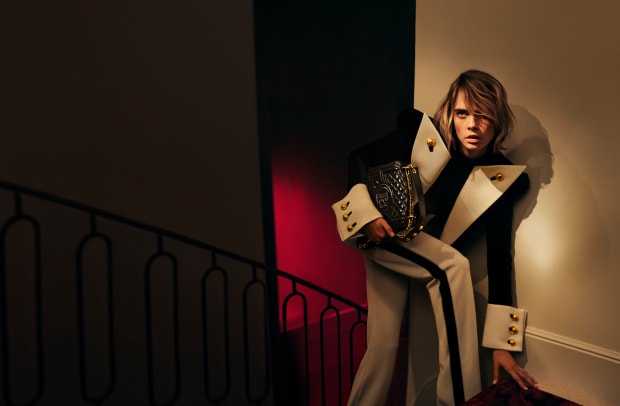 Stay current on the latest trends, news and people shaping the fashion industry. Sign up for our daily newsletter.