Virginie Viard Presents a Pared-Back Vision of Chanel for Her Debut Runway Show
The brand's Resort 2020 collection is the first to carry the stamp of Karl Lagerfeld's successor.
When Karl Lagerfeld passed away in February of this year, he left an enormous legacy in his wake across the entire fashion industry. But perhaps nowhere was his death more keenly felt than at Chanel, where he had been creative director for over three decades — reviving the brand from the brink of failure to turn it into one of the biggest, most famous fashion houses in the world. While he built upon the codes established by Coco Chanel herself, the DNA of Chanel today is based in Lagerfeld's body of work for the brand.
All of this is to say that whoever Chanel chose to fill the top role would have the almost-impossible task of both following in Lagerfeld's footsteps and maintaining the French house's forward momentum. It is perhaps not surprising that execs felt Virginie Viard would be well suited to the task, naming her as Lagerfeld's successor; the then-director of Chanel's fashion creation studio had spent over 30 years learning under Lagerfeld himself, taking the finale bow in his place when he was too ill for the Spring 2019 couture show and finishing the Fall 2019 collection just weeks after his passing. 
Viard's first real test in her new position came on Friday morning with Chanel's Resort 2020 collection, the first that she would carry without the aid of her mentor. One key difference in design philosophy seems to be present here: Where Lagerfeld gunned for a "more-is-more" aesthetic, piling on accessories and details, Viard appears to be abiding by Coco Chanel's own adage, dictating that one should look in the mirror and remove one thing before leaving the house. Everything from the set design to the silhouettes felt pared-back from Lagerfeld's creations. 
After dining in "train cars," those accustomed to walking into a Chanel show and being transported to a faraway beach or a fully-replicated Parisian promenade found a (relatively) simple train station set in the Grand Palais, with sets of tracks and benches set up along platforms. Posted signs indicated where the Chanel woman might be going this season: Antibes, Venice, Rome, the Riviera, Edinburgh, Saint Tropez.
Quite an eclectic mix of destinations, but then, resort can be a complicated season; the entire concept emerged from the need to provide wealthy women with clothes to take on their sunny vacations (hence its other common name, "cruise"), but it also hits stores in the dead of winter. Viard handily covers all those needs for Resort 2020, from lightweight suiting which takes its silhouette cues from the Fall 2019 collection, to the floral appliquéd, sheer dresses with starched white collars, which provide a lovely nod to Lagerfeld's preferred uniform.
Viard spent decades learning under Lagerfeld, and it shows. Many of the lines and color plays of the collection feel like natural extensions of his work — almost surely what Bruno Pavlovsky, President of Fashion at Chanel, intended when he said Viard's appointment would "continue to follow in the path" set by Lagerfeld. Still, this wasn't copycat stuff. Viard put her own spin on the classics by simplifying them ever so slightly; the fit on garments like utility jackets and longline, knit cardigans sat closer to the body, while trenches and sharply tailored blazers nipped in at precisely the best point of the waist. They're touches that make clear a woman is designing for the Chanel women now.
There were still notes of whimsy, too, with giant bows serving as blouses and a bag which looked like a train conductor's lamp. A printed pant sat somewhere between athleisure leggings and skinny jeans. For the opening looks, brightly colored details popped against a neutral palette, whether it was the pink pointed toe of a low-heeled, black pump or the shock of purple on a pair of fingerless gloves. Those faded into light pastels for the more holiday-suited options, like lilac leather pants or printed, floaty dresses. (In fact, the color choices might have benefited from a more streamlined vision; it was hard to follow the line of thought here.)
Still, it was a rather quiet affair for Chanel. It's possible that, with Lagerfeld's death still looming so large, this collection did not feel like the right time for a full-out showing from Viard. But hopefully, she'll bring a touch of that fantasy back into things in time for the couture show in July. Chanel is one of the few houses left that has the capability — not to mention the budget — to create the kind of fashion moments that inspire people to truly dream. Viard should not be afraid to embrace that.
Take a look at the full collection in the gallery below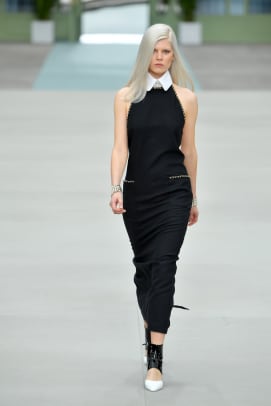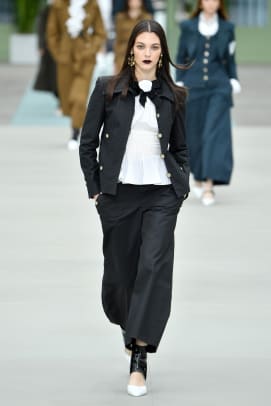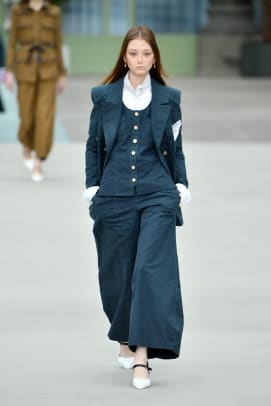 Want the latest fashion industry news first? Sign up for our daily newsletter.