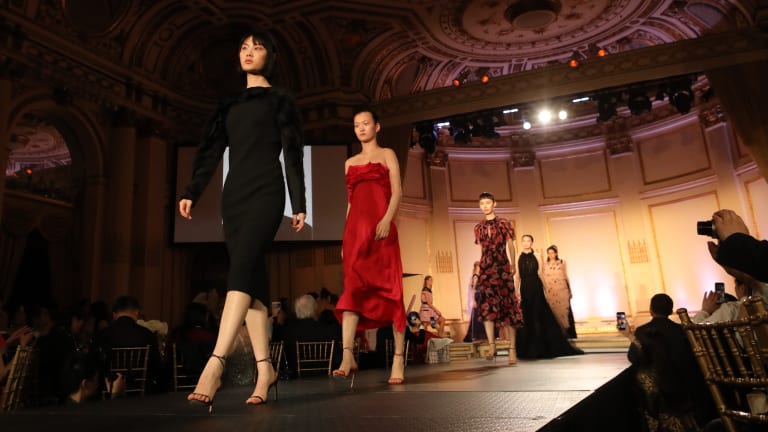 'Vogue' China Editor-in-Chief Angelica Cheung on Defining 'Chinese Style'
"You can't," said Cheung at the annual China Fashion Gala in New York.
"Made in China is no longer a dirty word," said Taiwanese-Canadian designer Jason Wu, while accepting the Leadership Award at the annual China Fashion Gala on Wednesday night. "It stands for prestige, craftsmanship, beauty, integrity and those aren't things that we were known for. But today I'm standing here and I'm proud that we've come here this far."
I should point out that on Thursday, it was announced that Chinese private equity firm Green Harbor bought a majority stake in Wu's parent company, JWU. But, as a second-generation Chinese-American and member of the diaspora myself, I felt proud of that moment, too, and the sense of excitement and pride resonated throughout The Plaza's Grand Ballroom. The annual gala, presented by the China Institute and Yue-Sai Kan China Beauty Charity Fund, just felt more culturally Chinese than the year prior — especially watching all of the Asian models walk in Wu's runway show (and not having to listen to new Italian owners of a Hong Kong-founded heritage brand discuss their Silk Road and Marco Polo inspirations without any sense of irony). 
Supermodels Ju Xiao Wen, Shu Pei and Aussie-Chinese (and blond) Fernanda Ly swanned about while Taiwan-born Shu Qi, who shot to big-screen fame in Hong Kong, received the Icon Award. Meanwhile, American fashion designers Nicole Miller and LaQuan Smith — seated next to Cardi B's stage-stealing pianist Chloe Flower at dinner — mixed with the crowd. 
The arrival of Gemma Chan — in a silver custom gown (with pockets to stash snacks, naturally) by Parsons grad Mark Gong — nearly caused a stampede amongst the well-heeled (and very bejeweled) crowd. The "Crazy Rich Asians" and "Captain Marvel" breakout then held an impromptu power summit with Vogue China Editor-in-Chief Angelica Cheung, whose entourage of assistants — with an acute sense of urgency — rivaled (or actually surpassed) that of the Hollywood star.
Related Articles
Shanghai Designer Grace Chen Wants to Establish a Chinese 'Fashion Identity' Through Her Couture Designs
Snow Xue Gao and Its Cool Wearable Take on Suiting is a Label to Watch
How Chinese Culture is Carving Out a Place in the Western Beauty Industry
"Today is also the beginning of my involvement in your force," said the Beijing-based Cheung upon accepting her Leadership Award. The investment banker-turned-fashion editor, who launched Vogue China in 2005, expressed her commitment to help "spread the influence of contemporary Chinese" culture and fashion going forward. 
Right now, homegrown Chinese fashion design is having a moment, especially in its native country, as an increasingly sophisticated, demanding and affluent consumer base looks inward. Western luxury brands saturating the market are losing that caché of exclusivity and all those clumsy cultural marketing offenses (followed by racist Instagram DMs) don't help — especially when the flubs go viral via the one billion daily active users on WeChat.
This year, China is poised to take over the U.S.'s top spot as the world's largest fashion market for the first time, according to the State of Fashion 2019 report by McKinsey & Company and Business of Fashion. Bain & Co.'s annual luxury study also predicts that luxury spending in China is projected to be 50% domestic by 2025. On the consumer side, opportunity for homegrown talent is wide open.
But while it's (sadly) pretty easy for brands to alienate domestic shoppers, especially the younger Gen-Z and millennial cohorts, with cultural faux pas, the support for representation may not be that significant of a driver in a reverse situation.
"Chinese consumers aren't buying Chinese designers because they're Chinese designers," Cheung told me before the dinner and awards presentation. "They're buying clothes that they like." Ultimately, she feels Chinese consumers are becoming more individualistic in their style rather than just picking up the biggest Western designers' latest trends. "Those consumers have become sophisticated enough to make their own judgement on what makes them look good — and what clothes are good." 
Which brings about the much-discussed and pondered question: As modern-day, 21st-century Chinese fashion rapidly comes into its own, what will its aesthetic be? Last year, China Gala honoree and Shanghai-based couture designer Grace Chen asked an increasingly relevant question: "How do you describe Chinese style?" 
"Chinese style is individual style," answered Cheung. "Each individual is different. If individuals develop their own language, that's more important [than a universal 'style']. We have 1.4 billion people. How can you define a Chinese style in one sort of way? You can't. Every design coming out of China — or related to China — has a style that would add to the width and the depth of Chinese culture."
But in developing the future of Chinese style, multicultural and global tastes, experiences and training help shape each designer's individual outcome. "People hold different passports; they travel everywhere; they live everywhere," she adds. "When it comes to design, a lot of them are really just international. Generally speaking, I support efforts that raise the profile of Chinese designers and Chinese fashion. But we shouldn't be too narrow-minded, either."
At the end of March, Shanghai Fashion Week, which promotes Chinese fashion talent with international potential (and brings Western brands, such as Jenny Packham, Nicole Miller and Faith Connexion directly to domestic buyers and audiences), made quite possibly its biggest impact yet. New York-based Vivienne Tam even skipped New York Fashion Week to show her Fall 2019 collection over there. Young, buzzy Chinese designers showed an eclectic and diverse range of aesthetics, from London Fashion Institute alum (and former Simone Rocha and Gareth Pugh intern) ShuShu/Tong's off-kilter twist on feminine details and menswear-inspired tailoring, to Royal Academy of Fine Arts MA student Shuting Qiu's Antwerp-influenced print- and color-saturated sculptural layers. 
"We have become more global," said Yu Capital founder, philanthropist and American Vogue contributor Wendy Yu. "I believe that really good design is good design universally. You shouldn't just emphasize your heritage." 
The former Vogue China intern also partnered with Business of Fashion to debut the BoF China Prize to help bring emerging Chinese design talent to the global stage. Parsons MFA grad Caroline Hu, who also debuted at NYFW in February, received the inaugural prize during Shanghai Fashion Week for her romantic, Matisse-inspired and ethereally deconstructed collection. 
"Her interpretation is very subtle," said the billionaire investor, who also endowed the title of "Wendy Yu Curator in Charge of The Costume Institute" to The Metropolitan Museum of Art's Andrew Bolton. (Side note: She's wearing a one-of-a-kind custom piece by a "very well-known haute couture designer" to the camp-themed Met Gala.) "There is a subtle East Asian influence, but it's a real mix of international, global vocabulary, as well." Yu also named Huishan Zhang, Harry Winston and Van Cleef & Arpels alum Anna Hu and London-based Xu Zhi as her current favorites.
Training from prestigious designs schools in New York, London or Paris — and even setting up ateliers abroad — seem to be a common resumé credential amongst these young, up-and-coming designers. But is that necessary to make it in the new Chinese fashion playing field?
"There's never been a rule to say where you come in," said Cheung with a shrug. "I mean, I didn't study fashion and I'm the editor of Vogue China, one of the biggest Vogue [publications] in the world."
China-born Yu, who studied Fashion Management at the London College of Fashion also weighed in. "There is a saying, 'there is every road to roam.' As long as it works for you," she said. "I would suggest young designers train at good schools, like Central Saint Martins or Parsons, so they have exposure to the whole big world. Then they take a bit back from their heritage. But there are designers, like Guo Pei, who haven't been trained abroad at all. Look at what she's achieved. There is a road to roam for everyone."
But overall, "I'm very proud to see the Chinese homegrown talent flourish on the international stage," said Yu. "There is real chance for somebody: the next Jason Wu."
Top photo of the Jason Wu fashion show at the China Fashion Gala: Gonzalo Marroquin/Patrick McMullan/Courtesy of China Institute
Never miss the latest fashion industry news. Sign up for the Fashionista daily newsletter.