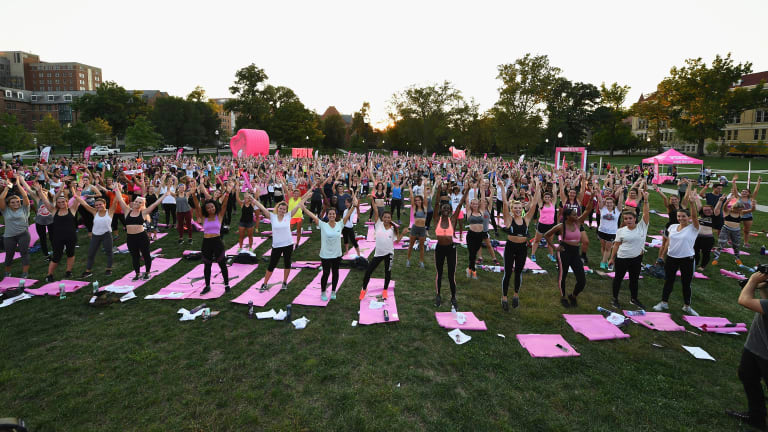 The Increasing Allure of Being an Influencer in College
Brands are flocking to this particular demographic.
Welcome to Career Week! While we always make career-focused content a priority on Fashionista, we thought spring would be a good time to give you an extra helping of tips and tricks on how to make it in the fashion and beauty industries.
When news broke that a group of wealthy parents were going to great lengths to illegally cheat the college admissions system, one particular celebrity offspring beauty vlogger became the unofficial face for the nationwide scandal. In March, Olivia Jade made headlines when it was revealed that her parents had bribed her way in to the University of Southern California; the teen makeup influencer, who boasts nearly 3.5 million followers on Instagram and YouTube collectively, was subsequently dropped by a slew of brands with which she'd held lucrative partnerships, like TreSemmé and Sephora.
The teen was fairly vocal about balancing school and social media (sort of), and she's not alone in performing the dual role of student-slash-influencer while attending college. In fact, garnering sponsorships and creating content for a growing audience of followers has become a popular side gig among college students. So much so that the universities themselves are utilizing their marketing departments to work with their students to reach (and attract) applicants and prospective freshmen. Plus, being a vlogger or influencer is becoming increasingly popular when it comes to younger generations' career aspirations. 
Related Articles
Is It Possible to Become a Mega-Influencer Anymore?
This Is How Much it Costs to Wake Up Like an Influencer
Are Influencers Influencing Where Young People Travel?
"I did a guest lecture at NYU for a social media class at [the Stern School of Business] and in a class of about 70 kids, I think 15 came up to me after and were like, 'Oh, I'm an influencer,'" recalls Mae Karwowski, founder of influencer marketing agency Obviously. "And some of them were pretty big. I was like, 'Oh my god, you have a YouTube channel with 100K subscribers?' It was really interesting."
But before there was the "influencer" — a word that only officially entered the English language in 2019 — across college campuses, there was the student brand ambassador, a role that is still heavily active today, if not more, across categories like fashion, beauty, lifestyle, food and drink. "Brands want to reach this demographic because they're very formative ages in terms of creating their brand preferences," says Ben Varquez, the managing director of YMC, a youth marketing agency and influencer network that specializes in targeting consumers between the ages of 15 and 29 years old.
Varquez claims that YMC is a pioneer within the collegiate ambassador space with the promotion of brands like Red Bull back in the early 2000s. Nearly two decades later, attracting those same youths has drastically changed: "When we started in this business, not everyone had a mobile device in their hands and it was certainly not a smartphone connected to high-speed internet at all times," says Varquez. "Obviously, social media has completely changed the landscape, as well. Consumers are empowered to influence their peers by leveraging their own platforms and creating their own personal brands in a digital sense, and that's changed the way we market with them."
Kassidy Tran, a Cal Poly SLO class of 2019 graduate, recently wrapped up two years as a VS Pink Campus Rep. Her role was a steady mix of hosting experiential marketing events and content creation for the brand's social media accounts, as well as her own personal Instagram. "On Cal Poly's campus, there are definitely other student ambassadors for specific brands," says Tran. "There's an Amazon Prime rep, a lot of food and drink — like Five-Hour Energy and Kind Bar — but not too much retail or fashion. So the Pink program is definitely unique on Cal Poly's campus, especially because it's a very agriculture and engineering-based school, so there isn't a lot of fashion opportunities."
VS Pink, the (younger) sister brand to Victoria's Secret, employs two Campus Reps at more than 100 colleges and universities. Applicants traditionally apply through the Pink Nation app, answering questions about themselves, their involvement on campus and submitting a one-minute video to show their personality. Once chosen, reps are required to attend a three-day brand certification course in Columbus, Ohio ("all expenses paid!" says the VS Pink website). Generally, these reps spend between eight and 10 hours a week — though, the brand encourages an "always on" mentality — spreading brand awareness on campus and across social media.
In exchange, VS Pink campus reps are often sent merchandise to wear and give feedback on, or they're provided with swag for event attendees or to host giveaways. Sometimes, they can even be selected to go on trips with VS Pink, like to Palm Springs with (newly named) Victoria's Secret Angel Grace Elizabeth or New York City to celebrate the launch of the brand's Grl Pwr campaign. (A spokesperson for VS Pink confirmed that campus reps are not paid.)
Tran also mentions how much her experience has helped with her studies and choosing a career path. "I feel like I've been applying everything I learned in my classes to this Pink program directly," she says. "I actually wasn't an event planning minor prior to getting this experience and so the Pink program opened my whole world to event planning. When I was applying to internships last summer, it was the one thing that I feel like I really referred to often during interviews."
Karwowski has seen how strong engagement can be among influencers in college, specifically from a previous campaign done by Obviously. The agency worked with students to promote a brand's sweatpants, which retail for $400, that just so happened to match certain school colors. "We found influencers in each of [those] schools. You had to have around 2,000 followers, but all of their followers were at that college, too," explains Karwowski. "The engagement was insane, like 30% and 50%, and it was all this conversation about how cool it was that a brand had reached out to them and they were part of this influencer trend now, which never happened before."
Rent the Runway started its rep program in the fall of 2017 as its first foray into the college space. "We were really positioning it as a learning experience," says Manager of Community Emily Hollender. "We were going to be doing a ton of college marketing and first wanted to go to the source and learn from college students in terms of what they thought of Rent the Runway and how they're shopping on campus." Since its launch, the program has grown from a small group of 50 ambassadors to over 450 reps across 75 different campuses around the country.
Hollender hires reps each semester through an application process that asks for things like GPA, number of Instagram followers and a two-minute video. (The amount of submissions has quadrupled since its launch.) Once chosen, reps are given a complimentary subscription for the semester, as well as access to mentorship opportunities and career resources. They're asked to post content on social media and help with hosting an event or activation once a month for students. (A spokesperson for Rent the Runway confirmed that campus reps are not paid.) In addition, the company also works with women who have strong digital followings for its college-focused Instagram account (@rtroncampus) in a more traditional influencer marketing capacity in order to boost content and reach new audiences.
"The cool thing with colleges is every year new students are coming in, so it's a challenge for us to continue to reach these freshmen and allow them to learn about Rent the Runway," says Hollender. "Even if they're not signing up for a membership or renting with us, they're at least understanding that renting is a smart and sustainable way to get dressed. Once they have a paycheck — post-college — they'll become subscribers for life."
And while working with college students has plenty of benefits, both Varquez and Karwowski assert that one major challenge is that these brands are partnering with people who live incredibly busy and engaged lives. After all, the college-age and post-graduate generations are known to be overachieving perfectionists, stacking their LinkedIn profiles and Instagram feeds with highlight reels of both their professional and personal lives. Adding deadline-oriented, contract-driven partnerships and sponsored posts requires more time management and prioritization than one would think.
"A lot of people don't realize just how much work it is to post one, two photos a day and several stories a day and have it always be on the mark and something that's brand-safe and is true to yourself that your fans think is cool," says Karwowski. "That's hard for a creative director at a major agency to do, let alone a 19-year-old who has exams."
"One of my goals is to be consistent on Instagram," says Jorji Gardiner, a class of 2020 student at NYU's Stern School of Business. "That's something I haven't been good at because I get so busy with school and so much going on in the real world, Instagram will sometimes take the back burner." As a double-major in global business and marketing, along with a minor in business of entertainment, media and technology, plus a modeling deal with State Management, Gardiner is, in the words of Ricky Thompson, "booked and busy." During midterms, she only managed to post for her 38.1K Instagram followers twice in one week; when finals arrived in May, only once.
Gardiner's large following stems from modeling, which she's been doing since her senior year of high school while living in Los Angeles. About two years ago, she hit 10K followers and started to reach out to brands (via DM) to possibly work together. "A lot didn't reply, obviously, but I got a few responses where they would send me product in exchange for a post," recalls Gardiner. (Pro tip: She created a media kit for herself to send to brands, too.) Over time, her partnerships grew across beauty, lifestyle and wellness, negotiating rates and drafting contracts on her own. A quick scroll through her feed shows placements from Hello Fresh, Not Your Mother's Haircare, Zola, Sephora Collection and many more. Over the summer, she has a collaboration coming up with Brooklinen and hopes to work with more fashion brands.
Typically, brands are asking Gardiner for an Instagram Story (or two) and a single static post — the latter being one of the most-coveted deliverables in influencer marketing. There's also the option of including a link in the bio for say, 72 hours, or adding a Story to the highlights section, another key placement for brands. Gardiner usually makes anywhere from $500 to $600 for an Instagram Story and post. 
According to Karwowski, who's also worked with Gardiner in the past, rates can vary depending on following, engagement and the type of content from the influencer: Someone with 3,000 followers can get $100 worth of product, while another with 10K followers gets paid $150 for a post, or if you have 100K, it's upwards to $750 a post. Karwowski also notes that influencers are starting to negotiate beyond just one sponsored post for a brand to perhaps 12 posts over the course of a year. "It's a game you got to figure out," she says. "They're really trying to hustle and make it happen, which has been really cool. People see this as a real pursuit and they want to go full time."
As for pursuing influencing in postgrad life, Gardiner is taking the time this summer and her final school year to see if that's an option. "Is it just something I'm doing for fun that's a great bonus and a great income on the side? Or am I doing it as something that can become a full-time career path for me?" she asks. "I know it can be for many people and I've seen the progress when I can put little bursts of energy into it. I just have to figure out if that's my thing."
Homepage image: Victoria's Secret Pink launch at Ohio State University. Photo: Dimitrios Kambouris/Getty Images
Sign up for our daily newsletter and get the latest industry news in your inbox every day.