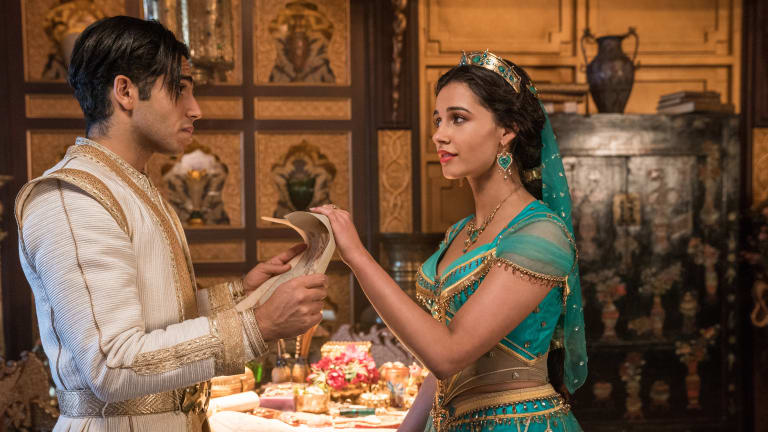 The Costumes in the Live Action 'Aladdin' Include Authentic Middle Eastern References and Modern Day Streetwear Influences
"It's a mashup of the two worlds," says Oscar nominated costume designer Michael Wilkinson.
The live action update of the 1992 animated Disney classic "Aladdin" premieres today with two incredibly appealing leads, a very inclusive cast, a fresh original solo for Naomi Scott to belt out as the people's Princess Jasmine, a soulful "A Whole New World" rendition by former One Direction member Zayn and a spectacular array of costumes to help bring the film's heroes, villains, hundreds of extras and one Genie (Will Smith) to life.
"At the core of it, we wanted the film to be a celebration of Arabic culture," says Michael Wilkinson, who's designed costumes for an expansive range of films, from two decades of suburban chic in Jennifer Lawrence's "Joy" to iconic superheroes in "Justice League" and "Batman v. Superman: Dawn of Justice." 
For authenticity, the Oscar-nominee heavily researched clothing, art and sculpture of the Middle East region and imagery throughout the centuries from The Book of One Thousand and One Nights (The Arabian Nights), which includes the original printed tale of the titular character. Since — quick Disney geography lesson — the fictional port city of Agrabah is located on the Silk Road, where the East and West meet to trade, the costume designer also studied references from Africa, Turkey and Pakistan. 
Of course, Wilkinson, who worked closely with production designer (and "Game of Thrones" vet) Gemma Jackson, also wanted to honor the fantasy and magic of the beloved cartoon, too. Luckily, the goal allowed for even more creative license. "When you take animation into live action, you can really add so much more detail," he explains. "It's a chance to literally give them more depth, so you can use the costumes to really tell the audience more about the characters and their backgrounds, backstory and inner world." 
So, the empowered, but sheltered Princess Jasmine enjoys the privilege of over 10 outfit changes this time around. Slightly different from the more Arabesque-influenced women in court (and town), her silks, silhouettes, paisley prints and ornate gold beading and embroidery are inspired by South Asia to honor her mother's heritage from the also-fictional kingdom of Shehrabad (and speak to Scott, herself, who's of Indian descent). 
"We wanted to express this real sense of strength and intelligence and self-determination," explains Wilkinson. "We gave her very strong colors and a bold personal style to reflect her confidence and her forthright nature." After all, Jasmine is more than capable and qualified to run Agrabah, but is held back by the men in power: her overprotective Sultan dad (Navid Negahban) and his top adviser "Hot Jafar" (Marwan Kenzari). 
"Her character is trapped and she wants to break free," he continues. "We wanted to get this sense of formality and traditional world that she's fighting against, so she has her own little quirks." Wilkinson points to the iconic blue silk trousers, which peek out from her long formal gowns and allow her to physically demonstrate her determination when she walks. "She wants to move through the world and be more effective than just a royal ornament of the court," Wilkinson says.
A consistent "peacock motif" is seen throughout her jewelry and clothing, notably, elaborate beadwork on her veil accenting the update of her blue (and more modest) top and trousers. "A good metaphor [for Jasmine] is a peacock [trapped] in a royal garden — a beautiful rarefied world — that wants to be a free spirit," Wilkinson explains. The majestic bird is also symbolic in the Middle East and South Asia, plus the color palette coincidentally match Jasmine's signature hues.
Aladdin, however, mainly wears just two outfits, similar to the animated version. But Wilkinson infused his initial "street rat" look with some street style "swagger" to subconsciously resonate with today's audiences. (Unlike his cartoon counterpart, this Aladdin does wear a shirt: an embroidered and Arabesque band-collared linen design, with linear prints inspired by a contemporary pinstripe fabric that caught Wilkinson's eye.)
RELATED ARTICLES:
The 'Booksmart' Costumes Include Blue Wave Boilersuits and Original Cali DeWitt Self-Spoofing Merch
Understated Costumes Let Yara Shahidi and Charles Melton Shine in 'The Sun is Also a Star'
Why the Iconic Costumes in 'The Matrix' Are About So Much  More Than a 'Shiny Black Coat'
Director Guy Ritchie wanted a "modern" take on Aladdin's sirwal pants, so Wilkinson looked to current menswear trends to design the drop-crotch linen trousers with a slimmer cut in the lower leg and oversize double-pleats (which actually look similar to ones just debuted by Rihanna's debut Fenty collection. Nice.). He also added a hood to Aladdin's now-red vest, garnished with Moroccan-style embroidery, for a slight streetwear vibe. To accommodate Aladdin's parkour-ing around the bazaar and running along rooftops, the designer turned traditional upturned and pointy toe slippers into sturdier custom-designed ankle boots with wrap-around laces. 
"It's a mashup of the two worlds," says Wilkinson.
Of course, Aladdin eventually has his Prince Ali makeover, thanks to the Genie. He enters the gates of Agrabah wearing copious layers of ivory and gold, including a magnificent long cape with screen-printed and embroidered ornamentation and an almost oversized turban complete with a massive brooch of fluttering ostrich feathers — all which feel a bit extra for a reason. 
"There was the moment of Aladdin looking very over the top and uncomfortable in his new finery," says Wilkinson. As he connects with Jasmine, he loses the awkward layers and pares down to a streamlined silk shirt and longline vest intricately detailed with "beautiful metal hardware" and gilded embroidery. 
"He ends up looking very dashing by the time he's on the magic carpet," adds Wilkinson.
As for the Genie, he actually spends a chunk of the movie in human form and enjoys experimenting with his lewks, as humans are wont to do. "He's such a mercurial and whimsical character," explains Wilkinson, who sourced fabrics from India, the Middle East, Turkey and Morocco for the character's "magical" wardrobe evolution. "Each time we see him, he's worked on his look and adjusted it a little bit and made it more over the top." Hence, different turbans, new shirts, an extra vest with various levels of bedazzling or more voluminous genie pants that are "outlandish than the last." 
Scheming, power hungry Jafar's silhouettes and "sumptuous" red, black and gold palette come straight from the animated movie. But the armor-like plates and chainmail detail in his imposing robes speak to his nefarious ambitions for Agrabah. "What we wanted to do with him is hint at a military background," explains Wilkinson, about the hardware. "He has military ambitions and wants to turn Agrabah into a military state." 
Unsurprisingly, designing the plethora of costumes for the spectacular "Prince Ali" musical sequence, which includes 250 dancers and 200 extras, was more than an endeavor — especially since the director's notes left, erm, a bit to interpretation. "In the script, it just says one line: 'Prince Ali's procession enters the town,'" laughs Wilkinson. "So that's what we were given as our starting point."
The designer and his team custom designed over 200 original costumes for the extras alone. "It was like designing Carnival in Rio de Janeiro or the Notting Hill Festival here in London," he says. "We sourced fabric from all over the world, we created fabrics, we had a huge team of costumers to make the costumes, make the headwear, make the jewelry, make the shoes. It was really a mammoth effort." 
But, completing that feat wasn't Wilkinson's favorite part of the job. "I have to say, a career highlight was designing and making a monkey costume," he laughs, about dressing Aladdin's trusty (but very kleptomaniac) sidekick Abu (above), who's actually all CGI. Like Judianna Makovsky did for Baby Groot in "Guardians of the Galaxy: Vol. 2," Wilkinson and his team worked off a maquette, with the same dimensions of the diminutive Capuchin monkey, to later be inserted by special effects into the film. 
"We created a tiny little fez and tiny little waistcoat and that we put all sorts of braids, sequins and hand-embroideries onto," Wilkinson continues. "It's actually one of my favorite pieces we created for the film."
Top and homepage image: Courtesy of Disney
Never miss the latest fashion industry news. Sign up for the Fashionista daily newsletter.