Ganni to Open Its First U.S. Stores in New York and Los Angeles This Fall [Updated]
The industry-beloved Danish brand is growing fast.
Ganni, the indisputable breakout star of Copenhagen's burgeoning fashion scene, is making moves. The contemporary brand has wasted no time capitalizing on its influencer-fueled rise to ubiquity. It's recently expanded into categories like swimwear and handbags. And, once difficult to shop outside of Scandinavia, the brand is now stocked in top global retailers like Net-a-Porter, Shopbop and Nordstrom, has its own U.S. retail site, and in just a few months, will expand its physical retail footprint to include not one, but two stores in the U.S. 
They'll be located in New York and Los Angeles, which is not particularly surprising. But for a brand to choose both as simultaneous entry points into the U.S. market is pretty rare — though chances are, it has plenty of e-commerce data showing sizable customer bases in both cities. (It's certainly popular among influencers from both places.) The New York location will be in Soho at 40 Mercer Street, while the L.A. location will be in West Hollywood at 9004 Melrose Ave — both highly trafficked retail shopping areas with plenty of tourist activity. Interestingly, both locations are also within two blocks of fellow Scandi-chic brand Acne.
While Ganni already has 22 retail locations, primarily in Scandinavia, these two will mark the first outside of Europe, and represent the fulfillment of a major goal for husband-wife founders Ditte and Nicolaj Reffstrup.
"Ditte and I both really love the U.S. and have many great memories of road trips and wild adventures. There's a feeling of freedom and big-time dreaming I find so appealing," said Nicolaj Reffstrup in a statement. "As we come from a smaller, homogenous — in some ways more predictable culture, we see the U.S. as a melting pot of creativity and diversity, that has inspired us for years. It's always been our goal to create a Copenhagen-based brand with global ambitions and these two new stores feel like an exciting step in that direction."
Update, Monday Oct. 21, 2019: Ganni's New York City store opened Oct. 18; hours are Monday-Saturday 11-7:30 p.m. and Sunday 12-6 p.m. Ganni's Los Angeles store opens Oct. 25; hours are Monday-Saturday 11-7 p.m. and Sunday 12-6 p.m. 
See photos of the New York store in the gallery below: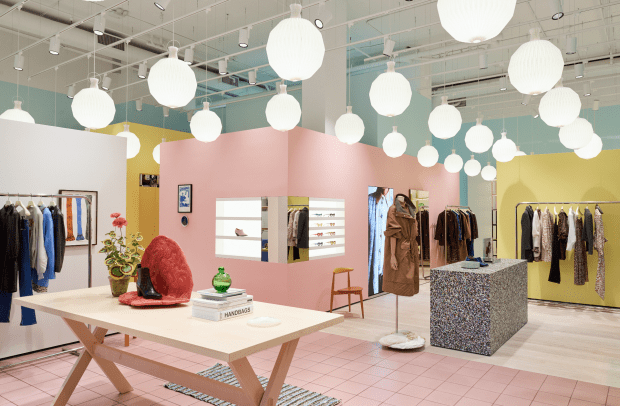 Never miss the latest fashion industry news. Sign up for the Fashionista daily newsletter.