Glossier Relaunches Its 'Supers' Serums With Updated, More Potent Formulas
The revamped products are also double the size — yet the same price — as the original versions.
As Glossier maintains rapid growth, the beauty industry darling has continued to prize the feedback it gets from its devoted community of shoppers. From the outset, the company has turned to its vocal network of fans — in some cases directly crowdsourcing input — to inform product development and inspire new launches. In keeping with its status as a digitally-savvy startup, it relies on social platforms to gauge real-time sentiment about its products and strategies, and has at times turned user feedback into tangible action. (A recent example: In April, the brand responded to consumer calls for less wasteful packaging by announcing a "limited" option, as well as a recycling program for its pink plastic pouches.) So yes, Glossier is listening. 
On Monday, it demonstrated this fact once again by relaunching its three "Supers" serums with updated, more potent formulas and larger bottles. While the press materials don't go so far as to specify that this revamp is the direct result of consumer feedback, the changes are in keeping with many of the critiques found in initial reviews and social media comments about the serums when they first launched back in 2016.
While general reception to the original Supers was favorable (if somewhat tepid), some critics complained that the $28 price tag for 0.5-oz bottles was difficult to justify, especially considering the relatively low concentrations of the active ingredients in the formulas. In their updated iterations, the Supers will still have the same names, basic ingredients and intended uses as they did at first launch: Super Bounce, which hydrates with hyaluronic acid and vitamin B5; Super Pure, which fights breakouts with niacinamide and zinc; and Super Glow, which brightens with vitamin C and magnesium. 
What's been changed, however, is the potency of the formulas: According to the brand, it has "increase[d] the percentage of key ingredients in all three serums (making sure they stay gentle and effective for all skin types)." Additionally, it has doubled the size of the products, which are all now 1-oz. bottles that retail for the same $28 a pop (or $65 for a set of all three). 
Glossier seems to be focused on upping its skin-care offerings of late, with its two most recent drops — an eye cream and a makeup remover — falling within the complexion realm. So beyond simply adapting to consumer feedback as a means of proving its agility and continuing to build community, reassessing its existing skin-care line and ensuring that the formulas within it are high-quality enough to compete in the competitive complexion category seems to be a focus for the business at the moment. 
Just how good are the new-and-improved formulas? I've been testing them out for about a week, cocktailing them to address my different skin concerns, and so far my skin has been responding pretty well. I actually liked the original formulas — I found them to be accessible, non-intimidating options for introducing serum-apprehensive friends to the category, and I appreciated that the tempered doses of actives meant they could be used on reactive and sensitive skin types without much risk, in turn upping the likelihood that said serum-wary friends would actually continue the routine of using them. 
But that said, I'm not prone to sensitivity, and I like to see noticeable results with my skin-care products, so I welcome the shift toward enhanced potency. In terms of actually experiencing the products, I can't say I really notice any obvious differences with the revamped Supers, other than their larger bottles. I'm not blown away by the change — but I think that's the point. Fans of the original serums won't be put off by the updated formulas, and the critics of them may find that some of their gripes have been addressed. All in all, a smart move on Glossier's part.
Click through the gallery below for a closer look at the relaunched Glossier Supers Serums.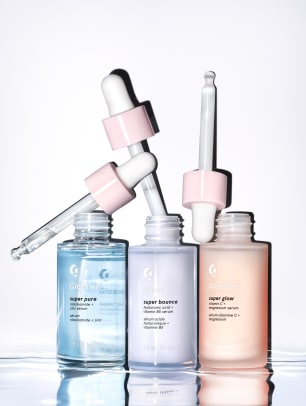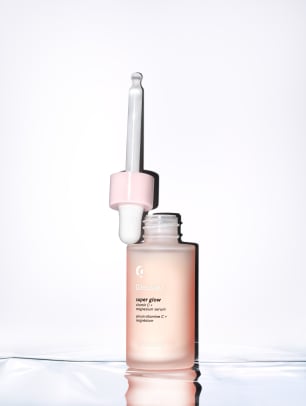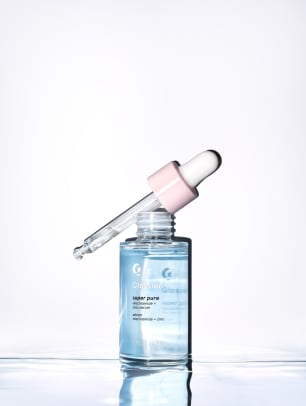 Please note: Occasionally, we use affiliate links on our site. This in no way affects our editorial decision-making.
Never miss the latest fashion industry news. Sign up for the Fashionista daily newsletter.