Alessandro Michele Takes the Fight for Reproductive Freedom to Rome for Gucci Resort 2020
He showed an eclectic, '70s-inspired collection with political messaging woven in.
The threat over reproductive rights in the U.S. is so dire that even Gucci Creative Director Alessandro Michele is chiming in — all the way from Rome, where the Italian house unveiled its Resort 2020 collection to press, buyers and Harry Styles on Tuesday evening. Pieces in the collection, described by Michele as a "hymn to freedom," featured the phrase "My Body My Choice," as well "22.5.78," the date that Italy instated a law to establish protection for legal abortion. There was even a gown with the female reproductive system embroidered beautifully on the front, like a formal, high-fashion Rachel Antonoff sweater.
Political statements by luxury fashion brands aren't always executed the right way, but in Gucci's case they were, at least, more than just a ploy to capture millennial customers. Back in 2013, in partnership with Beyoncé and Salma Hayek Pinault, the Kering-owned brand founded Chime for Change, a global campaign to advocate for gender equality. The organization, which has funded more than €825,000 (about $918,605) in projects for reproductive and maternal health, has ramped up activity in recent months with new initiatives around the world. With Chime for Change's new logo also emblazoned on a T-shirt, the collection seemingly served as a bridge between the charity and the house; 100% of proceeds from these shirts will be donated via Chime for Change to reproductive and maternal health nonprofits, according to a rep for Gucci.
Aesthetically, Michele also heavily referenced the '70s, allowing the collection's political messaging to fit seamlessly with clothes from an era in which political messaging was everywhere. "In this time women, through what they wore, freed themselves of everything enforced on them from previous centuries," he said in a statement. Of course, channeling that particular decade was nothing new for the designer: The collection's flowy dresses, pussy bows, argyle sweaters, bold suiting, oversized eyewear and groovy color palette were all extremely Gucci, with the '70s styling dialed up a bit for emphasis. Somewhat strangely, there were also a few Mickey Mouse sweaters from an ongoing Disney collaboration.
All of the above seemed to have little do with the show's setting: The Capitoline Museums, believed to be the oldest public museum complex in the world and home to Roman, medieval and Renaissance-era artifacts — with the exceptions of a couple of toga looks. The collection also featured a few religious motifs, including a clergy-style neck decoration and regal headpieces that could have been rejects from 2018's "Heavenly Bodies" Met Gala. The historic halls filled with sculptures provided more of an eery backdrop for the clothes, especially with the stress-inducing soundtrack and a lighting scheme that looked like frantic flashlights searching through darkness. But Michele is establishing himself as a master of weaving together the old and new — from ancient Rome, to the progressive 1970s, to today's fight for equality — into something relevant, emotional and, above all, extremely sellable.
See every look from Gucci's Resort 2020 collection in the gallery below.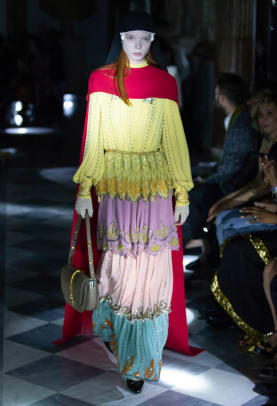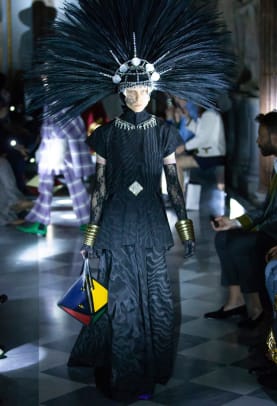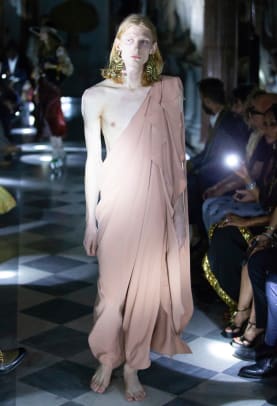 Note: This article was updated to include information about the Chime for Change T-shirt proceeds being donated.
Never miss the latest fashion industry news. Sign up for the Fashionista daily newsletter.