God We Hope Gucci's Tailoring Campaign Featuring Harry Styles Never Ends
#Harry4Gucci forever!
Following his recent gig as the co-chair of the 2019 Met Gala earlier this month, Harry Styles is back again for another men's tailoring campaign with Gucci. Not that we're complaining or anything. In fact, we hope this perfectly brilliant relationship between brand and ambassador never ends. #Harry4Gucci forever! Please?
On Tuesday, the Italian fashion house revealed the latest imagery featuring Styles, who's been an official face for the luxury label since last year. Shot by Harmony Korine, a recent collaborator with Alessandro Michele since Gucci's Pre-Fall 2019 collection, and art directed by Christopher Simmonds, the newest campaign showcases Styles in a bevy of colorful suiting and houndstooth capes among statues, sculptures, artworks and, of course, some farm animals. 
And if you think Korine's photos aren't enough, he put his filmmaking expertise to work, too. In a short promotional video, the campaign is brought to life, following Styles through a sculpture garden, an artsy office space and an overcrowded storage loft. He's spray painting statues, doing origami (!) and ripping pages out of old books — shenanigans that typically wouldn't be tolerated in a normal setting, but we're talking about Harry freakin' Styles here. He could charm the pants off a rock if he tried.
What's the equivalent of ASMR but it's just Styles with cuddly creatures? Let us know if you find out. See the latest men's tailoring campaign images featuring Styles for Gucci in the gallery below.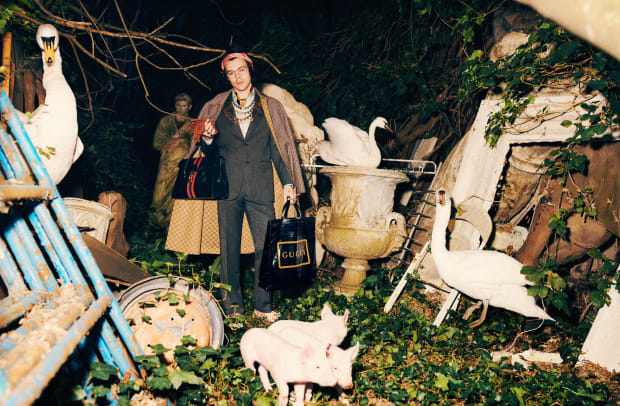 Sign up for our daily newsletter and get the latest industry news in your inbox every day.