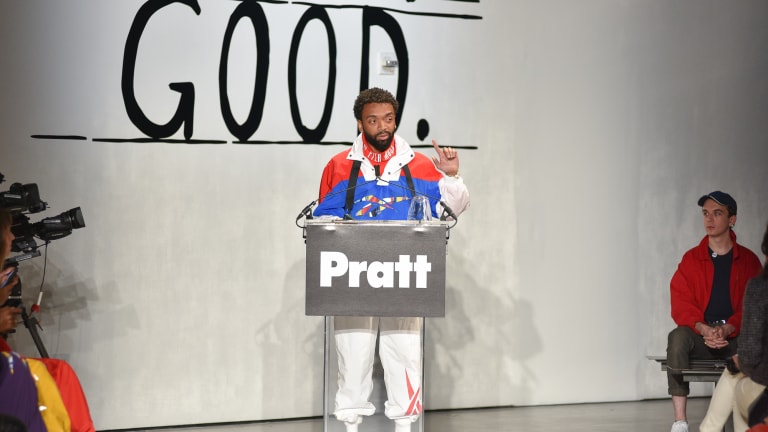 Kerby Jean-Raymond Discusses Being One of the Few Black Luxury Designers in Fashion
The Pyer Moss founder was presented with Pratt's 'Visionary Award' by the legendary Dapper Dan at the school's "Really Good" fashion show.
Shortly before 17 Pratt Institute graduates showcased their work at the school's fashion show on Thursday evening — entitled "Really Good" — iconic Harlem fashion designer Dapper Dan stood at the front of the room to present Kerby Jean-Raymond, founder of Pyer Moss, with the 2019 Pratt Fashion Visionary Award.
"I don't think there's anyone here tonight, the students here [and] Kerby included, that is enjoying this experience more than I am," Dapper Dan said to the crowd. "When... your whole experience is outside of the box and then somebody invites you in the box, it's just so amazing. I'm enjoying what's happening in [Kerby's] life vicariously."

For Jean-Raymond's part, he began his award acceptance speech by playfully alluding to Dapper Dan's earliest clientele at his 125th St. shop in New York, saying, "I knew Dap was going to wear Pyer Moss today, so I decided to dress like an '80s coke dealer."
When the laughter died down, Jean-Raymond expressed his gratitude toward Dapper Dan for being one of the first people in the industry to embrace his work. He went on to encourage the Pratt graduates to embrace challenges, or "bootcamp" as he put it, as learning opportunities. "I truly believe that your purpose in life determines what kind of bootcamp you're going to go through, and if your calling in life is to be extraordinary, then your bootcamp is going to be equally [as] extraordinary and painful."
This notion was something Jean-Raymond had touched on when he sat down with Fashionista moments before his speech. During our interview, he also discussed reckoning with his role as one of the few Black luxury designers and what he hopes the Pratt graduates will glean from his own story. Read on for highlights of that conversation.
What did receiving this award mean to you?
Getting the award was such a shock because I'm in a state of constantly trying to improve [and] constantly trying to reach a goal. I don't feel like that goal has been met yet, but in the interim, it's cool to see people pay attention to the work.
When you have lofty ambitions, you never feel like you're settled in, and that's kind of how I feel. In between [working toward my goal], I'm getting all this praise, and it's like, wow. It feels like the universe, the world, the people and the culture around me is cheering me on. It feels like I'm getting fuel as I'm on the way to something else.
What is your ultimate goal for the brand?
The goal is big. I've never said it out loud, and I'll probably never say it out loud. But it's similar to what we've been doing as far as building a community around Pyer Moss. I understand that this brand is bigger than me and it's a bridge. It's being used as a way to communicate one culture to another and teaching one culture empathy for another. That's the path that I'm on and whatever that culminates into — my lofty ambitions, as I say — the impact will outlive me, if I do this the way I want.
What's so meaningful about having Dapper Dan present you with the award?
He's one of my idols and one of the reasons I started designing in the first place. He came to one of my first shows in 2014 and supported me and has continued to support me ever since. Before there was a Gucci deal, before anything, I had my conversation with Dap, so this is a full-circle moment. To see the culture embrace both of us at the same time is really surreal.
What is the takeaway you hope the young designers presenting tonight will get from your story?
My hope for all designers — especially the ones here tonight — is that we actually see their own story in their work. I think an artist's best gift is the ability to use media to communicate. So often, we appropriate work, we rush through work, we do things that we think are cool, we do things that other people want, but they're not representative of us. If you're not communicating your personal story, what are you telling? So I'm interested to learn about [the Pratt graduates] through their work tonight.
What challenges and successes have you had that stand out as driving forces in getting you to this place of being able to showcase your personal story?
I do think that we're all put through our individual bootcamps, and how extraordinary your bootcamp is going to be is dependent on how extraordinary your purpose is. I look back at all the things I had to go through and endure [and now see them] as high moments. Like, wow, I needed to go through that so I know how to do this. 
I look at notes that I was writing to myself a year ago, even a few months ago, and they were so angry and so bitter. I was a victim to my circumstances. In the past few months, I've had this awakening and 'aha!' moment [that] all of [the things I went through] are useful. You always see that quote [that says] 'Someday this pain will be useful for you,' and I feel like all of that stuff — how I grew up, who I grew up around, things that I went through, things that I had to deal with [as far as] the police, things that I had to deal with [as far as] school — has made me a better communicator. It's made me a better bridge between my community and other communities that are less sympathetic to mine. I don't look back at anything I had to go through or that I had to endure or how long this process has been as a negative anymore.
You're often occupying spaces where you exist as an exception, being one of the few Black luxury designers. How do you navigate that?
I feel like I'm surrounded by a great support system. I'm human, so I have my moments where I'm like, 'What the fuck am I doing this for?' I have those moments where I'm like, 'I'm just going to close this shit down and disappear.' But I have not stopped yet. I feel like it's mind over matter — my heart is always going to realign me. My heart is the thing that [puts me] back in focus and in check. 
I don't know that the Black designer thing bothers as much as it did, because I'm just starting to see it now as what was needed. I might not ever reach my full potential in the idea of what a successful fashion designer is — I'll never be a Valentino or a Versace or anything like that, but my path is different. And when I was on that path to being the next one of those things, I couldn't see the blessings and messages in front of me. I was thinking about what I needed to satisfy my ego. It wasn't going to solve any problems in the world. Had I become the next Versace or Armani, what would I have actually solved? 
So I let go of that [expectation] and began to understand that my path is a little different. I had to get off someone else's path and stop piggy-backing off of another idea of what a successful designer might look like and reach into myself for a path that makes sense for me, my community and my people. My purpose here is to serve. I'm going to have to endure a little bit more and in the end, I'll make things hopefully a lot easier for the people coming up after me.
Take a look below to see some of our favorite looks from the "Really Good" Pratt Institute Fashion Show.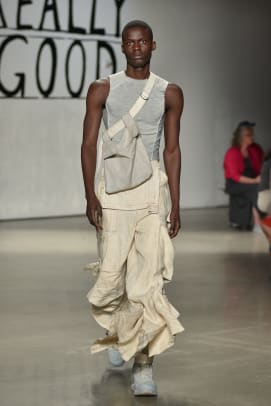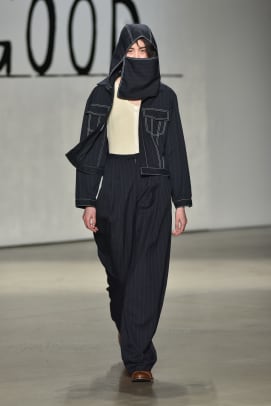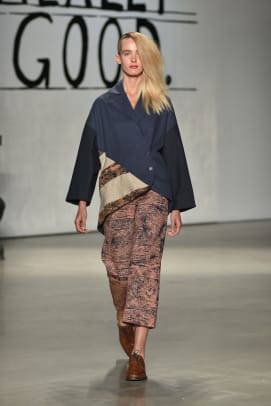 This interview has been edited and condensed for clarity.
Homepage photo: Kerby Jean-Raymond during his acceptance speech for the 2019 Pratt Fashion Visionary Award in New York City. Photo: Fernando Colon
Want the latest fashion industry news first? Sign up for our daily newsletter.