Louis Vuitton Brought a Flight of Fancy to JFK Airport for Resort 2020
The TWA Flight Center, designed by Eero Saarinen in 1962, was the latest architectural wonder to host one of Nicolas Ghesquière's traveling collections.
If one had to describe the so-called "personal brand" of Louis Vuitton Creative Director Nicolas Ghesquière, a few key points should immediately come to mind. He's a history buff, often looking to the fashion of decades — even centuries — past for his collections; he's equally as enamored by the fantastical, sci-fi possibilities of the future, seen through his innovative, experimental silhouettes and fabrications. What's more, he's extremely well-traveled, with his Vuitton resort shows alone taking him (and his team, and handfuls of lucky editors) to some of the world's most magnificent places, including the south of France, Rio de Janeiro, Palm Springs and a mountain town near Kyoto. 
The locations Ghesquière chooses for these runway spectacles also prove his keen eye for architecture: From the Fondation Maeght art museum to the sprawling modernist Bob Hope Estate to the cliffside Niterói Contemporary Art Museum in Brazil, the backdrops for his shows are so breathtaking that you'd likely consider blowing your entire clothing budget on a vacation to visit one in person. 
For Resort 2020, Ghesquière brought his show on the road once again, this time to New York City, and at a very curious venue: JFK Airport. If we're being specific, the runway was staged inside the TWA Flight Center, a wing-shaped terminal designed by Eero Saarinen in 1962 that's been recently renovated and partially turned into a hotel. With walls of windows allowing natural light to pour in, twisting stairwells, lush red upholstery and retro, analog "Arrivals" and "Departures" boards, it immediately made guests forget that air travel is, by and large, terrible. This was a space more than glamorous enough for a fashion show.
Lined with benches and lush greenery, the flight center conjured up fantasies of world travel, from tropical beaches to big cities. Perhaps you're off on a high-stakes business trip, a quick visit home for an '80s-era reunion, a pilgrimage to a destination rich in history, a notorious party town where nightclubs never close, or somewhere flashy like Vegas, where the more rhinestones you wear at any given moment, the better. Any of these scenarios could have been probable based on the mix of clothes and accessories that filled out the resort collection, which, in true Ghesquière form, combined practical elements for a modern wardrobe with ingenious statement pieces — some of which err on the weirder side. 
Because the designer wanted to tip his hat to the resort collection's chosen destination, New York motifs were a through line. City skyline graphics appeared on sporty, colorful jackets; a triangle motif that recalled the top of the Chrysler Building was embroidered on metallic tops, printed on silk blouses, woven into brocades and turned into a leather handbag; sheer and shiny faux-tweeds brought to mind Upper East Side ladies who lunch; black pinstriped suiting, day dresses and skirts were ideal for any power woman dominating her field; and leather galore, in the form of flat combat boots, a cinched-waist mini-dress, a skin-tight turtleneck, full-length gloves, pilot-style skull caps, skirts and slick coats. Oh, and there was black. So much black. Gotta love New York!
Elsewhere, Ghesquière wowed with his typical out-of-the-box shapes, styling and ornamentation. The show opened with a leather-and-beaded bolero jacket, and a series of colorful motos included a sheer panel of shimmering embroidery hanging down like curtains. The flight theme came through in some cape-like blouses and dresses, giving the illusion that the models could take off at a second's notice. Two beaded, sculptural tops meant to look like wings were formal options for a modern Ghesquière muse, as well as the subject of many an Instagram post. Corset tops, '80s bubble skirts, sequined florals, rich, draped velvet, nods to centuries past (like a crisp, pleated high collar) and rave-ready sparkle mesh were all present — in many cases, paired together — making for a resort offering that could suit even the most niche travel desires. Bonus points if you'd dare wear any of this on the airplane.
See every look from the Louis Vuitton Resort 2020 collection in the gallery below.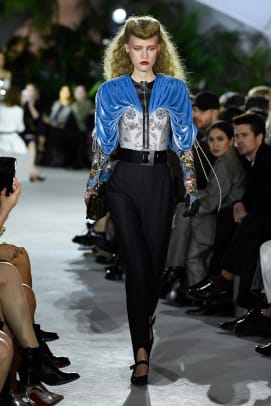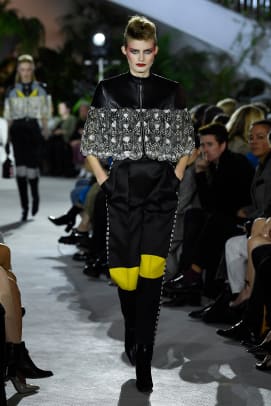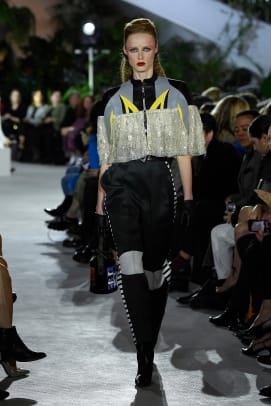 Plus, see the star-studded front row from the Resort 2020 show in the gallery below.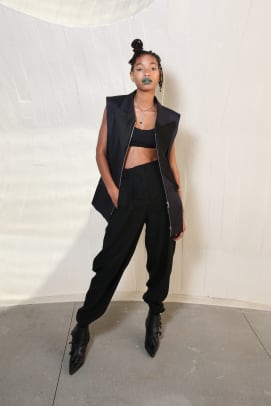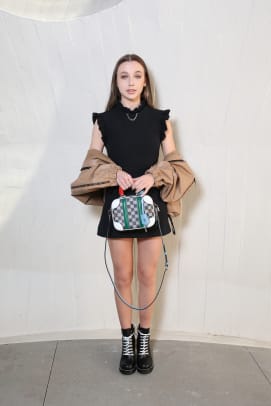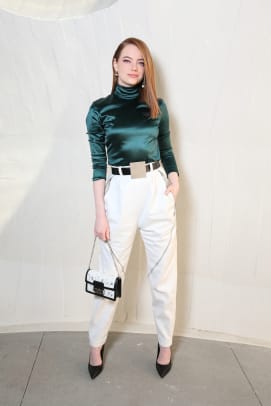 Want the latest fashion industry news first? Sign up for our daily newsletter.