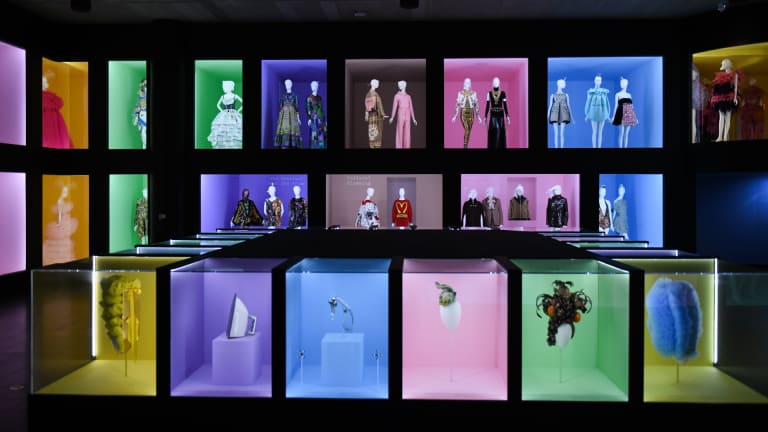 The Met's 'Camp: Notes on Fashion' Doesn't Define Camp — and That's the Point
See the Costume Institute's highly anticipated landmark exhibit before it opens to the public on Thursday.
The Costume Institute's landmark exhibit, which arrives annually on the first Monday in May (but isn't open to the public until that following Thursday), is always a highly anticipated event at The Metropolitan Museum of Art. This year's "Camp: Notes on Fashion" is particularly exciting, especially in the Capital-F fashion department. The 2019 exhibition draws on — and expands upon — Susan Sontag's 1964 essay "Notes on 'Camp,'" showcasing designer pieces that span centuries to help define the aesthetics of "camp," which the writer describes as a "love of the unnatural: of artifice and exaggeration."
According to Wendy Yu Curator in Charge Andrew Bolton, now is the perfect time to bring camp to the Costume Institute spotlight. "We are experiencing a resurgence of camp, not just in fashion but in culture in general," said Bolton at the exhibit's private preview on Monday morning. "Camp tends to come to the fore through moments of social and political instability, when our society is deeply polarized. The 1960s is one such moment, as were the 1980s, so, too, are the times in which we're living."
It's not far off to say that the past two years have been a bit of, to put it frankly, a dumpster fire: Our government is in shambles, climate change is real and gun control is still non-existent. In turbulent times, society can look to art, film, music, sports and even fashion as an escape. With extravagant creations by the likes of Gucci, Moschino, Balenciaga, Giambattista Valli, Versace and Louis Vuitton on full display, we may truly need "Camp" more than ever right now.
"Camp: Notes on Fashion" begins with "Beau Ideal," an early 19th-century concept that describes the "perfect model of male beauty, often exemplified by classical statuary." A bronze sculpture of Belvedere Antinous from circa 1630, attributed to Petro Tacca, serves as an example, in addition to Hermes and Ganymede. "Since the Renaissance, they have also come to be associated with male homosexuality and as such have been endowed with the camp trace," says the exhibit's notes.
But more importantly, what is camp? In order to understand what it can mean today, Bolton urges us to explore how "camp" came to be in the first place, with the beginning of the exhibition tracing the word's etymological origins. "Camp's elusiveness is compounded by the fact that it works as all parts of speech," explains Bolton. "It was once a verb, an adjective and a noun."
This "move across grammatical boundaries" is shown with an original copy of Molière's 1671 play "The Adventures of Scapin," alongside a figure of the titular character, which boasts camp's first usage as a verb. Next, "camp" as an adjective arrived in the 19th century, when it acquired distinctive homosexual connotations. An example of this is a letter from 1868 between British female impersonator Frederick "Fanny" Park to fellow cross-dresser Ernest "Stella" Boulton encased in glass and hung up in this portion of the exhibit, followed by two dresses on display from Erdem's Spring 2019 collection, which paid tribute to the duo.
By 1909, "camp" first entered a dictionary from J. Redding Ware titled Passing English of the Victorian Era: A Dictionary of Heteredox English, Slang, and Phrase. The word as a noun is linked with Oscar Wilde, who's stereotypically described as an "effeminate aristocrat." Portraits of the famous — and notably dapper — poet and playwright are shown alongside similar designer looks, such as a couture jacket and waistcoat made from black silk velvet by Yves Saint Laurent.
By now, the narrow corridors and low ceilings of "Camp: Notes on Fashion" start to expand, allowing viewers a little more breathing room. This spatial change was intentional in order to "emphasize the secretive clandestine nature of camp's origins," noted Bolton. "Effectively, they serve as whispering galleries both physically and metaphorically. The galleries start to open up with camp's move from the margins of society to the mainstream."
Here, Bolton divides camp between Christopher Isherwood and his 1954 novel "The World in the Evening," in which he explores high and low camp, as well as Susan Sontag's "Notes on 'Camp'" essay published 10 years later in the Parisian Review. Her critical and cultural analysis of camp is also split between two oppositions: "naive camp" and "deliberate camp." Salvatore Ferragmo's iconic rainbow sandal from the late 1930s? Naive. Alessandro Michele's Gucci sneaker with a similarly multicolored platform? Deliberate.
A selection of Sontag's bullet points exemplified with artistic works, historic objects and fashion garments, such as #25: "The hallmark of Camp is the spirit of extravagance. Camp is a woman walking around in a dress made of three million feathers." A 1966 portrait of Cecil Beaton is placed next to a 1965 Balenciaga haute couture piece made up of pink ostrich feathers, tulle and satin.
Finally, we come to the exhibition's pièce de résistance: A section that explores the camp aesthetic as reflected in fashion, with a whopping 130 garments and accessories that date from the 1980s to the present, and organized by camp's various sensibilities — irony, humor, parody, pastiche, artifice, theatricality, and exaggeration. "Within these groupings, each ensemble is accompanied by a comment [from different scholars] that speaks to the multifaceted nature of camp," explains Bolton. "These comments are spoken out loud by the designers in the exhibition giving the impression of an echo chamber."
The grand finale of "Camp: Notes on Fashion" is more than just an echo chamber — it's a visual feast for the ultimate fashion fan, both old and new. A pair of pink platform Crocs from Balenciaga are attributed to Mark Booth's "Maturity, it infers, must not be taken seriously. 'Experience is a fraud,' says the Spirit of Camp, 'Strive for innocence.'" "Camp 'demonstrates an exhilaration in identifying with the lowest of the low'" from David M. Halperin is tied with a beer-logofied cape from Moschino's Fall 2014 collection. Vaquera's Tiffany & Co.-inspired dress is paired with Kenneth Williams's "Camp is a great 'jewel,' 22 carats." 
There's also Burberry's rainbow-colored faux shearling cape, Viktor & Rolf's "Less Is More" couture dress and a slew of Jean Paul Gaultier pieces. There are far too many memorable examples to name here — you'll just have to witness this delightful exhibit yourself. 
So, what the hell is camp? We'll never have a concrete example. (The Met Gala's red carpet on Monday evening will even bring a few of its own on-point or questionable interpretations of the tricky theme.) Plus, as cultural historian Andy Medhurst puts it: "Trying to define camp is like attempting to sit in the corner of a circular room." Its elusiveness, however, is the point — and the very essence of camp itself. Though, as Sontag says, "Camp is above all a mode of enjoyment, of appreciation, not of judgement." Being within a literal rainbow-tinted room of some of the most coveted and captivating designs, there's plenty of that and more. 
"In the end," adds Bolton. "The ultimate purpose of camp is to put a smile on our faces and a warm glow in our hearts."
The Costume Institute's "Camp: Notes on Fashion" opens to the public on May 9, and is on view through September 8 at The Metropolitan Museum of Art in New York City. View more photos from the exhibition in the gallery below.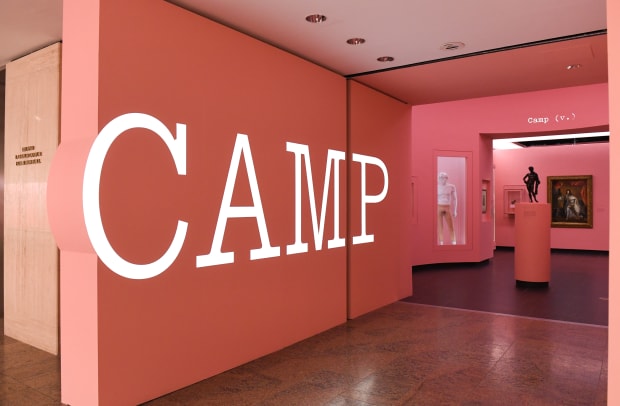 Costume Institute's "Camp: Notes on Fashion" exhibition. Photo: Courtesy of The Metropolitan Museum of Art, BFA.com/Zach Hilty 
ign up for our daily newsletter and get the latest industry news in your inbox every day.