Lady Gaga Put on a One-Woman Fashion Show on the 2019 Met Gala Red Carpet
See all four looks she wore while ascending the pink Met steps.
Leading up to the first Monday in May, we haven't had a lot of faith in celebrities and their abilities to interpret the "camp" theme of this year's Met Gala. (Given their track records with past themes, can you blame us?) However, we were able to take solace in knowing that Lady Gaga, one of the event's co-hosts, would be present. Certainly, not only would she understand the theme, but knock it out of the damn park with whatever she chose to wear. And that she did. 
As the pop star took the pink carpet on the Met's iconic steps accompanied by designer and stylist Brandon Maxwell and a team of umbrella/train holders, the massive pink gown and headpiece she wore were enough to make our jaws drop — and satisfy this year's theme. But it was only the beginning. She quickly tore that off to reveal a voluminous black gown. Y'all wanted a twist! But even then, she was only halfway done. 
She appeared to perform some sort of an umbrella dance before revealing her next look: A hot-pink, form-fitting column gown that came with an accessory that nodded to the '90s aesthetic of the dress — an enormous cell phone that she performatively talked on. But with a bit of black fabric peeking through from underneath the pink, we knew her one-woman fashion show was not over.
Finally removing the dress to reveal a black sparkly lingerie set and fishnet tights, she was really free to move and dance about the steps, sometimes carrying along a wagon filled with champagne, because why not?
No, the 2019 Met Gala red carpet was not yet over at the time this was published, but yes, we can confirm that no other attendee is going to top Gaga's campy entrance. But we're certainly excited to watch them try.
Browse the gallery below to essentially watch Gaga's one-woman play in four acts.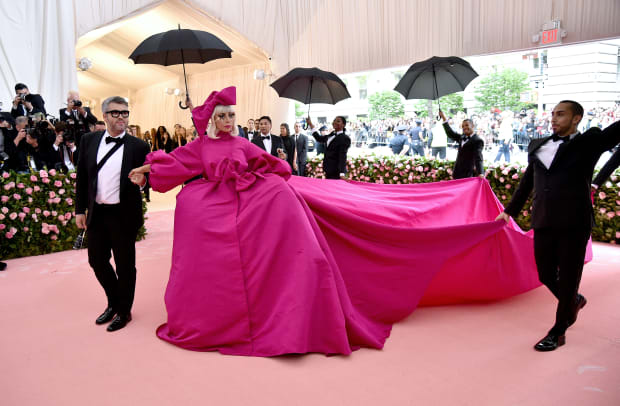 And in case you missed it, check out the gallery below to see what everyone wore to the Met Gala.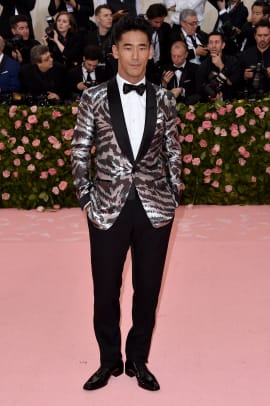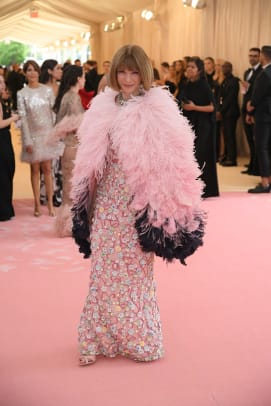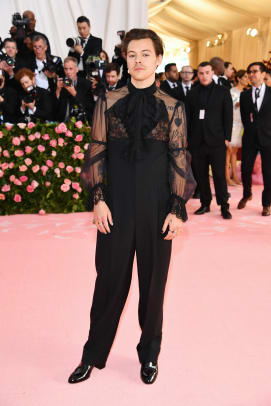 Never miss the latest fashion industry news. Sign up for the Fashionista daily newsletter.