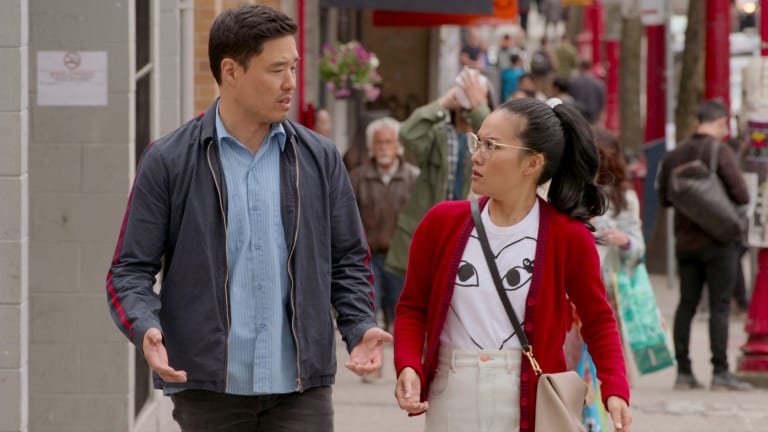 Ali Wong Wears The Row, Isabel Marant and Michael Kors in 'Always Be My Maybe' on Netflix
Meanwhile, Randall Park wears Angry Asian Man merch and custom-made tuxes by costume designer Leesa Evans, who, yes, also discusses Keanu Reeves.
Warning: mild spoilers for 'Always Be My Maybe' below.
Confession: I cried multiple times during the new Netflix movie "Always Be My Maybe," starring Ali Wong and Randall Park as reconnected childhood friends Sasha and Marcus. Seeing a universally funny, touching and sexy rom-com, like the ones I grew up watching, led by two Asian Americans — like me! — felt like such a momentous moment. Plus, heartfelt parent-adult child moments absolutely ruin me, but mostly, I laughed myself into fits of tears because this movie is absolutely hilarious.
The costumes, while very chic (especially Sasha's), also deftly help set up and support the multitude of sublime jokes and awkward situations (mostly Marcus's). But that's not a surprise since the costume design is by Leesa Evans, who's served up couture-meets-comedy in "Zoolander 2" and previously worked with Park on both "Trainwreck" and "Neighbors." And, no, she could not keep a straight face during filming.
"I wasn't allowed on set because I have a really bad giggling problem," says Evans, over the phone from Los Angeles. 
A stellar wardrobe packed with designer labels helps chart Sasha's journey as the celebrity chef who returns to her hometown of San Francisco to open a trendy new restaurant. When we first see Sasha in her sleek Hollywood establishment, she's wearing a bold, if not severe, red bat-wing maxi-dress by Stella McCartney (above). 
After Sasha renews her relationships with Marcus, her now-retired immigrant parents and her childhood roots, she begins to relax — as do her silhouettes. "She's making it a little bit more casual and enjoying all the things she loved to do as a teenager," explains Evans. "There's a softness that plays out from then through the end of the film. She allows the perfect imperfections of life in, the things that happen when you're not trying to figure it all out and control it all." 
Sasha's architectural shapes and more substantial textures, like a wine-hued leather pencil skirt, transition into casual, but still sophisticated separates, like a Commes des Garçon T-shirt, a vintage A.P.C. cardigan and wide-leg jeans by Re/Done (top). 
Red and blue are also a consistent color palette theme shared by the two childhood friends — in both the current day and in teenage flashbacks — from racing stripes on Marcus's bomber jacket to Sasha's wide-striped outfit for a cute walk in the park. "Red and blue are the tones of all of our lives in a weird way. They're the American flag, the two most basic primary colors, the colors you first wear in school," Evans notes. "Red and blue are just the basics of our life, so we played along with that idea."
Sasha is a public figure and culinary mogul, so she requires a wardrobe fitting for more formal occasions, too, like a divine white jumpsuit by The Row (above), a gold strapless gown by Michael Kors (below) and the perfect 'fit for a date with a Hollywood icon: a gilded, floral one-shoulder top by Isabel Marant paired with a maxi-skirt. "I just really wanted to create the strength, intelligence and the creativity of who Sasha is," says Evans, who also worked off of Wong's real-life signature cat-eye glasses with frames by Dita and Seoul-based Gentle Monster.
While Sasha's career (and finances) have been on an upward trajectory since their fallout senior year of high school, Marcus — who's still busy fronting his indie rap-rock band — has plateaued in a state of arrested development. As evidenced by the Bay Area proud Amoeba Records T-shirt from his teen years, his skater-punk aesthetic is also still going strong. 
"[Park] really wanted it to feel authentic that this guy has always loved music and really felt connected to San Francisco and wanted to embrace that aspect," explains Evans, who happily incorporated all of Park's character-building wardrobe input.
In one of the most hilarious costume-assisted comedy segments, Marcus underdresses for a red carpet event (above) wearing a graphic tee with a sketch of a woman's face and slogan "stay angry" — a major shout-out to the Asian-American community. Park asked his friend and blogger Phil Yu, who writes and runs Angry Asian Man, for t-shirts from the blog's annual fundraising drive. 
Yu gave Park a few options, including the aforementioned tee drawn by artist Irene Koh and a dragon version by Ethan Young, which Marcus also wears in another scene. "I figured, Randall is doing me a solid for sure, just highlighting one of my designs. I just thought he would just be wearing it in a cafe scene or whatever," says Yu, over the phone. "But one ends up part of the joke! I was super surprised when I saw it." 
Of course, the posh paparazzi-filled event is jacket-required, so Marcus ends up with an ill-fitting, "most embarrassing version" of a discarded coat check blazer, which enhances his extreme discomfort and awkwardness — perfectly executed by Park. But since he is 5' 10," Evans had to source an oversize jacket from a big and tall store that was "double, extra long and five sizes too big."
Because Marcus previously overdressed for a double-date with Sasha and ... Keanu Reeves as "Keanu Reeves." I mean, what would one wear for such an occasion? Well, Marcus went into his closet and pulled out the "nicest thing" he owns: an old velvet-lapel prom tux and ruffled shirt, which he most likely bought from a thrift store back in the early 2000s. 
"There's just something funny about [Marcus's tux] against what Keanu's wearing; so sophisticated and chic," says Evans, who custom-made the vintage look. "In his mind, he's like, 'how could I ever live up to this life that Sasha has built?" 
In response to Marcus's compliment to his very John Wick-esque suit, Reeves throws out the most high fashion-scripted joke with perfect elocution. "Tom Ford made it. Custom. For me."
"Yes, he's definitely wearing Tom Ford head-to-toe. It was not a custom Tom Ford," admits Evans, who added that the "sexy man" suit fit Reeves so well that no alterations were needed. Although, the actor's second successful franchise character didn't inspire his all-back double date ensemble. 
"The reference was that the 'Keanu' that Keanu was playing was so brilliant," says Evans. He does superbly spoof not just what people perceive as "Keanu Reeves," but also an obnoxiously esoteric (in a good way) Hollywood actor stereotype — and that slim "tuxedo fringe scarf" was just a cherry on top. "It has just enough camp and quirk to take it right over the top, but all the while still looking incredibly good," she adds.
The Tom Ford references were, in fact, in the original script, co-written with Michael Golemco, and all the powers that be kept their fingers crossed in hopes that the actual Ford would eventually sign off, which he did. Although Marcus couldn't afford the tux at the Tom Ford boutique — although he did enjoy some free champagne — he didn't actually wear a cheap, off-the-rack tux to Sasha's big New York moment. "I made it," says the costume designer, about the beautiful navy velvet look. "It was a custom Leesa Evans." 
RELATED ARTICLES:
Meet the Private Stylists Who Dress Shonda Rhimes and Other Hollywood Power Players
How Jeanne Yang Went From Styling Blink-182 Videos to Working With Keanu Reeves for 20 years
Understated Costumes Let Yara Shahidi and Charles Melton Shine in 'The Sun is Also a Star'

I'd be remiss not to close out before mentioning one of my favorite laugh-out-loud costume moments featuring Daniel Dae Kim as Sasha's hot ex-fiancé Brandon Choi. He essentially breaks up with Sasha while wearing an Adidas tracksuit in the most specific shade of sandy-gray — which immediately tells you that he's the type of asshole who pronounces the brand "ahh-dee-dahs." "I showed it to Daniel [before the fitting] and he just laughed," says Evans. "Could there be anything more perfect for this character? No. It's only because it's this color." 
Unsurprisingly, the fittings with all the actors, from leads to cameos, were a collaborative effort and straight-up fun part of the job. "We'd all be like, 'this is the most fun fitting' and then we'd have the next one and be like, 'no, this is the most fun fitting," Evans says. "If for the whole rest of my career, I worked with just that one group of people, I would be utterly thrilled."
Follow Leesa Evans on Instagram @leesaevanstyle.com; 'Always Be My Maybe' is available to stream on Netflix on Friday, May 31.
Top photo: Courtesy of Netflix
Never miss the latest fashion industry news. Sign up for the Fashionista daily newsletter.