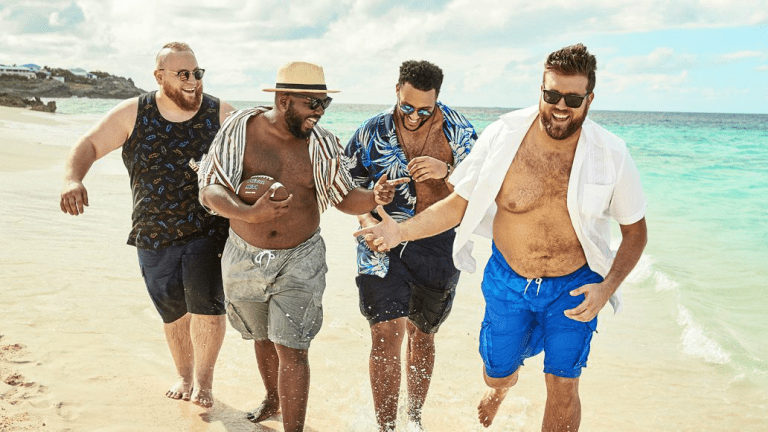 The Struggles of the Plus-Size Menswear Market
With the women's body positivity movement in full-swing, what's holding guys back?
Six years ago, when Kelvin Davis went clothes shopping for a new teaching job, he couldn't find his size. After being informed they didn't have it on-hand, he asked the sales associate to look online or see if it was available at another location. Instead, she told him that maybe he was too big to shop there. "As a guy, I had never been publicly fat-shamed," he recalls of the experience. 
Afterwards, he went to Facebook to share his annoyance. "I remember how ashamed I felt as I was typing," Davis continues. "I ended up deleting it because I thought about how my guy friends would give me shit." Feeling disheartened, he realized how strange it was that he could only vocalize his struggles to his family. It was then he decided to launch his blog Notoriously Dapper, a platform for men to share and discuss body image. He's since gone on to become a model, activist and published author with a mission to spread the word about male body positivity.
Bruce Sturgell, the founder of Chubstr (a style site for big, tall and plus-sized guys), had a similar start. "I began [Chubstr] out of frustration of not being able to find clothes in my size that I actually wanted to wear," he says. "I was only finding Hawaiian shirts with bad patterns or things like suits that my dad would want to wear. It wasn't catered to me." Even at stores like DXL (short for Destination XL) that are designed for bigger bodies, Sturgell was left with few on-trend options. 
The reasoning for this lack of fashion-forward designs? For decades, the notion that bigger guys don't care about their appearance has been an underlying misconception rampant among the menswear industry and society at large. "These ideas that people have aren't right. Generalizations that because someone is fat, they're lazy, don't care about how they look, they don't care about style and that they don't deserve any of these things, including dignity," explains Sturgell. "It's a conversation that goes well above and beyond fashion."
Related Articles: 
Luxury Fashion Has a Plus Size Problem
At Stitch Fix, the Key to Improving the Plus-Size Market Is in the Data
13 New Plus Size and Size Inclusive Brands That Launched in 2018
Over the past few years, this very debate around body size, diversity and inclusion within the fashion industry has picked up steam thanks to a rise of outspoken influencers, brand incentives and the body positivity movement. According to Coresight Research, the womenswear segment of the plus size market was valued at $21.4 billion as of 2016, and it continues to be one of the fastest growing apparel categories. For men, however, growth in extended sizing is paling in comparison, despite the average man having a forty-inch waist. So why isn't plus-size menswear garnering the attention it deserves? Well, it's complicated.
In fashion designer Brandon Coates' mind, men themselves are partially to blame since they don't publicly express their needs. "Women band together and say, 'This is what I want.' It's more of a collective effort. Men still have a hard time vocalizing that," he says. Before launching his own big and tall label, Brandon Kyle, Coates worked at the plus-size women's brand Monif C. He remembers how simple it was to get feedback and testimonials about his clients' likes and dislikes. "For men, it's not as easy to say: Here is my challenge, here is where I need to be supported and this is how I would like for it to happen," Coates explains. This is why he's using his own company to spread a body positive agenda to encourage conversations between men. "Not only do these guys need to be catered to, but they also need to be reassured," he continues.
This trepidation to voice their opinions leads retailers to dismiss plus-size menswear as a viable business, especially since there aren't figureheads like Ashley Graham or Tess Holliday leading the charge. "There are so many women that agree with what they say," says Davis. "The societal standard for men is that we don't talk about emotional issues which is why there hasn't been a male version of Graham or Holliday." 
Davis attributes toxic masculinity to hindering this open dialogue. "With the guys, you have the dude that'll say, 'Why don't you just take hydroxycut and go to the gym,' or, 'Why don't you go on a diet?'" he explains. Behavior like this further ostracizes bigger men, keeping them hush-hush about body issues, which in turn leads brands to wrongly assume that a plus male who's also a savvy shopper is more or less a unicorn.
Guys' silence also makes it difficult for companies to figure out the fits and styles that big and tall men crave in retail. "The biggest problem that plus-size men run into is that many brands who are getting into the game and offering extended sizes aren't making the clothes specifically for bigger bodies," says Sturgell. "They're not thinking about how a shirt will fit on someone who has more of a gut." 
Sturgell applauds Bonobos' efforts to focus on how clothes look and fit on non-traditional male body parts with their new plus size initiative, and slowly, but surely, other brands are catching on as well. Another major player who's forging the way in terms of fit is Stitch Fix, the e-commerce company which is using its data to make traditional brands a little more woke about plus-size needs. Last fall when they launched their men's extended sizing division, they garnered a 25,000-person waitlist, confirming suspicions about just how hungry male shoppers are for trendy, well-fitted options. Within their entire menswear collection, Stitch Fix has now grown from 160 style and fit combinations to over 800 in less than three years.
Beyond fit, companies are experimenting with becoming more trend-centric as well. MVP Collections by Mo Vaughn Productions launched in 2016 to specifically address this need. "This customer is starving for fashion. They don't want the basic jean. They want ones with the rips and tears or anything color," explains Diane Bennett, MVP Collection's co-founder. Take one of their spring 2019 designs, a short-sleeve pink hoodie with roses embroidered on the hood: It completely sold out. Even more surprisingly, Bennett points out that their most active shoppers are in the 5XL and 6XL range. "Our two largest sizes were thirty percent of sales in the first quarter," she says. "This guy is not used to having options, but if you give them to him, he will respond." Typically, this shopper is only supposed to shop twice a year, but according to Bennett, she's now seeing customers come in 10 to 15 times: "He wants the trends that are happening now, the ones everyone else are wearing."
Despite MVP Collections' and Stitch Fix's obvious success in the plus market, many retailers are still hesitant to commit to widening up their size selection in brick and mortar. "It is very hard to go out and actually find extended sizing," says Sturgell of the continuing problem. "It's baby steps for big companies like that. They are more afraid to make big changes, because they are making hundreds of millions of dollars more with an audience that has been around for a long time. They don't want to alienate the older guy just to get the younger guy, so they yield to that." 
Retail analyst Richard Jaffe doubts the in-store experience will improve. His thinking is due to the prevalence of vanity sizing within the industry and the stigma many guys still feel shopping in a dedicated plus-sized section. "With the men's waist constantly expanding, vanity sizing is going to continue to happen," he says. "Plus, they want to go where their friends go." Because of this, Jaffe believes the future of stand-alone stores dedicated to bigger waistlines is unlikely. "For the online retailer, it's a lot easier to manage a lot of SKUs at lower cost," he explains. "I don't want to say a big and tall men's store is a doomed business, but it does not have an attractive outlook."
Luckily, there are some bright spots that signal change may be coming sooner than we think. Fast fashion brands like ASOS and Fashion Nova, along with big box retailers such as Target and Walmart, are finally opening their eyes to the needs of the bigger guy. Besides treating them as deserving customers who appreciate trends just as much as the average-sized dude, they're stepping up their marketing game as well. Target, for instance, cast Zach Miko to be the face of their men's big and tall section in 2015, leading IMG to sign him as the agency's very first plus-size male model.
After spending three years designing specifically with the bigger male in mind through Brandon Kyle, Coates confirms that retailers are finally acknowledging that plus menswear isn't just a passing fad, justifying his hard work. "There's a bigger industry being formed right in front of my very eyes, so for me, that's the part that's most exciting," he says of the industry's future. "I welcome more [brands] into the market, because having more validates us all for the work that we do. And it gives us more of a platform to actually grow and to actually make this a viable business for everyone."
Top Photo: Courtesy of Chubstr
Want the latest fashion industry news first? Sign up for our daily newsletter.