See Every Look From Rihanna's Fenty Debut Collection
The first drop was revealed in Paris on Wednesday night, and each piece is unmistakably RiRi.
From Fenty X Puma to Savage X Fenty to Fenty Beauty, Rihanna has slowly and steadily built a reputation within the fashion and beauty industries as a forward-thinking innovator with blockbuster selling power (thanks in part to her 71.2 million Instagram followers) over the past few years. 
Aside from her business acumen, she's proven her ability to sell print issues — not an easy task these days — and has covered every important magazine in the world, including the September 2018 issue of British Vogue, becoming the first Black woman to front the fall fashion issue in the publication's history. Her commitment to championing diversity and inclusivity have helped her make history in the beauty and lingerie spaces, too: Fenty Beauty launched with 40 (!) shades of foundation, a move that was previously unheard of and inspired competing brands to follow suit, while Savage X Fenty's ad campaigns runway shows celebrate body positivity, and offer product in a fully inclusive range of sizes.
We'd be remiss not to also mention her domination of the red carpets, where she regularly champions emerging designers like Molly Goddard, Matthew Adams Dolan, Guo Pei and Adam Selman, and fearlessly steps out in wild pieces that set the internet ablaze. As a wise meme once said: "It's ugly, until Rihanna decides it's not."
So, when LVMH announced earlier in May that it would be partnering with Rihanna to launch a new luxury fashion label called Fenty, fans and consumers weren't as surprised as they were giddy with anticipation. Rihanna serves as Fenty's CEO and artistic director, and in another historic move, is the first Black woman to head up a LVMH brand. On Wednesday night in Paris, the first collection — which will drop worldwide on May 29 via the label's website — was unveiled, and each piece is unmistakably RiRi. According to a press release, the debut "creates a template for the Fenty wardrobe, establishing its attitudes, statement pieces and materials."
In browsing the 18 looks, these immediately become evident: Much like Rihanna's preferred street style, the first Fenty drop is sharp, structured and utilitarian, with plenty of suiting and menswear-inspired silhouettes. The luxury element is made evident in the construction, whether that's through the crisp 3D pleating on a pair of trousers, the boning on a nipped-waist blazer dress, the dramatic puffed sleeves on a staple white blouse or the oversized pockets on a Japanese denim coat. Many items could do double duty, as Rihanna would likely style the oversized jackets as dresses with high-heeled sandals just as frequently as she'd wear them as traditional layering pieces. And while these looks do harken back to some she's been photographed wearing in the past by other designers, they're true to her signature aesthetic, which is surely what customers and fans are hungry for. 
In addition to ready-to-wear, jewelry, sunglasses and sandals will be on offer, with prices starting at about $400. In Rihanna's world, you can be a boss and pair your suit with a fanny pack — just as you can freely leave any restaurant with a glass of wine to go. That's the kind of world we want to live in, and we look forward to seeing how life on Planet RiRi continues to evolve.
See every look from Rihanna's Fenty debut collection in the gallery below.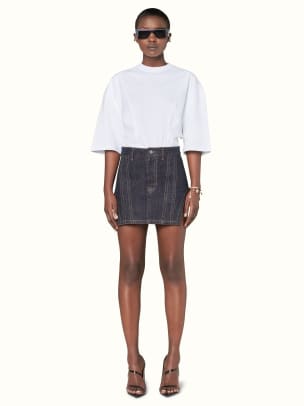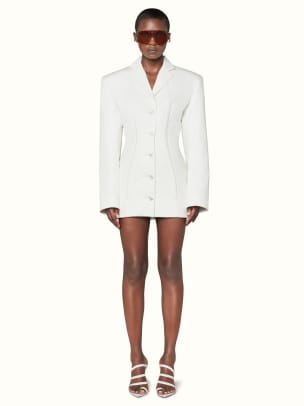 Want the latest fashion industry news first? Sign up for our daily newsletter.