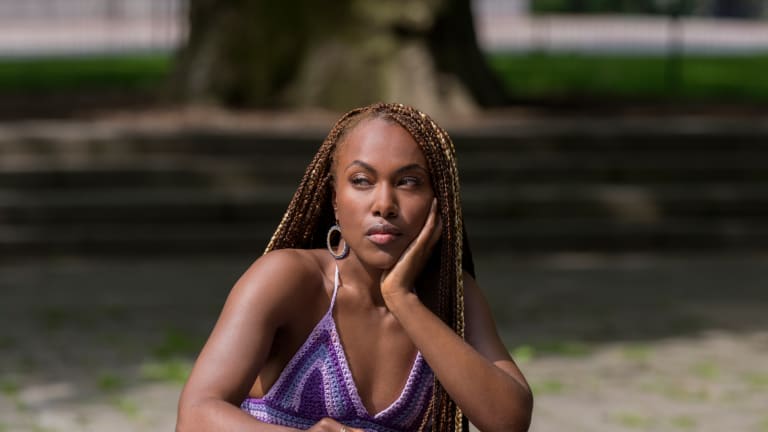 Spike Lee's 'She's Gotta Have It' Relies on Characters' Contrasting Wardrobes to Tell Their Stories
In season two of the Netflix series, costume designer Marci Rodgers continues to use clothing as a vehicle to explore character dynamics and the complexities of Nola Darling's world.
Nola Darling, who serves as the guiding force in Spike Lee's Netflix series "She's Gotta Have It" (based on his critically-acclaimed 1986 film of the same name), is a polarizing force among the canon of Black female leads, much like many of the characters that occupy the numerous worlds Lee has created in his long, storied history as a screenwriter and director. The young, broke 20-something (hey, that sounds familiar) who lives in a gentrifying Fort Greene, Brooklyn, often comes off stubborn, frustratingly self-serving, messy and, at times, suffocatingly self-righteous.
But Nola, played by the dazzling DeWanda Wise, also has a bright, thoughtful and sometimes outright charming demeanor that wraps itself around her less-than-desirable traits and masks them in strong and sometimes convincing declarations of self-discovery in the name of art. She introduces herself in the first scene of the series while in her infamous "Loving Bed," delivering a manifesto about her efforts to find order in her daily chaos while attempting to untangle herself from the many identities the men in her life try to define her with — most notably, and to her greatest frustration, a freak. 
But Marci Rodgers, the costume designer for the series (who's also responsible for the award-winning looks in Lee's 2018 movie "BlacKkKlansman") would describe Nola as simply an artist, and the wardrobe Rodgers has developed for her — an eclectic mix of everything from bright-colored crop tops to eye-catching accessories to crisp white head-wraps — reflect that.
Related Articles
The 'BlacKkKlansman' Costume Designer Drew Inspiration From the Female Leaders of the Black Power Movement
The 'Booksmart' Costumes Include Blue Wave Boilersuits and Original Cali Thornhill Dewitt Self-Spoofing Merch
After a Met Gala Boost, Johnny Nelson's Hip-Hop-Inspired Jewelry Is About to Blow Up
But perhaps the greatest definers of Nola's style exists outside of her, in the surrounding characters. First, there are her lovers: Mars Blackmon (Anthony Ramos), the charming and excitable Boricua Brooklynite-with-a-capital-B, is devoted to his carefully-curated sneaker collection and dons a hodgepodge of flashy accessories, grills, bright t-shirts and baseball caps with the lids turned up. The artistic and cocky Greer Childs (Cleo Anthony) balances out his closet of neutral colors with bold, skin-baring cuts that show off a well-toned physique. The poetic, seemingly gentlemen-like but deeply troubled Jamie Overstreet (Lyriq Bent) is rarely seen in anything other than a wide-ranging set of suits. And, last but certainly not least, there's the serious and motherly Opal Gilstrap (Ilfenesh Hadera), who occupies a very soccer-mom-like aesthetic made up of polo shirts, jeans, khakis and sensible shoes. 
Then there are Nola's closest friends: the ambitious and often overbearing Clorinda "Clo" Bradford (Margot Bingham), who dons a far more corporate look than Nola, but avoids appearing dull and drab by wearing bright splashes of colors and artful accessories; and Shemekka Epps (Chyna Layne), the fun-loving but struggling single mother who's style leans more toward form-fitting and flashy but has vulnerable moments of simplicity. 
They all play off and contrast with one another, emphasizing and foreshadowing the complexities of their dynamics through their clothing. Lee's original 1986 film serves as the foundation for the series' variety of looks from each character — looks which sometimes exist as a nod to the graceful weaving of personalities into each other and at other times, the stark contrast of those personalities and the subsequent conflict that ensues.
"I made everyone look different [in a way] that's so recognizable, and I'm proud of that because when designing for each character, I have to design them as an ensemble, but also them being separate of each other," Rodgers told Fashionista over the phone.
Season two of the series, which premiered on May 24, allowed Rodgers to make subtle tweaks to each characters' wardrobes, to help denote growth from the pilot season, which premiered back in 2017. Weather also played a big role in Rodgers' changing vision between the two seasons, with season one spanning over fall and winter, while season two solely taking place during a hot summer in Fort Greene. Borne out of the necessity to create something unique for the characters' warmer wardrobes, Rodgers tapped into her own designing chops, crafting original looks for Nola, Mars and Greer.
"When I designed season one, I set the bar for myself and for season two, I knew I had to step up my own self-made bar," Rodgers said. "All of Greer's costumes this season, I designed. I would say 85% of Mar's costumes, I designed, and a lot of Nola's costumes this season was designed by me. I guess you can [say] they all have their own little fashion lines now."
And similarly to Nola's infamous black dress, which she used to test the ways her lovers see her body and its purpose in season one, season two had pivotal moments between characters that relied heavily on Rodgers' keen eyes for costumes — most notably, the trip to Puerto Rico that Nola, Mars, Shemekka and Winny 'Win' Winford, played by rapper Fat Joe, went on together in episode seven.
While Nola was exploring the commonwealth island that was (and still is) reeling from the devastating impact of Hurricane Maria, she came across a woman who was called a "Daughter of Oshun," which refers to the goddess Oshun of the Yoruba faith, a native religion in Puerto Rico. According to the faith, ancestral daughters of Oshun are represented by the colors yellow and gold, among other things,
"[In Yoruba faith], you have Yemoja, who is a goddess of the ocean and then you have Oshun, who is the deity who was a part of the mosaic on the wall [that Nola was taking a picture of], and we saw the personified version of her [in the Oshun's Daughter]," Rodgers explained. "That information goes back to any process a costume designer has. It needs to be factually correct [because] that's a religion."
Throughout the trip, the four characters themselves were undergoing their own spiritual transformations, signaled through subtle shifts in their clothing. All four characters begin their trip in the clothes they wear in Brooklyn, but Winny and Mars, who are both Puerto Rican, quickly start to blend more into their surroundings in clothing more traditional to Puerto Rico — light, airy and colorful. Shemekka and Nola, though not Puerto Rican, soon follow suit, particularly during a street party the four of them attend. The transition comes to a head when the four friends attend a Yoruba ceremony, each wearing an all-white outfit while dancing, laughing and singing with the local community.
"The idea was to juxtapose Winny Win, Shemekka, Nola and Mars, bringing their Brooklyn vibe to it, if you will, and going into Puerto Rico, where [the two cultures merge] when they [attend] the street party. But hopefully, it's recognizable that Nola and Shemekka are still outsiders," Rodgers said.
But beyond the changing weather, varying locations, cultural traditions explored and the subtle character development that punctuated season two, one force is ever-present and all-powerful throughout the entirety of the series: Brooklyn. And it makes sense; Spike Lee is a native Brooklynite and much of his body of work is a love letter to his home. (See: his iconic 1989 film "Do the Right Thing.")
Rodgers, who's a Chicago-native herself, learned to speak Brooklyn's sartorial language through her work with Lee, painting a fascinating and often poignant picture of the borough's lesser-known and often lesser-attributed contributions to fashion. "Brooklyn is full of culture," she said. "There are plenty of Brooklynites who have set fashion trends — those that are well-known and those that are walking down the street, sometimes in Williamsburg, or even Atlantic Avenue."
Homepage/main photo: Nola Darling (DeWanda Wise.) Photo: Courtesy of Netflix
Sign up for our daily newsletter and get the latest industry news in your inbox every day.