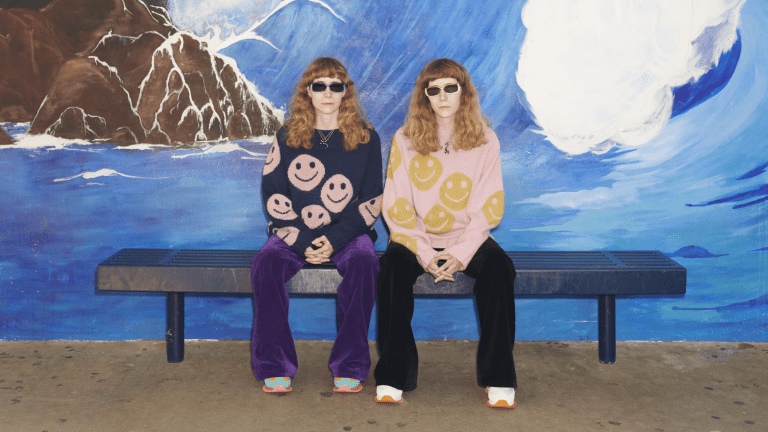 With a New Line, The Marc Jacobs, the Designer Would Like to Reintroduce Himself
The fashion industry has drastically changed in the four years since Marc by Marc Jacobs shuttered, but now Jacobs is reentering the contemporary market on his own terms.
Marc Jacobs has been a preeminent figure in the fashion industry for upwards of three decades, but despite the wisdom he's gleaned from his experience, he isn't shy to admit there's plenty he still doesn't know. For starters, there's the contemporary jargon often used by corporate types when pitching a new label. "'On-brand' is one of those phrases I'm not familiar with — I think if I believe in [something], then it's perfectly fine for me to do," he tells me inside his Spring Street showroom during a preview for his new line, The Marc Jacobs, in between drags from a palm-sized vape. 
Then there's the whole matter of navigating the online world: "I'm very aware of how important communication is through the internet, social media, etcetera, but it's never been my thing. I'm looking forward to finding my way into that in a way that feels good for me and is creative, but not oddly out of character with what we're about." Finally, he's not particularly up on what the kids are into — or whether his signature brand of surrealist humor resonates with them. "We could give you our version of a hoodie, but it's probably going to have Snoopy on it. It isn't going to say something 'cool' that's only for people who are ... what do you call them? Gen Z? I have no idea what graphics appeal to Gen Z."
Pandering to the youths in order to stay relevant is of little interest to Jacobs, in spite of his very public business struggles in recent years. In 2015, Marc by Marc Jacobs, the company's well-loved, lower-priced line (designed at the time by Luella Bartley and Katie Hillier), was closed — a move that still remains somewhat shrouded in mystery. "When [Robert Duffy and I] started Marc by Marc many years ago, we had this idea of what it should be, and it became very successful," Jacobs recalls. "It started out very niche and it was very cool and everybody wanted it ... it grew and it grew into something that we no longer recognized, what we wanted or intended it to be." After attempts to reshape it into something different (and something cooler) were unsuccessful, he accepted it was time to move on. "We had to let it go, and maybe we needed to let it go in order to restart it in some way."
Beginning with the Spring 2016 runway collection, Marc Jacobs, the brand, began to incorporate some lower-priced items alongside the main ready-to-wear line — a confusing strategy that Jacobs is quick to acknowledge "didn't really work." In January 2017, LVMH CEO Bernard Arnault infamously told investors on an earnings call that he was "more concerned about Marc Jacobs than the U.S. president"; by 2017, the last of the six Marc Jacobs fashion boutiques on New York's Bleecker Street shuttered, and in 2018, a slew of European store closings followed. Most recently, the company hired Baja East Co-Founder John Targon as its "creative director of contemporary," only to see him exit after just two and a half months in the role.
Through all of the turmoil, Jacobs continued to stage breathtaking shows each season during New York Fashion Week, remained a red carpet favorite and, in a personal milestone, married his longtime love Char Defrancesco. He also capitalized on the ubiquitous nostalgia trend by re-releasing his iconic Spring 1993 "grunge" collection — the one that got him fired from Perry Ellis — late last year, drumming up interest from fans who experienced it in real time, as well as a new generation discovering it for the first time as modeled by Gigi Hadid. Now, with The Marc Jacobs, which officially launches on Thursday, the designer is revisiting concepts, categories, collaborations and collections from the company's past (or the "Marchive"), updating and evolving them to bring them into the future. 
"It's not so much about trying new product categories as it is about communicating them, packaging them and making the experience a little bit different for this day and age," Jacobs says. "If that [means] it has to be more appealing online, or if it has to be more appealing in reality through a different form of retailing than we've ever done before ... We always put stuff out in the store, then if people wanted to buy, they bought it. I don't know if that cuts it anymore."
The new vertical will evoke the spirit of Jacobs's runway collections, but is meant to provide customers with a wide range of wardrobe staples that will be built upon each season. Its eclectic mix is best described with the old cliché that there's something for everyone: A romantic Victorian blouse is styled with casual, rolled-up jeans; a well-worn, holey sweater dresses down a midi-length pencil skirt; a retro, '40s-style dress with an all-over graphic pattern is paired with a clashing leopard-print stole; a sundress is layered over a menswear-inspired, button-down pajama top; and rainbow-colored joggers peek out from beneath office-appropriate trousers. 
Many of the elements you'd expect from a Marc Jacobs runway collection are present — excellent outerwear in bold hues and rich fabrications, sequined disco skirts and party dresses, voluminous house dresses (as well as über-trendy prairie dresses), tailored suiting, oversized sashes that can be worn as a waist belt or a neck scarf — in addition to archival items reimagined for today (like the memorable mouse shoe from Fall 1998) and reproductions of one-of-a-kind vintage finds. The Marc Jacobs celebrates a high-low mix and each shopper's personal style first and foremost, and with such an extensive product offering at a contemporary price point (ranging from $95 for a tee to $895 for a velveteen coat and $1600 for a cashmere hoodie), the possibilities for unique outfit combinations are endless. 
Aside from a few key items — sneakers, a tracksuit, the hoodie, a graphic T-shirt — The Marc Jacobs isn't particularly trend-driven, but Jacobs insists this was a well-considered choice. "There is pressure to create things that people will want, but I think sometimes when you sit down to do it with that motive, you don't do that at all," Jacobs says. "I think the best idea is here, and the things that pleased people the most were always things that came out of instinct. And if our instincts aren't relevant, then our instincts aren't relevant. But you know, then that's the way it is." 
The first campaign for the line, photographed by Hugo Scott with casting by the Midland Agency, was styled by Lotta Volkova, best known for helping create and inspire the look made popular by Demna Gvasalia at Vetements and then Balenciaga — the latter of which is projected to bring in over a billion dollars in revenue this year, and is Kering's fastest-growing brand. Aesthetic similarities aside, Jacobs makes a point to note that he's not banking on creating the next must-have "It" item — though he's had a few in the past, most notably the early aughts-era "Stam" bag — to help him stay afloat. In other words, he's not on a mission to one-up Gvasalia's sock boots or Triple S sneakers. 
"I just had a board of directors meeting talking about handbags, and it always comes back to the same thing: You need to do something that's so identifiable, that everyone will know it's yours from across the street and blah blah blah," he says. "That's what a bunch of corporate people always tell you, how every corporate person thinks. Like, if only you could come up with something that everybody can identify as yours and get it out there before somebody else does and [have it] worn by somebody we recognize, then, you know, it's the key to success. First of all, that's easier said than done. If anybody could do it, then why wouldn't everyone do it?" In the days before Instagram and influencer seeding, Jacobs believes designers weren't as calculated in their quest to create a commercial hit, and his biggest professional triumphs came from releasing pieces out into the world that his team believed in, and building upon what organically resonated with customers. 
Jacobs is also wary of putting too much stock in nostalgia, despite the fact that The Marc Jacobs consists of several reissued styles and ideas from his past collections. "I think sometimes things feel right, but it is a double-edged sword," he says. "We just had a meeting about a bag that we used to do and I keep thinking: 'This bag looks really good right now,' but then I think maybe this is not what younger people want. It looks good to me based on how I see the world and what I think of things. But maybe it's not right; maybe it's done with a certain hand and in a certain spirit that doesn't feel as relevant." Though other luxury brands, namely Dior and Fendi, have seen huge success with the rereleases of their Saddle and Baguette bags, respectively, Jacobs is aware that lightning rarely strikes twice. "You don't know what will speak to people," he continues. "Sometimes I wonder if someone else brought [a nostalgic style] back, it would have more validity — like, if a newer name brought back that thing that you had done back in the day."
As was the case during his stint as the creative director of women's at Louis Vuitton, The Marc Jacobs is heavy on the collaborations. At launch, partners include Milton Glaser, the legendary graphic designer behind the New York Magazine logo; the French luxury linens purveyor D. Porthault; the classic American "Peanuts" cartoons by Charles Schultz; milliner Stephen Jones; Jacobs's longtime friend and muse Sofia Coppola; raincoats by Stutterheim; and perfecto leather jackets by Schott. Considering the fashion collaboration machine is working overtime these days — and that the most popular brands on the planet are proficient in them — it seems like a wise business move, but Jacobs is not simply looking to follow the blueprints set out by today's hottest talents. In fact, he insinuates that he pays little attention to hype and those who are drumming it up.
"I have the ability to listen to people who give me information and data, and I've always had the ability to come up with a creative solution of my own using that data," he says. "But they just look at something completely unrelated [to my business]. For a while you'd hear, 'Look at Supreme.' It's like, 'Yeah! Look at it!' Or, 'Look at Off-White.' Okay. I look at it, it's great. It's graphics on sweatshirts, on T-shirts, on streetwear. But when were we ever that? And where would you think in any world that we would get on that boat and be credible?"
Though Jacobs repeatedly maintains during our time together that he doesn't keep up with youth and internet culture — something that seems suspect if you follow his hilarious, meme-worthy personal Instagram account — he's confident that his designs have cross-generational appeal. While they might not be the buzziest pieces on the market, he trusts there will always be room (and customer desire) for pretty, well-constructed clothes. When I ask if he has a neatly packaged brand statement, perhaps in 280 characters or less, that he's prepared to help introduce The Marc Jacobs to the world, the designer once again claims he isn't super familiar with the concept, spawned by the idea that, in 2019, everyone is a brand, curating a persona to project to the public both IRL and online. "I don't think we've ever had a brand statement, we just instinctively do what we like, when we want to do it," he says. "So maybe that's our brand statement: We like this."
Browse a selection of items from The Marc Jacobs's debut collection, available to shop now, in the gallery below.
Please note: Occasionally, we use affiliate links on our site. This in no way affects our editorial decision-making.
Stay current on the latest trends, news and people shaping the fashion industry. Sign up for our daily newsletter.