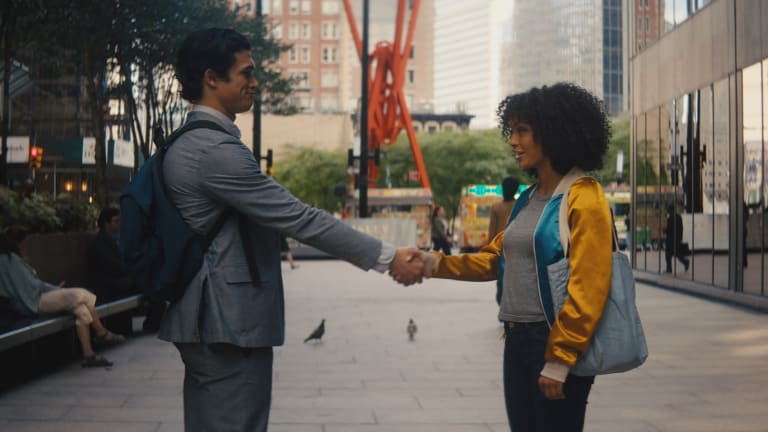 Understated Costumes Let Yara Shahidi and Charles Melton Shine in 'The Sun Is Also a Star'
Costume designer Deirdra Govan shares behind-the-scenes details on Natasha's karmic jacket and Daniel's preppy suit.
In "The Sun Is Also a Star," a series of fateful occurrences brings high school seniors Natasha Kingsley (Yara Shahidi) and Daniel Bae (Charles Melton, also of "Riverdale," who is having a major year) together over the course of 24 hours. But the big-screen adaptation of Nicola Yoon's bestseller and National Book Award finalist of the same name isn't your usual teen romance. 
Natasha, who's been in the U.S. since the age of nine, is trying to stop her family from being deported to Jamaica the next day. Meanwhile, Daniel, a first-generation Korean American, is on his way to a college interview that could determine his future. Though "The Sun Is Also a Star" is a heart-tugging love story between two star-crossed teens, it's also a poignant — if not heartbreaking — look at the pursuit of the American dream and the immigrant experience in the age of Trump.
"This movie is very special and has something to say," says the film's costume designer Deirdra Govan, who last dressed Tessa Thompson in literal socio-political commentary in Boots Riley's "Sorry to Bother You." 
"I sign on to projects that speak to me and this story spoke volumes to me — not only because of love's infinite ability to rise above all obstacles, but also because of what's going on in society and our country, as the movie pertains to the abysmal state of immigration policies and separation of families and loved ones," she continues. "I still have to hold fast to the fact that love will always triumph over hate."
For Govan, the one-day format of the movie proved interesting in terms of depicting the characters' backgrounds and arcs through just one outfit. But this story, in particular, required walking a very fine and specific line. "To coin a phrase from our director, everything needed to be 'not too on the nose,'" she says.
In other words, the costumes on the two stunning leads — who also happen to look amazing in cutting-edge fashion in real life — needed to illustrate (and not distract from) the realism, authenticity and urgency of their first-generation American experiences. And help tell a swoon-worthy teenage love story, of course.
Below, Govan breaks down both Natasha and Daniel's "hero" looks, which take them through an eventful, kismet-filled 24 hours in "The Sun Is Also a Star."
Natasha Kingsley (Yara Shahidi)
"New York is my home," Natasha says in a voiceover at the start of the movie. The pragmatic, aspiring data scientist will spend the next 24 hours desperately seeking ways (and imploring people) to help stay her family's impending deportation. For the task, the on-trend but financially strapped New Yorker wears an easy T-shirt, skinny jeans, sneakers and a consequential blue-and-gold bomber jacket — which is probably the most expensive item in her closet.
"The jacket is Natasha putting her best self forward," explains Govan. "It's like, 'I'm gonna put on this jacket, I'm still me, I'm still a kid.' But that jacket is almost like her armor." 
Because of the significance of the piece, Govan meticulously worked through every minute detail: the to-the-millimeter fit on Shahidi, the "not too trendy or hip," but sporty silhouette, the ease of the zipper, the lightweight fabric (they filmed in the wilting New York summer) and the stunning color palette. 
"I took the inspiration from the colors of the galaxy, nebulas and skies," says Govan, who has something in common with the astronomy-loving Natasha. "As a child, I was fascinated with the stars. At one point, I memorized all the constellations." The space-science hues also speak to the iconic celestial ceiling in Grand Central Station, where Daniel first spots Natasha. 
Govan actually created multiple color combinations to show Russo-Young, including a "fluffy cloud"-like plan B of cream and sky blue, which proved too "happy happy" for the story. In the end, the team agreed on the shimmery teal and golden yellow pairing, which felt like "a whole galaxy onto itself."
The words on the back of the jacket also help bring her together with Daniel, which propels a series of possibly predestined events — or "coincidences," as the skeptical, pragmatic Natasha would say. Of course, as seen in "Sorry to Bother You," creating impactful typography and fonts is old hat for Govan. "As a designer, I like to put my stamp on it," says the multidisciplinary artist, who collaborated with an in-house graphic designer to determine the perfect script. "I understand fonts, font styles, scale, balance — it's all very important ."
The rest of Natasha's understated outfit was just as meticulously created: Govan shopped about 50 T-shirt options before landing on a gray Alternative Apparel tee, which was altered (and duplicated) to perfectly fit Shahidi. 
Daniel Bae (Charles Melton)
Mild spoiler for the Melton stans: Yes, his abs make a cameo. "All choices are made based upon what the story is trying to convey, but yes," laughs Govan.
Daniel, the youngest son and embodiment of the American dream to his South Korean immigrant parents, readies for an Ivy League interview by slowly putting on a nice, respectable suit. But the Tupac-listening and Emily Dickinson-reading teen would rather be writing poetry than studying pre-med — same goes for wearing the suit, which his older brother Charlie (Jake Choi, of "Single Parents") mocks as "looking like the 1%."
"The whole look is not what he would normally be in. He would be in jeans and a T-shirt. He would be just a normal everyday kid about to go to college, so that in itself tells a deeper story for a Korean American family that wants the best for their child," explains Govan. "They want to have him represent the best. It's almost like having him walk into his destiny. So that look, in itself, informed a lot of Daniel's decision-making to wear the suit that his mother gave him. To still be the good son and do what is expected of him."
RELATED ARTICLES:
How Costumes Help Deliver the Powerful Social Commentary in 'Sorry to Bother You'
Yara Shahidi Has Her Tracksuit Wardrobe Planned for Harvard
Yara Shahidi's 'Black-ish' Spin-Off, 'Grown-ish,' is the Most Fashionable Show on T.V.
She shopped multiple options to land on a linen J. Crew suit, which she altered to fit Melton's physique, plus made little tweaks — like removing the belt loops for a sleeker silhouette, per Russo-Young's direction. Govan also shopped "high and low" for vintage red, black and white Nike SB Dunks, which she further aged and distressed, to help give the 28-year-old actor a youthful vibe. Daniel's sporty-casual backpack and lackadaisical MTA etiquette also amplify a teenager with his head in the clouds (or his poetry notebook) effect.
His plaid tie — quickly removed — speaks to the script and the book, but Govan veered from a full red, as written in the source material. "We shopped a multitude of ties," she says, to decide on the softer shades of blue, with a hint of red, which "hit the right note" for Daniel's overall palette.
New York City
On their own, crossing paths and then together, Natasha and Daniel visit various and culturally distinct parts of New York City, which almost plays a third lead in the film. 
"Background was very important," says Govan, who used her expertise as a 30-year New Yorker to authentically dress every single extra, from street vendors to suit-clad midtown corporate types to adorable school children in matching shirts on a museum tour (her favorite). "Sometimes we were just grabbing people," she adds, about turning passersby into extras on the fly. "So it was a lot of runnin' and gunnin'. Fast-moving decisions had to be made — and had to make sense."
While Natasha and Daniel have their own connections to each neighborhood, viewers will probably experience their own fond feelings of the various lively communities, from bustling Eastern Parkway in Crown Heights, Brooklyn to 32nd Street Manhattan aka K-Town (ahh, so many fun nights/early mornings in the noraebang). And the costume composition helps play an role in showing how a diverse mix of cultures and people makes New York — and this country — such a beautiful and vibrant place.
Top photo: Courtesy of Warner Bros. Pictures
Never miss the latest fashion industry news. Sign up for the Fashionista daily newsletter.