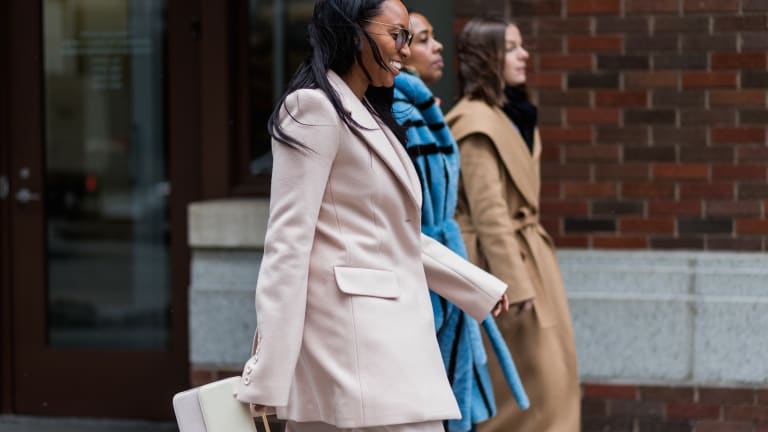 25 Influencers to Follow Before They Hit the Mega-Big Leagues
We polled industry experts about the next wave of household names on Instagram and beyond.
The influencer scene is more crowded than ever, especially for social media-famous personalities that really make it big. For them, success might mean being able to quit your day job to be a full-time influencer because a social media-centric side-hustle becomes so lucrative it should be the main event. Or, success could be launching an ambitious project — a fashion or makeup line, a book, a modeling contract, a documentary — that was perhaps the ultimate goal from the start.
An influencer is best poised to succeed if he or she has "offline credibility," forging a career that's not contingent on social media fame, explains Max Stein, founder and CEO of Brigade Talent, whose talent roster includes Leandra Medine, Reese Blutstein and Isabella Boylston, a principal dancer at American Ballet Theatre. "A movement I'm seeing as a manager is that brands are interested in people that have a discernible skill set, and/or are contributing work to the creative economy, other than sharing posts on social media. People are after talent that has a career that's created in a way that's not just happening online." 
That offline credibility "can create value in someone just as much as their follower count," he adds, noting that he's getting positive feedback from brands that are "seeing strong results off-platform and in terms of conversion" from these well-rounded, accomplished, more-than-just-Instagram-famous talents. Stein points to his client Shiona Turini: "She obviously had her magazine career, and now has a big business as an 'influencer,' but she's still styling covers of major American magazines and costume-designing; those two kinds of work, the more public work and behind-the-scenes work, really complement each other. Brands like working with her because they're working with someone doing something else" besides influencing. "Essentially, her B2B advertising for her services is also kind of business-to-consumer; it's all interchangeable."
Medine is among the OG mega-influencer set, though somewhat unintentionally: A very early-to-the-game fashion blogger, Medine sees her sizable social influence as a byproduct of her success with her site, and the Man Repeller brand as a whole. (Spinoff projects like a memoir released in 2013 and a shoe line launched in 2016 don't hurt, either.) The handles piquing Medine's interest lately aren't people she considers influencers firstly or by definition. Rather, they're "changing the way we have known how to tell stories." For example, Jessica Yellin, a news correspondent "using her social following to reinvent the way we think about broadcast journalism; to be able to catch a snippet of what's going on in the world, hear her political views and what she thinks through Instagram Stories is really interesting, and it's one of the most refreshing ways I've seen Instagram used to serve a bigger topic." 
Also on Medine's radar: Caroline Calloway, "who's basically releasing chapters of a memoir from the perspective of a twenty-something, through her Instagram account," Medine says. She sees Yellin and Calloway as illustrative of new ways to powerfully harness social media, particularly Instagram, that eclipse familiar (follower-)winning formulas. It's an interesting way to consider how much more Instagram can provide, beyond "beautiful girl, wearing a dress," or "interesting face, sharing vulnerable moment," Medine notes.

Some influencers who will rise to the top of the next generation will likely be true change agents, with the desire and capacity to evolve or better the world in some way — not just photogenic folks with the biggest follower counts. "I think in 2019, the pendulum will shift over to influencers that are actually influencing change in culture," explains Julia Gall, accessories director at Marie Claire.
Xenia Adonts, Caroline Daur, Karina Nigay, Jessica Mercedes Kirschner and Irene Kim were top performers in a November 2018 Launchmetrics report, which analyzed influencers with 500K to 2M followers during the Spring 2019 season's fashion month; these five had the strongest MIV (Media Impact Value, a term Launchmetrics came up with) compared to their peers. "While these girls may have strong visibility, we can see they have even stronger engagement, and thus they present great potential for growth in untapped markets," explains Yuli Ziv, managing director, USA of Launchmetrics. "If impressive MIV numbers equate to particularly strong engagement — followers that comment, double-tap and are both interested and invested enough in a stranger to communicate with him or her in some way(s) — that can lead to increased presence, and better crossover potential, like expanding from beauty to travel," Ziv explains.

We polled a dozen players in the media, retail, influencer marketing and digital strategy spaces who revealed the handles they've been engrossed with lately — and why they're so confident that we'll see a lot more to come from the talents behind those follower counts. With varied career trajectories and social media motives, the names ahead are poised to dominate your feeds in 2019 and beyond.
Monroe Steele
Handle: @monroesteele
Nominated by: Nikki Ogunnaike, Elle.com's style director
Current follower count: 26.2K
Appeal factor: "I've been following Monroe for a few years now, not knowing that she was a physical therapist moonlighting as a fashion blogger. I mention that because she was able to stay consistent and engaged all while maintaining a full other career."
Why her future's so bright: "In late 2018, she decided to become a full-time influencer, and I can't wait to see how her content evolves. I like following her because she talks about everything from shopping for luxury products on a budget to why we should #MuteRKelly. She's my kind of girl, stylish and woke."
Ellie Thumann
Handle: @elliethumann
Nominated by: Besidone Amoruwa, Instagram's head of emerging talent partnerships
Current follower count: 2M
Appeal factor: "A budding 17-year-old model and influencer from Arizona, Ellie is natural, fun, spunky and totally down to earth. She likes to share what matters to her in her own way. She can go from natural to glam to cozy."
Why her future's so bright: "I predict this will be a big year for her. Not only will she be turning 18, but she also signed to Next Models and booked her first editorial shoot in Seventeen — and that was only in January! I believe this is the year that brands will start really paying attention to her and that she'll get to do bigger things, like walking runways and clothing collaborations."
Gabriel Zamora
Handle: @gabrielzamora
Nominated by: Besidone Amoruwa 
Current follower count: 947K
Appeal factor: "Late last year, Gabriel was sharing the funniest videos on Instagram and doing the most creative content, and since then he has grown. He is fearless, personal and honest. He side-steps the drama and focuses on beauty, reviewing the most relevant content. He's authentic."
Why his future's so bright: "This will be a big year for Gabriel because he has stood the test of time. He's ready to stand out with more brand opportunities and use his voice to empower the beauty + LGBT communities."
Ava Jules
Handle: @avajules_
Nominated by: Besidone Amoruwa 
Current follower count: 583K
Appeal factor: "Ava kept popping up in other people's content and she instantly stood out. She has a natural ability to relate and share with her audience. She doesn't really care if something's in or not; she just does her."
Why her future's so bright: "I think this will be the year more people catch on to her, especially with her growth across social channels. I think she will do more with health and beauty."
Lulu Bonfils
Handle: @louisvuittoncrocs
Nominated by: Kristie Dash, Instagram's head of beauty partnerships
Current follower count: 58.9K
Appeal factor: "I was introduced to Lulu through her manager at Muse Curve, but I've been Instagram-stalking her for about a year now as she's been doing work with Fenty Beauty and Savage x Fenty. Aside from being absolutely gorgeous, I love following her for beauty inspo, random tidbits about life as a model in New York and an overarching sense of confidence that somehow manages to rub off on you as a follower. At first glance, you might assume she stands out in a saturated market because brands and magazines are finally starting to shoot a more inclusive group of people, but it's way more than that."
Why her future's so bright: "She has star power. Lulu has shot a bit with CR Fashion Book and their team is known for discovering models early in their careers. She's definitely one to watch. Fenty tends to launch a ton of models' careers — look at Slick Woods! I think Lulu has an opportunity to do more beauty collaborations and campaigns, so I'm curious to see if any other brands scoop her up."
Yana Sheptovetskaya
Handle: @gelcream
Nominated by: Kristie Dash 
Current follower count: 113K
Appeal factor: "I can't remember how I first found Gel Cream about a year ago — I think it was on the Instagram Explore page. I'm fascinated by what Gel Cream has been doing, because there's really nothing else like it. Yana Sheptovetskaya, the creator, essentially made beauty product reviews Instagram-friendly by focusing each post on just one product, a swatch of its texture or color pay-off and giving it a brutally honest mini-review."
Why her future's so bright: "She's built a loyal following by sticking to this theme, and her educational Instagram Story content is next-level. I think her following has probably grown primarily through word of mouth — so many followers tag their friends in her posts and have full conversations — but I think she's just getting started. Since she doesn't do ads or sponsored posts [yet], I could see her doing really genuine collaborations with brands she believes in. She also just launched merch, so there are a lot of different ways she could go."
Jeanne Grey
Handle: @thegreylayers 
Nominated by: Brittany Hennessy, Carbon's co-founder and chief relationship officer (influencer app/network); Hearst Digital's former senior director of influencer strategy and talent partnerships; author of "Influencer: Building Your Personal Brand in the Age of Social Media"
Current follower count: 470K
Appeal factor: "I was first introduced to Jeanne almost three years ago by her then-agent, Jessy Grossman. When I met her in person I was completely surprised at how bubbly and down-to-earth she was. Her Instagram feed is very editorial, so I wasn't sure what to expect. Influencer marketing is very big business, and many of them are chasing paychecks. When you find an influencer who is chasing content, they are going to be a success because that is what helps you stand out in a saturated market. Jeanne checks in with her audience often and asks them what they want to see. The result is often content she wouldn't necessarily have thought to post, but performs really well."
Why her future's so bright: "Jeanne has amazing content, but her personality is what gives her an edge. This year, she's finally venturing out onto YouTube and sharing her day-to-day with her audience. In 2019, she is also focused on highlighting Southeast Asian countries; last year, she launched FROM, which highlights one-of-a-kind handmade jewelry from Southeast Asian merchants, with a portion of proceeds going to the Salvador Campus, an island college of Iloilo City, Philippines. She kicked off 2019 with a trip to Vietnam with Qatar Airways and will be attending the fashion shows of some up-and-coming designers from the region. Storytelling is making a huge comeback, and being able to convey thoughts and feelings to your audience — in addition to beautiful content — is what will put influencers in different leagues."
Katie Sturino
Handle: @katiesturino
Nominated by: Aya Kanai, Hearst Women's Fashion Group's chief fashion director
Current follower count: 313K 
Appeal factor: "I found Katie Sturino because her best friend, Ryan Dziadul (@ExtraExtraStyle), introduced us. Katie is smart, hilarious and has a unique POV on the fashion and beauty markets. She's a hustler, and I mean that in the best possible way. She finds her entrepreneurial inspiration in every part of life. She started a beauty line, Megababe, with instant cult-favorite Rosy Pits [deodorant] and is a champion for rescue dogs everywhere. She's a triple influencer! Katie stands out because of her personality and the 'voice' of her writing. From IG captions to her blog, her copy is something only she could write. She's raw, funny and honest with her audience."
Why her future's so bright: "She continues to grow her #makemysize campaign for inclusive sizing, and she's sure to create more beauty products we can't live without, and she's getting married. What Katie does best is find the white space, the place where an audience exists but no one has noticed it yet. So I can't predict what she will do next, but I'm sure it will be original."
Katie Jane Hughes
Handle: @katiejanehughes
Nominated by: Aya Kanai
Current follower count: 274K
Appeal factor: "I started following when Katie had around 20K followers; now, she has over 200K. She's done it with hard work, consistent high-quality content and integrity. I like seeing that success. She's a professional make-up artist, but she makes learning the tricks of the trade approachable for the average person. I learned everything I know about shadow and eyeliner from her."
Why her future's so bright: "Katie's audience has grown, but she's always mindful in the brands she chooses to collaborate with."
Michelle Wong
Handle: @labmuffinbeautyscience
Nominated by: Kristina Rodulfo, Elle.com's senior beauty editor
Current follower count: 84.3K
Appeal factor: "Michelle is a Sydney-based, purple-haired blogger who has a PhD in chemistry and is like 'Myth Busters' for skincare. Her product reviews and tips go deeper than any other beauty influencer out there. I found Michelle via one of her beauty myth vs. truth posts — this one, specifically, which I hear so often in marketing and it was incredible to read her thorough breakdown of why it's incorrect. She has a scientific perspective that's extremely educational, but still feels approachable, like your smartest friend. Also, she's a moderator on the wildly popular subreddit SkincareAddiction. While she does still post videos and photos of herself like your average beauty influencer, she is truly advice- and service-focused."
Why her future's so bright: "As more people move away from 'Instagram makeup' and focus more on minimalism, the interest in skin care is exploding. The average person is more knowledgeable about skin-care routines and active ingredients, but still learning. I think Lab Muffin Beauty Science will soon become everyone's biggest reference. She already has an e-book out, but I'm feeling like she will land a bigger book deal that'll become a skin-care bible of sorts for all of us."
Klaudia and Laura Badura
Handle: @thebaduratwins
Nominated by: Kristina Rodulfo
Current follower count: 196K
Appeal factor: "I found Klaudia and Laura Badura when they were featured on Fenty Beauty's Instagram page in December. They're identical twins, so they already stand out in the influencer market. They create matching makeup looks that are so striking when photographed together. There's something almost fantastical, unreal and editorial about it."
Why their future's so bright: "Both of them have significant followings individually, but they're poised to make a splash as a duo. They are both stunning and experiment with not only twin looks for makeup, but also hair and fashion, so their page is rich with opportunity for collaborations on all fronts. I think they will probably launch a big product collaboration with a really fun, visual makeup brand."
La'Shaunae Steward
Handle: @luhshawnay
Nominated by: Alyssa Hardy, COOLS senior fashion editor
Current follower count: 93.1K
Appeal factor: "I found out about La'Shaunae when she collaborated on a thigh-high boots collection with Jeffrey Campbell about a year ago. I reached out to her and have been following her journey ever since. She is unabashedly herself. She works against outdated societal and industry standards on a daily basis, despite the many obstacles she's had to face. While many influencers stay quiet for fear of repercussions from brands, she calls them out when they take advantage of her or marginalized people in the industry. On top of that, she is beautiful and has an incredible sense of style, constantly showing off her incredible outfits and stunning photos." 
Why her future's so bright: "She's a model with a voice that this industry desperately needs. She exists as an example for so many consumers who don't get the representation they need and deserve. Her Universal Standard campaign was so successful because of her willingness to be that person, and that's not easy. She was in a really vulnerable position that she completely leaned into. She also has many fans outside of her following, from editors to celebs. People are just rooting for her. It helps that she's got the drive to back it up, too."
Isabella Fernandes 
Handle: @fauxnandes
Nominated by: Alyssa Hardy 
Current follower count: 6.4K
Appeal factor: "I found Isabella after she did a campaign with @Behindthescars. She's a burn victim with very similar scars to me — we both have burn scars on our arms — and so I immediately started following her. Scars are honestly so badass, and so many people have them. She's found a way to take something that is deeply traumatic and make it relatable and fashionable. Plus, she's an amazing model. Her photo shoots are gorgeous and she definitely has the chops for doing something big."
Why her future's so bright: "In 2018, she did an ad campaign with Missguided that garnered her a lot of media attention. This year, we're really going to see her keeping up that momentum on a larger scale. I'd love to see her on a runway!"
Sarah Feingold
Handle: @sarah.feingold
Nominated by: Alyssa Hardy
Current follower count: 89.9K
Appeal factor: "I saw Sarah's Instagram through Explore about six months ago. She's got such a cool style and posts colorful but wearable looks that I can't get enough of. We've become so inundated with influencers that show over-the-top beauty tutorials with 20 products that make your skin flawless, or turn you into a whole different person on purpose. And while I think that type of work is fun and cool, Sarah is showing off a way to play with makeup that's attainable. It's almost like it's an accessory. In November, Sarah was part of Glossier's new Gen G lipstick campaign. As we've seen with so many other Glossier influencers, fans of the brand really resonate with the models. Sarah is also the founder of NBGA (No Basic Girls Allowed), a Vice subsidiary that covers beauty and fashion. She has the know-how, the confidence and the platform to do big things in beauty."
Why her future's so bright: "Sarah is really good at the content game, between her Instagram and NBGA, so I feel like she'll keep expanding in that way."
Nam Vo
Handle: @namvo
Nominated by: Jenna Rosenstein, HarpersBazaar.com's senior digital beauty editor
Current follower count: 202K
Appeal factor: "I found Nam Vo because her captivating, mind-blowing highlighter application videos kept popping up on my Instagram Discover page. I also saw a lot of the beauty accounts I follow repost her videos and her work on their own feeds."
Why her future's so bright: "I love that Nam Vo is a makeup artist with a clear vision and aesthetic: the Nam Vo Glow. She's all about creating dewy, glistening, super-highlighted skin. She even has her own hashtag, #dewydumplings. I think she's been smart about honing in on her unique aesthetic and putting her own face out there. Her skin is so beautiful and glass-like, it doesn't even look real, so I will buy or try any skincare product or highlighter she recommends. I can see her becoming the next big beauty professional-influencer, like Jen Atkin or Huda Beauty. She already promotes one-off projects with Olehenriksen, Caudalie and Beautyblender, but I could see her getting a big contract with a prestige brand."
Shiona Turini
Handle: @ShionaT
Nominated by: Julia Gall, Marie Claire's accessories director
Current follower count: 177.3K
Appeal factor: "Shiona is shifting her fashion and beauty content to highlighting her new moves as a costume designer, developing the style of the characters on 'Insecure,' now in its fourth season, and the upcoming Lena Waithe-written film, 'Queen and Slim'." 
Why her future's so bright: "She makes sure she's invested in important stories through television and film for African-American culture, and has gained massive respect from her followers and industry professionals alike for it. Someone recently mentioned to me that this upcoming generation is the 'authenticity generation' — I think people will be rooting for, and positively responding to, influencers who are actively making changes in the industry."
Lilian Ahenkan
Handle: @flex.mami
Nominated by: Devon Abelman, Allure's digital beauty reporter
Current follower count: 32.9K
Appeal factor: "When I Interviewed her in April 2018, Lillian mentioned using her Instagram as a way to show a realistic representation of POC and to help change people's understanding of what 'flattering' makeup looks like for them. This sentiment rings true in her colorful, fluorescent eye makeup looks. And honestly, her feed is just so fun to scroll through with all its neon hues."
Why her future's so bright: "Some of the coolest makeup artists I know follow her, so it's only a matter of time before others catch on. I would love for her to drop a neon eye makeup collab with a beauty brand."
Zay Ali
Handle: @zay.ali
Nominated by: Devon Abelman
Current follower count: 4K
Appeal factor: "With his razor-sharp winged liner, bold brows and dewy skin, Zay Ali is blurring the lines between traditional [gender norms]. By taking makeup looks typically associated with classic, feminine beauty, he proves that makeup doesn't have a gender. None of these looks make him any less of a man, or more like a woman. They just make him him. With beauty becoming more and more accessible for everyone, Zay Ali further represents this movement and the direction beauty should continue moving toward."
Why his future's so bright: "Major forces in fashion and beauty are already paying attention to him. Makeup artists like Danessa Myricks and Pat McGrath are fans. I'd love to see him in a Fenty Beauty or Pat McGrath campaign. His style echoes their same level of edgy-meets-glam."
Salwa Rahman
Handle: @urgalsal_
Nominated by: Devon Abelman
Current follower count: 12.4K
Appeal factor: "I can't stop bookmarking her looks on Instagram, and I've even recreated a couple of them. She's evidence that makeup doesn't have to be a way to make you look conventionally pretty or help you correct things society has told us are imperfections."
Why her future's so bright: "Makeup can, and should, be an artistic medium, and Salwa's makeup looks are like little works of art. They're beautifully photographed, too. I could  picture her in a Milk Makeup campaign."
Reese Blutstein 
Handle: @double3xposure
Nominated by: Julianne Fraser, founder of Dialogue, an NYC-based digital brand marketing consultancy
Current follower count: 245K
Appeal factor: "I first met Reese for a New York Fashion Week campaign I ran for Woolrich last February. She came across my radar as someone who has a creative eye, unique styling and a raw and honest approach to her social channels; all things that have set her apart in the ever-growing influencer world. She's only 22, and has already been hired for major fashion collaborations with brands like Gucci, Miu Miu and Paco Rabanne."
Why her future's so bright: "She hasn't had a lack of press attention over the last few years (including on this very website!) but my guess is 2019 will be the year she explodes on the scene, collaborating directly with a brand's creative director on an ad campaign or collection."
Amalie Gassmann
Handle: @amalie_gassmann
Nominated by: Julianne Fraser
Current follower count: 110.1K
Appeal factor: "Amalie is a model, world-traveller and is currently studying film. I collaborated with her on a campaign for my client Heroine last winter, and she left a lasting impression on me. Not only is she strikingly beautiful, likely due to her French, Japanese and German genetic pool, but she is incredibly sweet and creative as well." 
Why her future's so bright: "Her background of growing up in New York and Paris and traveling the world for modeling brings a unique angle to her social content, and her videography skills really set her apart from others — something I think brands will try to align with."
Melissa Alatorre
Handle: @alatorreee
Nominated by: Hilary Williams, Digital Brand Architects' VP of talent
Current follower count: 254K
Appeal factor: "I signed Melissa when she was working at a NARS counter. Now, she has over 600K subscribers on YouTube, and just got back from visiting Mr. Francois Nars on his private island in Bora Bora. Her journey has come full circle. She's definitely one to watch."
Anna Cornelia and Thora Valdimars
Handles: @annasarlvit and @thora_valdimars
Nominated by: Caroline Maguire, Shopbop's fashion director
Current follower counts: Anna, 57.5K; Thora, 69.7K
Appeal factor: "I recently found both of these girls on Instagram and have been following them for a few months now. As fashion director, I'm always looking out for new brands, new trends and new ways of styling. These girls check all of those boxes, and I love keeping up with the brands that they are loving, and how they're putting their outfits together. These influencers are nailing the trend, are right on the emerging designer pulse and have a unique, recognizable aesthetic."
Why their future's so bright: "I think they will continue to grow by staying true to their perspectives on fashion. I think these influencers have already distinguished themselves through their clear and thoughtful fashion POV. In a crowded social landscape, I anticipate that influencers with a distilled vision will continue to grow."
Interviews have been edited and condensed for clarity.
Homepage photo: Shiona Turini. (Christian Vierig/Getty Images)