Trixie Mattel Is Ready to Be 'Exposed' With Her New Cosmetics Line
"Drag queens and people, they want the same thing: We all want products that work well, that are priced well and are fun to apply."
Like many Trixie Mattel fans, the first thing I thought upon hearing about the launch of Trixie Cosmetics was: Thank God. After all, having conquered television by winning "RuPaul's Drag Race: All Stars" season three and starring on Viceland's "The Trixie & Katya Show," topping the Billboard charts with her EP One Stone, and the recent Tribeca Film Festival debut of her new documentary "Moving Parts," it was only a matter of time before Trixie Mattel would take her signature mug and brand it to perfection.
But when I witnessed Ms. Mattel riding in on a giant coin-operated mechanical lipstick during the opening ceremonies of RuPaul's DragCon weekend at the Los Angeles Convention Center, I knew this new cosmetics line wasn't just a side gig.
"I'm the Mary Kay of drag," Trixie tells me later that morning during a short break from greeting her fans, many of whom dressed up as iterations of her. "Part of how I developed the Trixie look originally was a critique on what beauty makeup is supposed to be. It's the most sculpted face, it's the fullest lips, it's the biggest eyelashes." 
"Before I was a famous drag queen — who could barely walk to the bathroom at DragCon — I used to be a makeup artist behind the makeup counters at MAC and Ulta and Sephora, and when you start to watch people shop for makeup for a living you start to realize that drag queens and people, they want the same thing: We all want products that work well, that are priced well and are fun to apply," Mattel explains. "I noticed that they call it a makeup routine; I'm like, 'Mama, if it feels routine, switch it up.' So all of my products are very fun and they're sort of daring."
Related Articles
Arrive Is Aiming to Be the Glossier of Clean Cosmetics
How Mimi Choi Went From Preschool Teacher to Instagram's Most Sought-After Illusion Makeup Artist
Drag Queen Violet Chachki on What Her Women's Lingerie Campaign Means for Queer Visibility
The products include the Stacy Lipstick, a bright bubblegum pink Mattel describes as "perfect for daytime realness." There are also four shades of glitter and five variations of hair and body shimmer, many of which sold out within days of launch. Key in the success here was building a product range that felt both in line with competitors, but stood out in a distinctly "drag" way. Mattel also developed the highly stylized packaging to evoke a sense of fun and playfulness. 
"The goal was, if we're going to make something that feels like a '90s toy, let's get people who work in toys. So my product developer and packing designer are people with backgrounds in just that. Instead of getting people who design makeup packaging, I pay people to make toy packaging, and that's why when you pick it up, you're like 'This feels like a real toy,'" Mattel says. "It's also a good antithesis to right now, where we live in a land of YouTube and c*nty drama, 'expose her.' I wanted to make a product that was just fun and pro-quality. Can the formula be good and with fun packaging? Yes."
But there are also some playful Easter eggs within the product names: "When you saw Buffy, did you have a heart attack?" she asks me in reference to a deep, pinkish-red shade of the Sprinkles body glitter that combines heart- and cross-shaped pieces. "At first I was like, 'Can we do hearts, can we do crosses?' And then I was like, 'Can we do hearts and crosses together? We're calling it Buffy.' I almost called it 'Slay,' but then I thought that people wouldn't get it. They'd think it meant slayyyyyyy, mawma." 
Clearly, Mattel had fun with the naming process. "I love horror movies, so I decided to call the silver glitter Carol Ann because it looked like static on a TV," she explains. "Then the white glitter that goes into the eye is called Marshmallow, because it's cosmetic glitter that's soft enough that I'm not going to get irritation when I wear it on tour every day, so it's soft… marshmallow!"
Mattel joins a number of "Drag Race" alumni who have ventured into the beauty category, including Miss Fame, Kim Chi, Bianca Del Rio and most recently, Alyssa Edwards and Aquaria, who collaborated with Anastasia Beverly Hills and Nyx, respectively. "It's very thrilling and also scary, because Mama, I'm not Revlon. I paid for all of it up front by myself, so if no one buys it…" she feigns a frightened stare for a prolonged second before snapping back. "I don't want my makeup to go the way of a lot of drag queen albums: a vanity project that nobody buys."
Asked about her favorite product at the moment, she doesn't hesitate to choose the Maliblu glitter. "I love anything in makeup that is the fast-track to hooker. That's a product where if you don't have a lot of skill, you can just pop it on and people think you're a good make-up artist," Mattel says. "I used to work with this girl on a play and she always wore bright lipstick and I was like, 'Your makeup's always so great,' and she was like 'it isn't, but I wear bright lipstick and people think that I'm good at makeup.' And that is true. Make bold choices."
So now that she's a fledgling beauty guru, does she plan on getting into the fray of recent YouTube drama shrouding some of the vlogging industry's biggest names? "Oh, I'm ready to be exposed, yes. I'm ready to tell the truth. I'm ready to to be cancelled."
Click through the gallery below to see the full Trixie Cosmetics debut collection: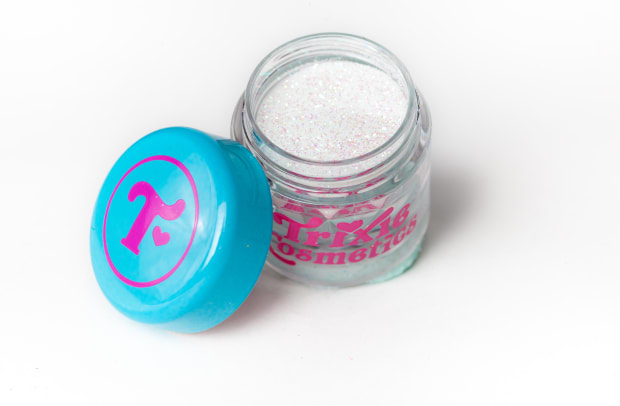 Sign up for our daily newsletter and get the latest industry news in your inbox every day.