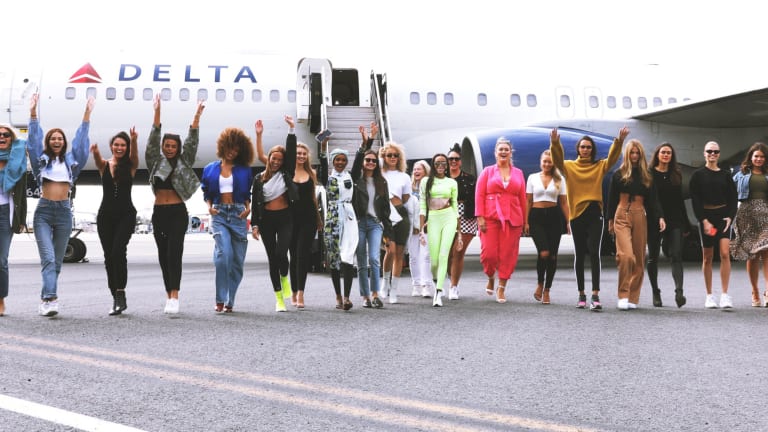 With Its Emphasis on Inclusivity, the 'Sports Illustrated' Swimsuit Issue Has Evolved With the Cultural Climate
"Of course it's male gaze, duh," said 2019 cover star Tyra Banks. "But it's not just that."
Before the 2019 Sports Illustrated Swimsuit Issue even hit newsstands on May 8, the annual bikini-filled glossy was already making headlines by featuring a model not wearing one at all: For the 56th installment of the iconic magazine, Halima Aden became the first model to grace its pages in a burkini and hijab.
"We should celebrate all different types of people's choice to wear what they want to wear, and what people define as sexy and as beautiful," Aden told me during a flight to Miami with her fellow SI models. 
The diverse 2019 line-up packed the chartered flight, including returning vets (Lais Ribiero, body positivity activist and swimwear designer Hunter McGrady, legendary supermodel Paulina Porizkova), rookies (Winnie Harlow, Jasmine Sanders and Kelsey Merritt, the first woman of Filipino descent to grace the issue and walk the Victoria's Secret Fashion Show), Rookie of the Year Camille Kostek and Tyra Banks, who previously made history as the first African American woman to front the issue solo in 1997. The group sipped mimosas, caught up and chatted with each other — like a "sisterhood," per Aden — on the way down to "SI Swimsuit on Location," an inaugural consumer-facing event featuring two days of panels, meet-and-greets and a model search competition.
Per the Somali-American model's earlier comment, the diverse group of models does represent sexiness through a spectrum of cultures, ethnicities, ages and shapes, but that begs a bigger question: Where does this annual display of "sexiness" belong in the age of #MeToo and #TimesUp, and in such a socio-politically divided country? (Coincidentally, the news of Victoria's Secret no longer airing its annual fashion show on network TV — likely in part due to its unwillingness to diversify its lineup — would come out 24 hours later.) 
The SI Swimsuit Issue was founded in 1964 by then-EIC Andre Laguerre to spice up sales with lush photos of barely clothed women in breathtaking locations during a sluggish February, but it's always had a female editor. Fashion reporter Jule Campbell helmed from 1964 to 1996; she was succeeded by Glamour vet Elaine Farley for two years, followed by Diane Smith, from 1998 to 2011. 
Current editor M.J. Day just broke over five decades of tradition by moving the release to May. "It's always hard to think about buying a swimsuit when it's 18 degrees out," she told the The Associated Press in January. Plenty of women are buying and reading the Swimsuit Issue — 17 million, in fact. But men still make up an overwhelming majority of its readership: 73% male to 27% female, similar to the monthly magazine stats of 80%/20%.
"This brand has a foot in each world, with men and women," said Day. "Some people come for the bathing suits, some people come because they're fans of the women, some people come because they need to look at that every day 'because that's goals for me.' Or because, 'I see myself here.' That's why I'm here for it. It's interesting that this conversation happens."
She also points out that, since its inception, the Swimsuit Issue has provided a service to womenswear customers with where-to-buy credits. "There's always been a really big fashion focus that just gets swept under the rug by the gorgeousness of the pictures and the location and the women and stuff," said Day. But her overarching goal is to push "important societal statements" with the established brand to grow the annual issue's female readership and change perceptions of women at large.
Day recalls Kate Upton's first cover as breaking ground with what was considered "plus size" representation just seven years ago in 2012. "Everybody back then was like, 'oh my god,' and when that happened it was so eye-opening to me," Day said. "Just putting our vision of what's natural to the brand on the cover has this huge of a ripple effect? Well, then look at all the other things we should be doing because this makes sense." 
But with a magazine issue featuring scantily clad (or not clad at all) women, the messaging doesn't always land. Take last year's much-discussed #MeToo-focused issue featuring models wearing nothing but written messages on their naked bodies, like Robin Lawley's "environmentalist" and "nurture." The New Yorker's Alexandra Schwartz referred to it as "spectacularly silly, not to mention tone deaf." However, if you talk to the models — many of whom have their own projects, businesses and/or activism efforts outside of SI — they'd disagree.
"This is for women everywhere who have never felt represented and never felt seen and never felt heard in mainstream media," said third-timer McGrady, who regularly deals with body-shaming trolls. "They can open this magazine and relate to each and every one of us."
Aden, wearing a series of beautifully styled burkinis and hijabs, could be considered a form of soft diplomatic outreach to a country (and world) grappling with rampant Islamophobia. Plus, her editorial can serve as an educational tool about modest swimwear, which was briefly banned in parts of France in 2016. "If SI, one of the most iconic swimsuit magazines, acknowledges that a burkini is a swimsuit that women can wear, it's sending a huge message to all these places and all these people that it's acceptable," explained the model, who selected her final looks from "a room full of burkinis" that Day sourced. 
Porizkova, who made her debut in a 1983 feature at age 17 and scored her first cover in 1984' not only makes her 10th appearance in the issue, but also wrote a moving essay about ageism in the industry on the "prized real estate," per Day, back page. "My big proud moment was that they let me write the last word," the stunning (and refreshingly honest) 54-year-old said on the flight.
Ethnic diversity, size inclusivity and disability awareness, with Paralympian snowboarder Brenna Huckaby's feature last year, have been, and continue to be, highlighted, but addressing ageism is a first for SI. Porizkova is hopeful, but a tad skeptical, that her efforts will create a bigger discussion. Also, perhaps 45-year-old Banks, who looks fierce on the cover in a yellow string bikini, taking the "oldest model to cover the SI Swimsuit Issue" title (per Allure's headline) provides a prelude to bookend her final word.
"M.J. nudged the door open, just a tiny bit. She didn't open it all the way," explained Porizkova. "I think it's testing the waters to see what kind of an impact it will have. None? If it's none, I doubt they're going to keep doing it. If there's a little bit, if there's some older women who will say, 'You know what? That was so great. It really was inspirational to me,' they might try it again. I'm kind of a gimmick. I'm like the lab rat. I'm the first one."
But if you ask Day, she doesn't do gimmicks. "I can remember when Ashley Graham was on the cover [in 2016] and somebody was like, 'Oh, it's just a stunt,'" she said, as her voice rose. "I was like, 'It is not a stunt. We believe this in every cell of our souls.' I will do everything in my power that no one ever says that about us again, because we believe in it."
Historically, the magazine has been a launchpad for women, not just to kick off successful modeling careers, but also to build their own personal brands (see: Christie Brinkley, Elle Macpherson and Heidi Klum). "They are so multi-faceted and have platforms of interests outside of just modeling," Day said of her casting criteria. She also takes pride in using the SI brand to support the models with their entrepreneurial endeavors and activism projects beyond the annual issue.
"Do you design a swimsuit or jewelry line? Sure, bring it. We'll shoot it in the book. We'll do an article on it on Swim Daily. Do you have a cause you champion? We'll support it across all platforms," Day added, pointing out that SI gives the models their own stage to discuss their projects and accomplishments during the "SI Swimsuit on Location" panel discussions. The weekend also gave a platform for triple-cover star Upton to share her new fitness program Strong4Me with media, fitness influencers and a starstruck crowd, via meet and greets, a workout class and a panel appearance.
Banks, however, may be the most prolific cover model who took her SI success and ran with it. To preempt the industry from aging her out, she retired from the business in 2005 to author three books, create (and host) "America's Next Top Model," guest lecture at Stanford Graduate School of Business and basically build an empire: Bankable Productions, a TV and film production company; Tyra Beauty, female empowerment non-profit TZONE; and the upcoming Modelland, a fantasy theme park named after one of her bestsellers. For her return, Banks went to SI instead of a fashion magazine, like Elle or Harper's Bazaar, which she's also covered.
"I came home, baby," she said to deafening cheers during her "Cover Star: Revealed" panel, also saying, "SI made me a household name overnight." The next day, in the green room prior to discussing "The Business of Modeling," alongside Upton and former Rookie Olivia Culpo, Banks told me why her historical cover moment helped change societal perceptions of not just her, but women of color in general, all thanks to her wearing a sexy little red polka dot bikini (also recreated for this current issue).
"It really helped to expand what is beautiful, particularly in America," Banks noted. "It was nice for them to put me on their cover and show the Black girl is next door. She's the girl next door, too. Before that moment, [the girl next door was only] this blond white girl."
"There was something about the cover that gave permission to look at different girls of different races as American," she added. Her 1996 debut cover, alongside blond, Argentinean Valeria Mazza, was even more of an overt political statement. The shared feature was shot in South Africa two years after the country's formation of a democratic government, which officially ended apartheid.
But there's still that big elephant — one that's not part of some scenic SI photo shoot — in the room: How does one reconcile a glossy magazine full of models posing in barely there swimsuits gratifying the male gaze, but at the same time empowering and celebrating a diverse range of fellow women?
"I don't feel like what we're doing is objectifying," said Day. Fresh from a spirited DM debate about the subject while in transit to the airport, she started quickly scrolling through images of Michelangelo's David and other Renaissance sculptures of naked women — probably stored on her phone for quick reference during discussions like this one. After all, people have been "celebrating the human body in all its majesty" throughout history. "Let these women evolve, let us evolve."
"I think it's both, to be honest. I'm not going to sit here and lie," said Banks. "The magazine, 99% of the year is for men. It was created for guys to look at these women and think they're amazing, right? Of course, it's male gaze. Duh." 
"But, it's not just that and so what I love about what's happening now is the woman looking at the swimsuit issue can see all of these different myriads of beauty that can possible reflect her," she continued. "And the man can look at it and see not just what he was trained to like [by society], but go, 'why am I tingling when I'm looking at this photo of Hunter [McGrady] or Tara Lynn?' It's digging deep into what he truly is attracted to, but hasn't been trained to like."
RELATED ARTICLES:
Halima Aden on Working With Responsible Brands and Designing Modest Fashion
6 Modest Swimwear Brands That Don't Compromise Style
Ashley Graham Stars Alongside Her Mom in New Swimsuits For All Campaign
Taking a non-scientific, purely observational assessment of the attendees at the "SI Swimsuit on Location" event, the vast majority of were young women. They sat in on panels, fan-girled over their favorite models and/or vied for a spot in the model search to be the next Kostek. 
"Everything is for the male gaze, in a way," shrugged 19-year-old Phelene De Vries, standing in line waiting for her interview. "Yes, of course, that's how [the issue] started, but I feel it's for both now: for empowering women and for the [the SI] fanbase. It is a sports magazine, so you can't not. It goes hand in hand."
Disclosure: 'Sports Illustrated' provided my travel and accommodations to attend the Swimsuit Issue thing.
Top image of the 2019 'Sports Illustrated' Swimsuit Issue models: Courtesy of Taylor Ballantyne for Sports Illustrated
Never miss the latest fashion industry news. Sign up for the Fashionista daily newsletter.