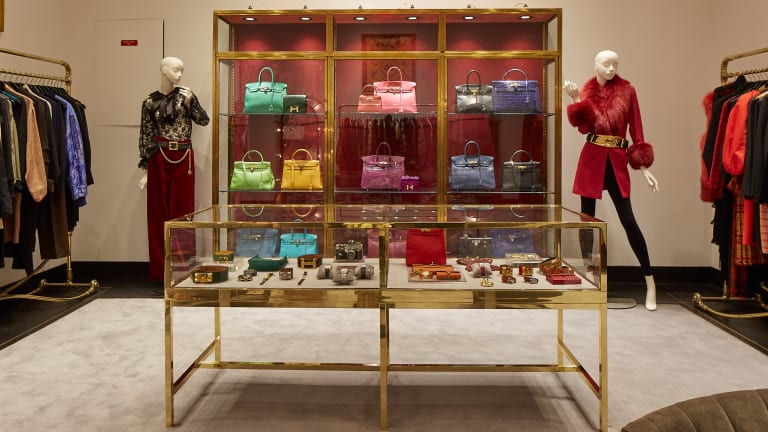 What Goes Around Comes Around Is More Than Ready for the Resale Market Boom
With 25 years in business and a unique angle on secondhand selling, the future looks bright for the vintage retailer.
The only thing you won't find at What Goes Around Comes Around is shoes. You see, it was just too hard to find pairs that matched the standard of quality met by everything else carried in the store, so the luxury vintage retailer has settled for being a "head-to-ankle" resource for shoppers looking to find one-of-a-kind pieces. 
"One of the main reasons that we've lasted so long is we continue to have this incredibly curated assortment," explains WGACA Vice Chairman Frank Bober. "We're so focused on the high level of curation. I know that there are competitors in a number of specific fields, but in terms of a resale company, pre-owned, that is [curated] lifestyle, I just don't know who else there is."
Of course, there are plenty of competitors which have popped up in recent years, bringing a boom in the resale market along with them: The RealReal, Vestiaire Collective, Poshmark, Depop, Rebag and Tradesy, just to name a small handful, with some already having raised investment capital in the tens of millions. They're all trying to get a piece of the $20 billion resale market — one which is expected to more than double in the next four years. But none have the experience of WGACA, which celebrated its 25th anniversary this year — and none, according to co-founders Gerard Maione and Seth Weisser, have their level of meticulous standards. 
"Honestly, if you look at some of the other companies, they are literally just pooling in as much inventory as they can, and that's part of their model; a lot of that is just contemporary clothing or accessories," Maione says, gesturing at the shiny gold cases holding piles of vintage Chanel and Fendi nestled in the retailer's brand new Madison Avenue flagship. "We're sitting here with these heavily curated, collectable pieces."
"We are focused on ultra luxury; our brand limitations are extremely tight," Weisser chimes in. "We are maybe 15 brands deep in our business."
It's not just that WGACA promises rigid authentication of all their products (something some competitors offer as well) or that they buy product from resellers up-front rather than consigning and paying them upon the purchase of their items (another thing available elsewhere in the market), it's that they're able to predict the trends and buy the product their customer doesn't even know they want yet. The return of the Dior Saddle Bag? They saw that coming. The Fendi Zucca logo comeback? They stocked up ahead of time. In fact, considering their stylist and celebrity clientele — which includes the likes of Bella Hadid, Pharrell and basically the entire Kardashian-Jenner family — it's possible that many of the industry's current trends can be traced back to the racks of a WGACA boutique.
"What's harder than staying in business for 25 years is staying cool for 25 years," Bober says. "Our company has figured out a way to do that, and one of the reasons is that we love the merchandise, and we buy what we love. The kinds of top-level clientele that we have — these people are the true influencers, and they continue to shop with us because they know that there's a certain cool factor around that."
Owning something that no one else can simply pick up at their nearest retailer is objectively cool, and obviously a big part of WGACA's appeal. It's also about the mix — not just in brands, but in a high-low factor. At the Madison Avenue location, for example, shoppers can pick up vintage Levi's and a perfectly worn-in band tee downstairs before heading upstairs to grab a pristine Hermès bag to carry with them. Through select wholesale partners, like Shopbop and Dillard's, WGACA has expanded that mix to other retailers — an estimated 400 additional doors — helping introduce their vintage point-of-view to an even wider audience.
While digital expansion is capturing new customers, brick-and-mortar is still key to WGACA's business plan. It's the most important touchstone for customers looking to sell to WGACA, but it's also an essential component of the retailer's position as a true luxury player. "I think the luxury customer is trained to shop in stores, particularly on the ready-to-wear side of the business," Maione explains. "There are so many differences in variances and sizes and options that being able to come in and play dress up and have fun is still an experiential thing that they get anywhere else." 
Related Articles
2018 Was the Year Resale Went Mainstream
Here Are the Fashion Items to Consign This Spring if You're Looking to Earn Top Dollar
Expert Tips for Buying Your Dream Wedding Dress if You Plan to Resell After Your Big Day
Each store is specifically curated to its clientele, meaning the Madison Avenue store won't stock the same items as the Soho boutique, and Miami won't get the same selection of goods as Los Angeles, incentivizing dedicated customers to visit WGACA wherever they travel. "That's become the fun part of it for the shopper because when they walk into almost any store, it's like going to a museum. You see something different all the time," Bober says.
That means the WGACA team puts as much effort into curating their sales associates — deemed "stylists" in company parlance — as they do their vintage goods. They look for people who have their own personal style, as well as a depth of knowledge in fashion, be that in one particular brand or in a specific category. These stylists help communicate the needs of their stores back to the home office, as well as helping to find special pieces for VIP customers. 
All of this to say that, when it comes to building a consumer base hungry for secondhand goods, WGACA has put in the work. Not only have they built a reputation as a purveyor of high quality, hard-to-find vintage luxury goods and a trendsetting customer base, they're also ahead of the curve in terms of the circular economy conversation. The luxury consumer now knows that they can buy an expensive item this season and potentially recoup a chunk of that investment through resale if they're eventually unhappy with it — and, hopefully, spend that money back at WGACA.
"The consumer has come to where we have always been," Weisser says of the sustainability aspect of the business. "We've always been one of the leaders to educate people. That is embedded in our DNA and has been forever. The consumer now is looking for quality over quantity; they don't need as many things, they need good things, and that's always been the premise of our business from day one."
"We always had to almost coax the clients and be like, 'Hey, you can buy and wear a preowned garment or handbag,'" Maione adds. "Now it's a full acceptability in the market, which works right into our sweet spot — something we have been working towards forever."
That doesn't mean it's smooth sailing ahead: As the resale trend has grown, so has resistance from the luxury brands who feel the secondhand market eats into their profits. WGACA was sued by Chanel just last year, with the French fashion house alleging counterfeiting and trademark infringement, false advertising, unfair competition and false endorsement. (They're not alone: Chanel has also sued The RealReal.) But there's movement on that front, with luxury conglomerates investing in secondhand retailers and brands like Stella McCartney even partnering with resale vendors like The RealReal.
"The brands are going to have to acknowledge in some way the fact that this is an important sector of the marketplace; it's not a matter of 'if,'" Bober says. "You're always going to have preowned Bentleys and preowned Ferraris and preowned Chanel. It doesn't matter whether they embrace it, because the consumer has embraced it and will continue to embrace it."
Then there's a question of supply. While being particular — Bober calls it "fussy" — about quality is what has helped WGACA build a strong business, it also makes scaling much more difficult. "The RealReal doesn't have that challenge because they take anything," he says, for instance. But he remains confident that they'll find a way to capture the market, claiming that WGACA will "do over a hundred million dollars this year." Coupled with that growing competition is a need to further educate the customer about price differences between goods at WGACA and those offered elsewhere. 
"Because we are so discerning with the quality standards, we may appear like we have some of the highest prices in the market, but when you are buying collectible items there is a substantial variance of price based on different aspects of condition," Maione explains. "Some of these pieces are so incredibly rare, that when we acquire them we are not getting lucky. We are buying these things and it's competitive; that sometimes gets a little bit lost on the customer."
For now, WGACA remains privately owned, though all three expressed a belief that an investment could be coming down the pipeline, considering how profitable the business of resale is expected to become (and how profitable WGACA already is). That has allowed them to be nimble and reactive. Going forward, Maione says they have really "embraced the data," which has helped them make more informed decisions, not just about what to buy and in which stores to stock it, but also where to put potential new stores."The runway is incredible; we can see a lot of road map in front of that," Weisser says. 
But their real secret is that behind 25 years of business is 25-plus years of friendship, something that — fingers crossed — will continue for the next 25 years, regardless of what the market brings. "I know for Seth and I, having a partnership this long doesn't really exist," Maione says. "It's a very special thing, so we are driven to see this forward and we have a team do that with us."
Want the latest fashion industry news first? Sign up for our daily newsletter.
Homepage Image: Courtesy of What Goes Around Comes Around