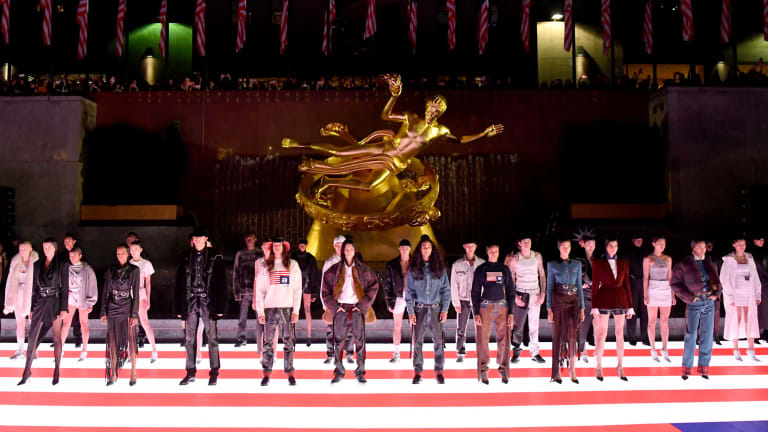 Alexander Wang Pays Homage to His American Fashion Heroes for Spring 2020 'Collection 1'
The designer is a key player helping to shape the future of the American industry, and it's a task he's not taking lightly.
Discussing the current state of the American fashion industry is always a bit of a downer. There's the messy fashion calendar situation; a jam-packed New York Fashion Week schedule with few marquee names to draw international press and buyers. Then there's the matter of American talents either defecting to Paris or sitting out the shows altogether in order to experiment with consumer-facing marketing methods. This brings us to the matter of delivery schedules: While some designers are sticking to the traditional six-months-ahead seasonal runway model, others have evolved, opting for "see now, buy now" collections or hype-driven drops instead. 
Perhaps most significantly (or symbolically), there's the changing of the guard that's taken place at many stateside houses. Anchor American brands like Oscar de la Renta, Diane von Furstenberg and Carolina Herrera have put the next generation of creative directors in place to carry on their namesakes' legacies. After the sudden departure of Raf Simons in December, Calvin Klein not only sits designer-less, it's also ceased production of its luxury ready-to-wear collection indefinitely. With all of this change in just a few years, it's only natural that a panic has set in. What, exactly, does the future of American fashion look like? And who will be sitting at the top to help lead the way?
Luckily New York has Alexander Wang, an optimist with boundless energy who's not afraid to take a risk (he was among the first to switch to a June/December show schedule) and has his finger firmly on the pulse of youth culture. He's an avid collaborator — Adidas, Uniqlo, H&M — an ahead-of-the-curve tastemaker, a celebrity favorite and, in addition to his clear genius for branding, he's got a great sense of humor. Case in point? He cast "Saturday Night Live" star and "scumbro" internet sensation Pete Davidson to walk in his Collection 1 2020 show at Rockefeller Center on Friday night, for no reason other than thinking he's hilarious.  
Wang has been locked into the concept of Americana for the past year, particularly how his experiences as a first-generation American shaped his worldview and his work. For his latest offering, he honed in on his childhood heroes — Donna Karan, Calvin Klein, Ralph Lauren — and paid them each a direct homage through three separate acts on the runway. "I started really reflecting on the pioneers who paved the way for me — that influenced me growing up and made an impact," he says. "All of the shows that really resonated with [me] and inspired me, this idea of strong, working women. What is their wardrobe about and how do I push that forward?"
Section one brought out the workwear, albeit with a Wang twist. Outerwear was oversized, logoed and structural; blazers were made from leather, a tight catsuit replaced a business suit; trousers had sporty fold-over waistbands; and off-duty pieces like studded leather shorts or casual crewneck sweatshirts rounded out the wardrobe. 
Next came the '90s-tinged minimalism. The underwear-as-outerwear aesthetic that Calvin Klein helped make famous is not a far departure from Wang's usual fare, so the lingerie camisoles, ribbed bras, bodysuits and bandage dresses made from branded elastic felt fresh. There was plenty of light-wash and bleached denim cut in interesting ways, too — like an asymmetrical skirt and a cropped, voluminous jacket — that will surely play well on Instagram, as will the "AW" white T-shirts that are a riff on the classic CK versions. 
Third was "preppy Americana," with clear inspiration from Ralph Lauren. In keeping with the current "yee-haw" trend, there was suede fringe, Western shirts, head-to-toe dark denim and layered leather belts. The collegiate goods were kept cool with the addition of trompe l'oeil shirting, slouchy pants, oversized cropped outerwear and bucket hats in plaid. Slim-fit corduroy blazers were paired with leather bike shorts or sheer silk slips to give them that signature Wang edge, and his take on the American flag logo embroidered on a classic knit is exactly the kind of status item customers are hungry for. It's all but guaranteed to be a best-seller.
The final section, featuring the designer's model muses, was the most "Wang," taking his greatest hits — relaxed suiting, men's shirting, hoodies layered under denim jackets, sporty jerseys, slips, drape-y T-shirts and twisty ruched dresses — and doing them up in all white. Though the previous looks paid respect to the past, these, according to the show notes, looked to the future. They are the building blocks upon which he grew his business (worn by the women who helped inspire it) and are steadily becoming brand staples. Perhaps one day, a young person will instantly recognize a Wang goddess dress just as he was able to do with a Calvin Klein or Ralph Lauren piece growing up.
Wang is aware a lot is riding on his shoulders, and his role as leader in the U.S. fashion industry isn't one he takes lightly. "If it wasn't for the pressure and the stress that fuels me, I don't know where I would be," Wang says with a laugh. "I think it's important to pay homage and recognize how much of an impact American brands have on the entire world. Especially right now when Donna, Calvin, you know ... these were the ones that I grew up with." But does he feel like he will be the person carrying the torch for New York fashion, inspiring future generations of designers to follow in his footsteps? To this he cheerily replies, "Hopefully!"
See every look from the Alexander Wang Collection 1 2020 show in the gallery below.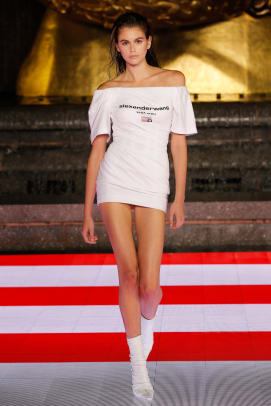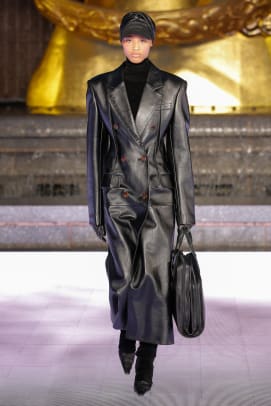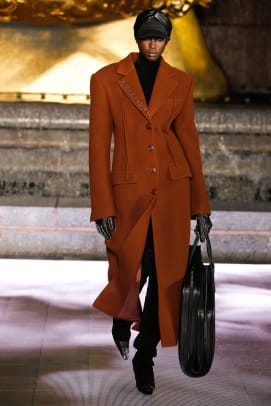 Want the latest fashion industry news first? Sign up for our daily newsletter.