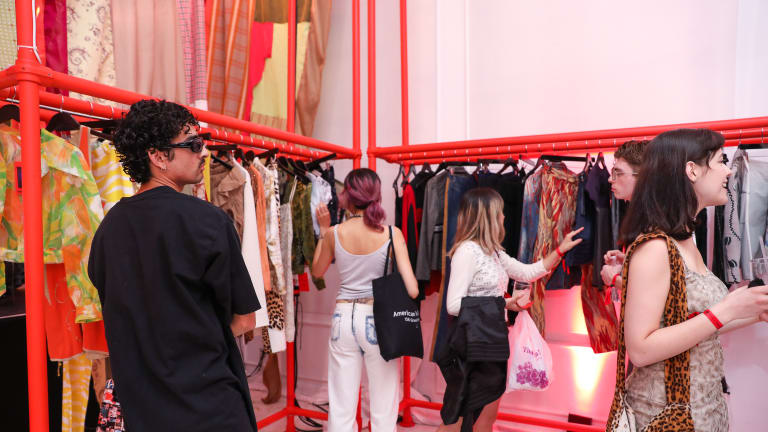 With Depop Live in New York City, the Online Marketplace Comes to Life
The weekend-long event helped foster and empower the digital platform's strong community of Gen-Z fashion entrepreneurs.
On Friday night, a line snaked around the corner of Broadway and Howard St. in New York City's Soho, as different cliques and crews of Very Stylish People waited for their chance to experience Depop Live, the online marketplace's first-ever weekend-long event, which officially opened to the public for free on Saturday through Sunday.
An older gentleman — most likely a tourist who strolled by from Canal St. — asked the publicists at the entrance what exactly the long line was for. Armed with clipboards, RSVP lists and wristbands while fielding possible gatecrashers, those working the door weren't so quick to answer. In fact, it was probably best not to give away what exactly the red-laden party space was celebrating. If you knew, you knew.
Related Articles
Here's How to Make a Living Off of Resale Sites
2018 Was the Year Resale Went Mainstream
Here Are the Fashion Items to Consign This Spring If You're Looking to Earn Top Dollar
Depop Live has been in the works since the end of last year, according to CMO Peter Semple, to mark the success of its business in the U.S. and how much it's evolved since it entered the American market in 2014. (The company originally launched in Milan in 2011, and is currently based in London.) "The business has been around in America for a few years now and we have a small physical retail here in New York and a small physical retail in [Los Angeles], and it felt like there might be a time to put on something much bigger and really celebrate some of the creative communities," says Semple.
"We were just waiting for the right time," adds CEO Maria Raga. "And last year was a very strong year for us in terms of getting to a product that fit in this market. Now is the time to really do something big, as opposed to doing it two years ago when we didn't have a community. Now we've got 200,000 sellers in the U.S., two stores and five million registered users. It was the moment to say, 'We're here, this is what we do, this is what Depop is all about.'"
It wasn't until about three months ago that the idea for Depop Live took the shape of what was seen over the past weekend: two days of immersive experiences to help foster and empower its strong (and heavily Gen-Z) community of fashion entrepreneurs. The company invited 50 of its best and favorite sellers to set up shop within Depop's rented space, which was divided into some of the app's top categories: Y2K, vintage, streetwear and secondhand designer. A slew of brands that cater to New York's downtown crowd were also for sale, including Telfar, Sandy Liang, Infinite Resort, Nicole Saldaña, Miaou and No Sesso, which also branded an Instagram-friendly ATV that was on display for the entire event. Each item — of which there were more than 1,500 total — came with a price tag that included the seller's Depop page information. Transactions were powered by Paypal and those with Depop accounts received a special discount. 
Music, artist installations, panels and workshops kept shoppers entertained, too. On Saturday afternoon, DIY fashion guru Left Hand LA led a workshop on sewing patches, while the evening brought Everybody.World founder Iris Alonzo to host a panel on transparency, sustainability and activism in the fashion industry with designers Nicole McLaughlin, Heron Preston and Deputy Commissioner of Recycling and Sustainability, Bridget Anderson, from the NYC Department of Sanitation. On Sunday, there was screenprinting with Sonya Sombreuil of Come Tees and Raga hosted a panel on how to build a successful business featuring photographer Tyler Mitchell, Instagram style star Gully Guy Leo and Bella McFadden, also known as Internet Girl and the unofficial poster child of Depop.
"It's so amazing and so loving and supportive," says McFadden of the Depop community. "I love Depop because it's an e-commerce app, but it's also a social media platform, so it makes the whole buying experience seamless and friendly and great." McFadden first started using Depop in 2016 as more of a "casual thing," selling clothes that she wasn't really wearing as much anymore while taking a break from school at the time. When it was time to decide whether she would return to her next semester of college, she chose Depop instead.
"I was doing so well on it that I wanted to continue selling. I ended up dropping out and going into Depop full time," says McFadden. "Over the past few years it's transitioned into me just selling random clothes from my wardrobe to me doing designs, to me doing an international styling service that I can just sell on Depop now." About seven months ago, she uprooted her life in her hometown in Canada and moved to L.A. where she opened her own office.
But McFadden's success story isn't uncommon in the Depop world, especially as resale becomes more mainstream and power sellers start to make a living on their own online businesses. Johnny Grummons, who sells vintage and thrift wares via @guccig11 from Omaha, Neb., also decided to ditch college for Depop. "I became obsessed with it," he says. "Every single day, no matter what, no matter how I felt, I'd wake up, thrift all day, come home, take pictures of everything, post it, pack it — maybe a year-and-a-half of doing that, and it's got me this far, so it's pretty awesome."
For Grummons's fairly young shop, he manages to make at least four sales per day, totaling a minimum profit of $1,200 each week (after paying and shipping fees). While most of his pieces range between $10 to $30, the highest sale so far came from a Harley Davidson 3D emblem piece for $360.
"[Depop Live] is showing the incredible breadth and variety of this kind of creativity coming from a really young generation," says Semple. "We love the fact that we're very focused on Gen Z because you have all of these young creatives. They're the ones reshaping everything. They're reshaping social values, creativity, entrepreneurship and seeing the different ways they're pushing fashion."
So far, Depop's own business has been deemed a success, as the live event arrived fresh off the heels of the company's Series C funding, which raised $62 million. (The online marketplace, which boasts 13 million users worldwide, has plans to expand in the U.S. and internationally, invest in new tools and functionality for its platform, as well as grow its engineering and data science teams.) With Revolve's recent IPO and The Real Real's filing last week, e-commerce is getting lots of attention right now; it's hard not to wonder if a similar business trajectory could be in Depop's future. "We're very much into Series C at the moment," says Raga. "It's interesting to see what happens with other businesses, but time will tell [for us]."
For now, the team is focusing on the success of Depop Live, which, according to a spokesperson for the company, welcomed more than 3,000 visitors and made "over tens of thousands of dollars" in sales. "New York and L.A. are our biggest cities, and one of the things that we want to do, especially as a result of our funding, is to expand beyond those big cities," says Raga. "We already have loads of sellers in the middle of America, but we want to create concepts like this and expand them into other regions. Ultimately, we want to get the community together and experience Depop in a different way."
Homepage image: Visitors shopping Depop Live 2019 in New York City. Photo: Mike Vitelli/BFA.com, Courtesy of Depop
Sign up for our daily newsletter and get the latest industry news in your inbox every day.