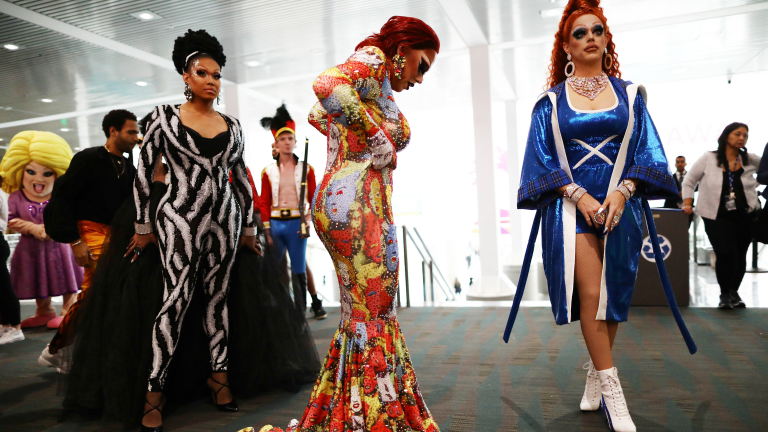 As Drag Goes Mainstream, Queer Fashion Designers Reap Business Benefits
By carving out a uniquely "by queer/for queer" model, they've been able to create a profitable and sustainable ecosystem that did not exist at anywhere near this scale a decade ago.
"It's not just about us and looking great in the clothes — that's just one part of the long journey of getting there," Alaska Thunderfuck proclaimed on the most recent episode of "Race Chaser," a "RuPaul's Drag Race" recap podcast hosted by Thunderfuck and fellow "Drag Race" alum Willam. "It's important to give credit where credit is due to our talented friends who make these garments and that's their expression. It's also their business."
"They're just as much artists as we are," Willam added, and it's true. In the ten years since "RuPaul's Drag Race" first premiered on the Logo network in 2009, a cottage industry has sprung into motion of drag adjacent businesses, from wigs to padding to BoobsForQueens™. But perhaps no industry has benefited from the blockbuster success of 'Drag Race' more than fashion — particularly a number of queer designers who have carved out a uniquely "by queer/for queer" business model that's created a profitable and sustainable ecosystem that a decade ago did not exist at anywhere near this scale.
"Drag is first and foremost a visual art, because when someone steps on stage, what they're wearing is the first impression," Willam tells Fashionista in a recent follow-up interview. "My drag is kinda like my armor. I put on enough sparkle and detail as I can to draw attention to myself. The look is sometimes the one thing you can control in regards to drag. Like, there's so many variables at gigs and jobs that coming to work in something that you know looks right is the first step when I'm putting on any show cuz you know this will make the audience go up without even a word. These designers understand that."
For Peruvian-born designer Diego Montoya, the show's impact changed the trajectory of his life quite literally, going from waiting tables in Murray Hill to owning and operating his own full-time design studio with a team of six. It all began when season nine winner Sasha Velour wore one his custom creations during the show's season 10 finale, in which Velour passed her crown and scepter off to newly anointed queen, Aquaria. The look, an airbrushed catsuit with silicone breast prosthesis and many layers of embellishment — was based on the story of Lilith — "as performed by an alien but make it fashion," Montoya recalls.
Related Articles
Trixie Mattel Is Ready to Be 'Exposed' With Her New Cosmetics Line
Drag Queen Violet Chachki on What Her Women's Lingerie Campaign Means for Queer Visibility
My Fashion and Beauty Choices Have Nothing to Do With My Sexual Identity
After that, the phone started ringing off the hook for custom garments that can run up to $10k a pop. In addition to Velour, who he continues to work with, he's designed for a number of the show's alumni, including All Stars 4 winner Monét X Change, season five winner Jinkx Monsoon and season eight winner Bob the Drag Queen. He even outfitted alum Shangela in an icy lilac mermaid gown with draped details and asymmetrical gold beading when she stepped out at the 2019 Emmy Awards red carpet to celebrate her work in "A Star Is Born." "It's been a major change for me professionally," he says. "I now have enough work to be able to hire a team and have a full-time studio. This didn't seem like possibility a few years ago."
Then there's Dallas Coulter, a Rochester, NY native currently living in San Francisco, who started designing clothes over two decades ago when she "was a club kid in the '90s and there was nowhere to get fun clothes," she tells Fashionista. Now, she's one of the most sought out designers working among the high-profile queens, many of whom have followings in the hundreds of thousands (if not over a million) on Instagram. "I wouldn't be where I am today without the show and the queens who've been on it, so it's definitely a direct correlation for me," she says. It's a sentiment the queens themselves reciprocate. "Many of the dolls regularly joke like, 'It's Dallas Coulter Presents All Stars 2 and 3' because there were so many Dallas Coulter looks" Willam says.
Coulter has designed for over half of the dolls, as they're often colloquially referred to, including regular judge Michelle Visage. "I have a binder with all the girls' measurements in it and my guess would be about 120 in there," she says. "There's plenty of room for more though, and the bigger the show and drag in general get, the more opportunity there is for other people to be successful as well, so I'm all for it."
The designer adds that it's helped with her business for the obvious reason: visibility. But that's not what she's doing it for. "As great as it is to see my work on TV, it's way more important to me to make sure the queens are happy, deadlines are met and the girls feel and look great so they can put on the best show they can. When I'm working I'm not thinking, 'Oh I can't wait to see this on TV or online,' it's more of a focus on making it happen to begin with. Seeing it on TV is just an added perk."
It's not just just seeing on TV that helps: Social media plays a critical role in the dissemination of these garments. "I get a fair amount of people telling me Aja's entrance look was when they discovered BCALLA but I actually haven't had my work appear on the show that often," recalls Brad Callahan, who started his brand BCALLA in 2012. "I would say social media has been more instrumental in my success [than "Drag Race"], which is a side effect of working with those actually participating in the show."
Callahan is another go-to for the Ru girls including Milk, Pearl, Violet, Aja, Aquaria, Kim Chi, Katya, Gia Gunn, Laganja Estranja and The Vixen — just to name ten. He credits the success of the show with creating what he refers to as a small economy for artists like himself, noting that because drag remains counter-cultural, the client and artist are able to maintain a more direct relationship. "There is no stylist, art director or record label putting in their opinion or bureaucratic red tape, so it allows for far more freedom and respect," he explains.
More than anything, these individuals and their teams are responsible for upping the glam factor within the art form as it exists in 2019. "Drag as we know it today would look a helluva lot different if it weren't for talented craftsmen like Dallas Coulter, Brad from BCALLA, Diego Montayo, Marco Marco, Howie B, Ashton Michael, Perry Meek and more," Willam says, further emphasizing the point of recognizing artistic contributions and artists. "Who was the first Emmy winner from the 'RuPaul's Drag Race' franchise before RuPaul won hers in 2017? Zaldy, her costume designer in 2016. Mic Drop. ART!'" 
Homepage photo: Mario Tama/Getty Images
Want the latest fashion industry news first? Sign up for our daily newsletter.