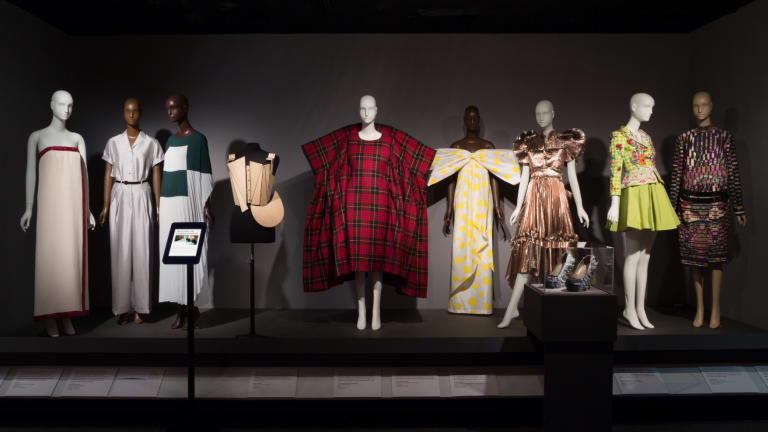 FIT Museum's New Exhibit Explores the Back-and-Forth Between Minimalism and Maximalism
The trajectory between these two aesthetics shows just how much — and how often — the trend pendulum can swing in fashion.
From microtrends and meme-worthy styles to major seasonal takeovers that turn into timeless classics, there are two notable movements that any fashion novice would likely know within the vast sartorial spectrum: minimalism and maximalism. A new exhibit at The Museum at FIT, which opened in May and runs through Nov. 16, explores the trajectory of these two aesthetics, showing how — and, at times, why — the trend pendulum can swing between each one.
According to curator Melissa Marra-Alvarez, "Minimalism/Maximalism" is the first-ever exhibition to look at the history of these two styles in fashion, as well as explore what exactly they mean and how they're manifested. Taking inspiration from from Isaac Newton's third law of physics — "for every action, there is an equal and opposite reaction" — Marra-Alvarez showcases select designer-name pieces across numerous decades to prove that "every style movement is a reaction to the one that came before it." She continues: "With this back-and-forth reaction, that's how it gives birth to new styles, and we move fashion forward."
Related Articles
Everything You Think You Know About the Color Pink Is Wrong
How Museum and Cultural Institutions Have Shaped the History of Body Diversity
Why We Love Torn-and-Tattered Clothing and the 'Perfect Imperfections' of Fashion
One of the hallmarks of maximalism is visual intricacy, while minimalism prioritizes simplicity and a more streamlined shape. The striking differences between them are shown in the first two looks that are on display in the exhibit — a Comme des Garçons look from Rei Kawakubo's Spring 2018 collection and a Narciso Rodriguez evening dress from Spring 2011. "We think of them as aesthetic opposites," notes Marra-Alvarez. "Minimalism is the aesthetic of less is more. Maximalism is this idea of more is more."
What's also evident is that sometimes there's a fine line between the two, and Marra-Alvarez examines this point with another Comme des Garçons design from Spring 2017. The sculptural piece is inspired by "invisible clothing"; with its large square and bold tartan plaid, it isn't exactly inconspicuous. (Though, the meaning behind Kawakubo's collections run far, far deeper than what meets the eye.) "You can look at it and argue that it's minimalist," notes Marra-Alvarez. "It's just sort of a geometric square, but also that it's maximalist, right? It's this big overbearing garment; it doesn't seem very functional."
The core of "Minimalism/Maximalism" is taking a look at the trends' chronological history. The exhibit goes back as early as the 18th century, when the aristocratic elite used fashion as a display of wealth — an example being a man's waistcoat embroidered with gold trim, a costly detail for clothing at the time. But by the 1780s, clothes became more simple, purified, says Marra-Alvarez, partly because of the French wardrobe's affinity for Anglomania, which was a more relaxed way of dressing. Accessories garnered the effect of minimalism versus maximalism, too: A pair of shoes from the 1700s comes adorned with a rhinestone buckle and a high heel, juxtaposed with a display of shoes from 1808 that are simple in comparison, flat and made of leather.
By the 20th century, "Minimalism/Maximalism" starts to reveal an eye-opening display of how these two movements are immediate reactions of one another. In the 1920s, the Jazz Age brought a glamorous (maximalist, even) lifestyle with the flapper and her sequined dresses, showy headpieces and evening purses to hold makeup and cigarettes, which were deemed radical at the time. As the 1930s arrived with the Depression, dressing became more practical, along with a push for more local designers. "American fashion begins to play a big role during the Depression when the economy is trying to get a boost," says Marra-Alvarez, pointing out a coat from Muriel King with subtle nationalist details in the form of buttons emblazoned with an eagle and coat of arms.
Like watching the video game Pong, back and forth we go: During the 1950s, after World War II, society's sartorial senses went back to elaborate dressing with a nostalgia for the 18th and 19th centuries. "After years of being deprived, all of a sudden fashion goes back to embracing luxury in a very, very excessive way," explains Marra-Alvarez. On display are couture gowns by Pierre Balmain, Hardy Amies and a dress inspired by the full skirts of Dior's New Look by American designer Anne Fogarty.
Once the '60s arrived, minimalism returned with sleek, space-age looks from André Courrèges and mini-dresses featuring pop art by Michael Mott, a designer for the legendary New York boutique Paraphernalia. Then, the '70s brought psychedelic prints and tactile fabrics: A dress by Thea Porter with a butterfly motif, a piece from Yves Saint Laurent's ready-to-wear Rive Gauche line and even a furnishing fabric made from velvet from textile designer Jack Lenor Larsen. "After this overload of fantasy and visual stimulation, the reaction to that in the '70s is this idea of real clothes for real people," says Marra-Alvarez, as the next batch on display features Dr. Scholl's sandals and high-waisted Jordache jeans.
Of course, the '80s were filled with over-the-top outfits, power dressing and look-at-me styles, made famous by designers like Thierry Mugler, Larry LeGaspi (a former FIT student), Gianni Versace and Bob Mackie, who are all featured in "Minimalism/Maximalism." Like clockwork, minimalism took over once again in the '90s with purists like Donna Karan, Giorgio Armani and Calvin Klein, as well as a slew of conceptual designers, including Martin Margiela, Helmut Lang and Hussein Chalayan.
"What's very interesting is that the '90s was rejecting all of those showy displays of the 1980s," says Marra-Alvarez. "But in the rejection of that — even though it wasn't very overt — it was just as much of a status, or a show of status, but in a more understated way. We see that especially in the work of Martin Margiela, where the back of the garment's four stitches of the Margiela label sought to show luxury in a more subtle manner. Only people in the know would know that this was a Margiela garment."
As we enter the 21st century, Marra-Alvarez sees the idea of fantasy and drama come back into fashion. Think the height of the "It" bag during the early 2000s, like a Louis Vuitton Speedy covered in a rainbow-colored LV monogram in collaboration with Takashi Murakami. "The economy was prospering and one of the big emblems of the excess of fashion at the time were 'It' bags," says Marra-Alvarez. "By 2009, we have the stock market crash, and all of a sudden we begin to see this big shift from all of the luxury and excess of the first half of the decade." She points out an old Celine piece (Fall 2015) from Phoebe Philo, whose design signatures are tied to practicality, ease and comfort. 
"It's almost the ultimate status symbol for a woman to feel confident and comfortable in her clothing. [Philo] precipitates this whole beginning of a minimalist trends in fashion," notes Marra-Alvarez. "This is not the austere minimalism of the '90s, this is a minimalism that in part is concerned with comfort."
Which brings us, finally, to today — a period that's packed to the gills with maximalism, as defined by Alessandro Michele's success with Gucci, prints on prints from Richard Quinn and the beyond-chunky Triple S sneaker from Balenciaga (which, yes, is encased in glass and featured in the exhibit). "It's about as maximal as a sneaker can get, not only in size and in weight and proportion, but also in price tag," says Marra-Alvarez. (You can follow up your visit by going uptown to the Metropolitan Museum of Art's Costume Institute, where "Camp" has a pair of platform Crocs on display, also designed by Demna Gvasalia.)
As expected, Marra-Alvarez is already predicting the pending arrival of minimalism in the fashion space. As visitors exit "Minimalism/Maximalism," a video plays the runway show of Maison Margiela's Spring 2019 artisinal collection. "I was very excited to [include this] because it really was about excess and decadence, and how as the collection progresses — after so much excess — it gives way to something minimal," she says. "And that really is the idea that we're exploring here in this exhibition, that we're always going to have a reaction back and forth."
See more images from The Museum at FIT's "Minimalism/Maximalism," which is on display until Nov. 16, in the gallery below.
Homepage image: Pieces on display in "Minimalism/Maximalism" at The Museum at FIT. Photo: Courtesy of FIT
Sign up for our daily newsletter and get the latest industry news in your inbox every day.