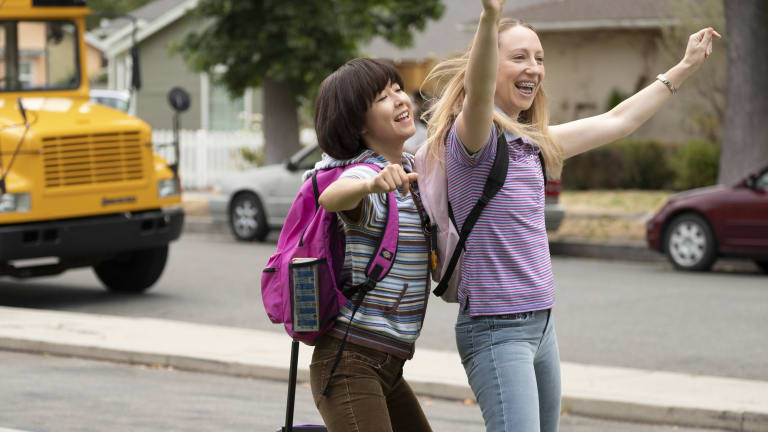 'PEN15' Season Two Costumes Will Include Even More Early 2000s-Era Nostalgia
But first, costume designer Melissa Walker dishes on our favorite season-one wardrobe moments, including the shared hot-pink thong and Spice Girls outfits.
Best news ever: Hulu breakout series "PEN15," created by, written by and starring college friends Maya Erskine and Anna Konkle, as versions of their 13-year-old selves, is coming back for a second season. That means more intentionally terrible early 2000s (and still-lingering late '90s) style, pop-culture nostalgia and lots of middle school PTSD because adolescent awkwardness forever feels super raw at any age or from any era. Plus, K-Ci & JoJo's 1999 hit "All My Life" is evergreen.
But back to the wonderfully bad fashion of the era because it perfectly highlights how awful formative years can be. Honestly, the pedal pushers, low-rider jeans that didn't look good on anyone ever, cargo skirts with nonsensically large pockets and bedazzled baby Ts felt a little too real — just like the coming-of-age storylines. (See: Maya's episode dedicated to female masturbation, Anna's parents' divorce and a joint effort in devising the most evocative AIM screen names.)
Authenticity was crucial in sartorially developing Erskine's and Konkle's teenage alter-egos, Maya Iishi-Peters and Anna Kone. For research purposes, costume designer Melissa Walker ordered the most comprehensive style documentation from the era, Delia's catalogues, plus seminal teen mags, like YM, CosmoGirl and Seventeen.
She even had Erskine and Konkle complete personality quizzes from the magazines to determine details about the duo's teenage selves and their dream crushes, which helped in conceptualizing the supporting cast's look: Floppy-haired, seventh-grade heartthrob Alex (Lincoln Jolly) meets Konkle's "a little sporty" and "best all around guy" criteria with a mix of athletic references. "I always had him in Volcom," says Walker, who added a "preppy" touch with collared surfer-inspired shirts. 
Fittingly, Erskine's answers were "a little bit everywhere," which worked out well since Maya vacillates between cool kids Brandt (Jonah Beres) and Dustin (Isaac Michael Edwards); plus, there's flymiamibro22 a.k.a. Sam (Taj Cross). "She was like, 'I don't know, what do I like?'"
Walker also watched defining movies and shows of the late '90s and early 2000s, including "Scream," "Welcome to the Dollhouse" and, my personal favorite, Ryan Murphy's "Popular." But she found the most valuable inspiration from real-life sources, like Erskine's, Konkle's and her own yearbooks and old photos, since she also came of age around that time.
"Looking at actual photo references keeps it a bit more true, especially the characters' socio-economic [status]," explains Walker, as class hierarchy feels that much more devastating at that age. The school's social classes are also subtly depicted via actual labels on the thrifted clothes: For example, the popular girls wore the more expensive Abercrombie & Fitch and Gap, while Anna wears more budget-friendly American Eagle and Old Navy.
Konkle and Erskine shared their own experiences with status-defining fashion items. The former remembered all the popular girls wearing shell-toe Adidas Superstar sneakers and Tiffany & Co. bracelets — similar to the latter's still-traumatizing memories of expensive heart chain necklaces as requisite Bat Mitzvah gifts. 
Walker also put a character-developing twist on one of Erskine's favorite trends of the early 2000s: cropped jeans with colorful trims at the cuffs. She originally thrifted an authentic l.i.e. ones, but then decided to DIY an off-brand pair, as a financially conservative Mrs. Iishi-Peters would probably do. "We sewed cheap and odd trims like rickrack, upholstery finishing and curtain tassels so that they looked janky and homemade," says Walker.
While the less-affluent Maya visibly wears hand-me-downs and younger-skewing clothing, like her Care Bear shirts, Anna is up on the trends. But only to an extent, because the fit is wrong or the colors are drab, unlike Heather (Anna Pniowsky) with her Buffy Summers mini-butterfly-clipped layers, flared jeans and pastel baby Ts. "Anna obviously understood the fashion [trends], but didn't completely interpret them properly from the magazine," says Walker. "The popular girls got it and they did not." 
Walker and her team sourced online and thrifted a massive volume of clothing and accessories. Luckily, cast-offs from the late '90s and early 2000s aren't as desirable or costly as those from the early-to-mid '90s. "It's the stuff that's still in Goodwill. It's not cool enough to still be trendy," explains Walker. "No one wants these disgustingly low-rise jeans that have an inch-long inseam with this muffin top hanging out. No one wants black platform Rocket Dog sandals." (We're not so sure about the latter assertion.)
But the costume designer did exercise creativity when it came to iconic (and scripted) items that may not be in production anymore, like Heather's hot pink (and stolen) thong, which magically imbued Maya and Anna with swagger in the "Community Service" episode. Originally, the line-free foundation garment was scripted as a "mesh," like the soft, pliable iterations we take for granted today. (Please don't bring this look back. Oh, too late.)
"But I did more research of early thongs remembering how cumbersome and awkward they used to be — back when they used natural fibers instead of silky synthetics and had bulky cuts," she explains. So Walker found an old pattern and custom-made multiples for Heather, Anna and Maya to wear (and launder, wad up, throw around and don as a cap ... )
That episode also featured the "PEN15" take on a teen TV series essential: a fashion show (see: "The O.C" — Shailene Woodley cameo! — Jenny Humphrey's renegade runway on "Gossip Girl," "Pretty Little Liars.") Heather's hat designer mom — whom Walker imagined as "more of a scrapbooker" than a fashion person — of course wore tiny bebe and Armani Exchange shirts and all the rhinestones. "She's bedazzling everything she gets," Walker laughs.
Heather and her friends all wear on-trend and coordinating pastel pink camo — even Terra (Marion Van Cuyck) got the memo — and Maya and Anna try their best in muted monochrome yellow and blue outfits. Walker found inspiration from matching R&B girl groups popular at the time, like, SWV, Destiny's Child and Girls Aloud, and tracked down dead-stock versions of the pants-able cargos. "They have all these weird streams coming off of them and embroidery [across the butt], like 'bad girl,'" says Walker.
"Our girls were so off the mark that it further isolates them from the group and plays up how the girls have turned against them for being thieves and not part of the pack," she adds.
For me, an Asian American, the "Posh" episode really hit home, with a message presented with help from another late '90s/early 2000s (and still going) girl group: the Spice Girls. Maya realizes her white classmates' racism, confronts her own internalized rejection of her Japanese heritage and faces Anna's well-meaning insensitivity, while initially wearing a mis-matched leopard print tube top and too-long pants, which seem to enhance her discomfort at the situation.
RELATED ARTICLES:
How I Shop: 'PEN15' and 'Plus One' Star Maya Erskine
The 'Booksmart' Costumes Include Blue Wave Boilersuits and Original Cali Thornhill DeWitt Self-Spoofing Merch 
How Mona May Turned a Fashion Degree Into a Career Costume Designing Iconic Films, Like, 'Clueless'
But the extreme slouchiness of Maya's jeans actually wasn't 100% intentional. Walker initially dressed Erskine in a pair of Rocket Dog leopard print flatform sandals found on eBay. "In the middle of the dance, she kicked her foot up, and — the shoes are so old, like 20 years — so the glue had dry-rotted," says Walker. "The platform came off the flip-flop and was flying through the air like a heavy brick." Attempts at gluing, staple-gunning and sewing failed, so everyone decided that Maya lost her shoe after the choreographed kick and went barefoot from there.
As for the actual teen actresses wearing Spice Girl-inspired looks, "they were definitely confused because they didn't even know who the Spice Girls were," says Walker. Not even Posh?! "They knew who Victoria Beckham was, but they didn't know why."
Other on-point sartorial musical references come through in Maya's older brother Shuji (Dallas Liu)'s Wu Tang Clan Wu-Wear baggy t-shirts and, one of Walker's favorites, a Ruff Ryders printed short-sleeve button-down in the same episode. "I found this men's size XXXL Ruff Ryders silk shirt," she says. "We're going to be recycling that on him."
As of now, Erskine, Konkle and fellow scribes are back in the writers room thinking of more awkwardly authentic situations to explore — will Maya wait a full year to tell her mom she got her period?! — and more early-aughts nostalgia to make us laugh (and cringe). Walker is excited to take Maya, Anna and the rest of their middle school classmates into their next step, whether it's eighth grade or, more likely, seventh grade "purgatory," as Erskine hinted to EW. Either way, she'll definitely continue sprinkling costume Easter Eggs into the mix.
"Just other magic moments and little things that people recognize" says Walker says, who has a working wish list of band shirts to clear with legal for next season (more moments like Brendan's Limp Bizkit T and studded dog collar look, please!) "A little positive nostalgia is just always with you."
Top photo: Alex Lombardi/Courtesy of Hulu
Never miss the latest fashion industry news. Sign up for the Fashionista daily newsletter.